Aussie brokers can create a better customer experience and drive growth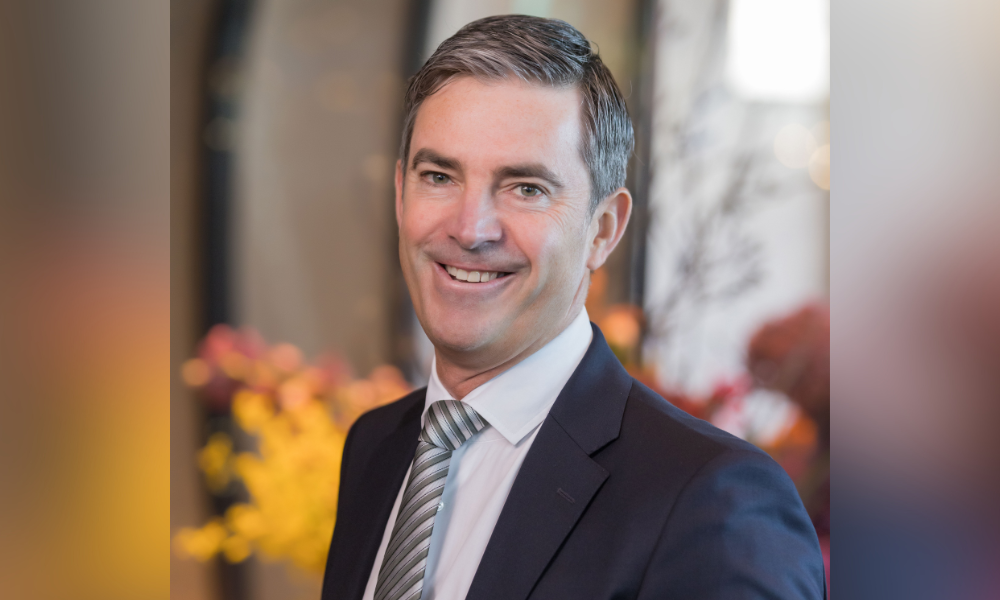 It's been two years since online broker platform Lendi merged with broker network Aussie Home Loans to create the largest retail mortgage broker in Australia.
Lendi Group chief distribution officer Brad Cramb says "creating the Aussie Platform builds on the legacy of Aussie's success to date, while future-proofing the business. All Aussie brokers were live on Platform by the end of June, which was a major milestone for the merger".
"Migrating almost 1,100 bro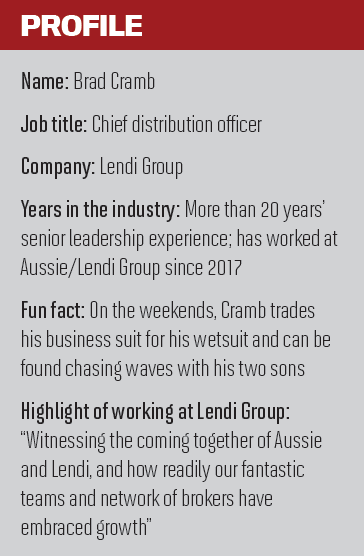 kers onto a new system in a few months is an impressive feat, and it's been all hands on deck behind the scenes," Cramb says.
He says Lendi Group has "reimagined the future for all our channels and brands".
"We're building a thriving ecosystem – a place for brokers to start their career, build their career and grow their future. Our objective is deal-a-day brokers, thriving mobile businesses, a world-class franchise system – our network of the future."
Cramb says when Aussie and Lendi joined forces in 2021, work immediately began on building the Aussie Platform.
The advantages of Platform are clear, he says. A digitised loan application process makes the experience more seamless for brokers and customers, with lodgement speeds almost four times industry averages.
"Platform's key benefit is live connectivity," Cramb says.
"Platform's interface allows both broker and customer to work through the search, fact-find and application process together, in real time.
"Aussie brokers have shown a genuine desire to align to our vision of having the industry's leading Platform. Make no mistake, it's been a big change, and it's taken a lot of work to get here, but our brokers have been invested in the journey, providing valuable feedback at every touchpoint, and we're excited to watch them translate this new way of working into business growth. This truly is a game changer for our network."
Cramb says brokers are provided with the right technology, support and working models to be whatever they want, "whether that's a home-based broker, a salaried broker, a mobile broker, a store broker, or the CEO of their own business".
He says the working model of the future and the vehicle that will enable the group's brokers to soar new heights is here now.
"We call it Platform Plus – which encompasses the Platform itself and the features and working models it powers – Associates, Journeys and Client Solutions."
Cramb says Platform Plus tackles three problems facing brokers:
1. Customer acquisition
Cramb says scaling your operation is hard; not all leads are created equal. Lendi Group Journeys are an industry-first innovation, turning low-intent leads into high-intent customers. Platform Plus and the Associates and Journeys models empower brokers to be hyper-efficient and to focus on high-value activities:
Associates – the centralised Associates team make first contact with new and re-engaged enquiries, obtaining key information and pre-qualifying customers before booking them into a broker appointment.

Associates upload payslips and other documents onto Platform, allowing

brokers to field appointments armed with the right information to have solutions-focused conversations.

Journeys – customers not ready to proceed are placed into specialised nurture journeys to receive ongoing, bespoke communications. At Lendi, over 50% of submissions arise from re-engagement via Journeys, so "we're excited to see the impact this will have on our Aussie brokers", says Cramb.
2. The complexity of broking
Cramb says changing policies, credit niches, compliance and multiple lender systems mean there's a lot to navigate. "Enter our centralised Client Solutions team who remove and automate repetitive tasks for brokers":
Client Solutions provides loan processing support for brokers, taking loans through to settlement.
Client Solutions agents can liaise with customers on the broker's behalf.
Agents are subject matter experts on one to two lenders so have an intimate knowledge of policy. Cramb says their ability to prepare applications in accordance with requirements is resulting in RMIs at less than half the industry average.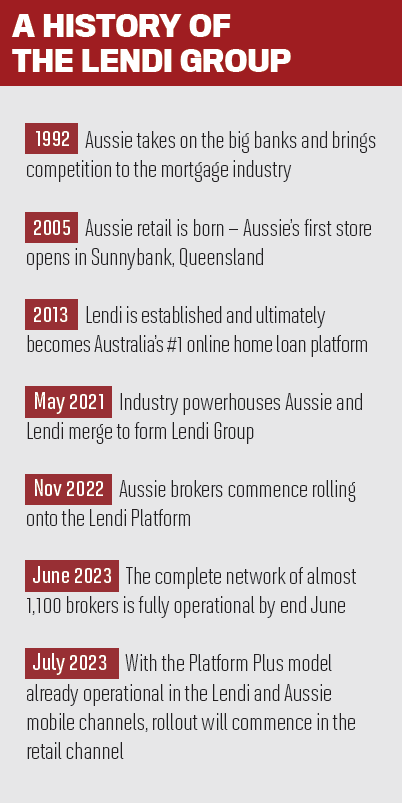 3. Customer expectations in a new age of technology
Cramb says it's critical to overdeliver on the experience customers expect. "Platform is designed to be the nerve centre of our broker solution, with its intuitive industry-first customer interface, sales tools, calculators and integrated features," he says.
Platform powers Lendi Group's proprietary Approval Confidence technology, directly integrating with lender decision engines, providing customers with a real-time indication of approval.
Platform's live connectivity and dual interface enable customers to lean on their brokers as much or as little as they want. Customers can upload documents onto Platform and check their application's status.
Primed for growth
Platform facilitates productivity and unlocks capacity, driving growth for brokers.
"Instead of spending time calling cold leads, processing paperwork, or sitting on hold with banks, brokers can focus on doing what they do best: directly interacting with customers to secure their homeownership dreams," Cramb says. "For customers, the results are impressive – increased speed to lodgement and turbocharged time frames to unconditional approval."
Cramb says Lendi home loan specialists are some of the industry's most productive brokers, averaging 12 submissions a month – four times the industry average. "More than 20 are lodging a deal a day, a showcase of what is possible by harnessing the power of Platform."
The magic combination of Platform Plus and Lendi Group's Graduate Program is seeing new brokers achieve impressive results. "New brokers average eight submissions in their first eight weeks, and we have new-to-industry brokers settling over $50m in their first year," Cramb says.
To achieve growth, brokers need the right infrastructure, Cramb says. "We believe Platform Plus is the vehicle that will allow our brokers in all channels to become deal-a-day brokers."
Platform Plus is designed to empower a franchisee to truly be the "CEO of their own business", Cramb says.
Lendi Group is working hard with its elected representatives on the Aussie Franchise Council to form a blueprint "to build upon our foundation as Australia's No.1 retail broking network and become a truly world-class franchise network".
"We're already piloting interactive new touchpoints that will increase the options for driving new customers in-store." The goal is for each Aussie store to have at least three retail brokers in addition to the franchisee.
"One thing remains constant – Lendi Group's broker value proposition is stronger than ever and will continue to shine through, supporting brokers every step of the way.