Banks outline finance options for first home buyers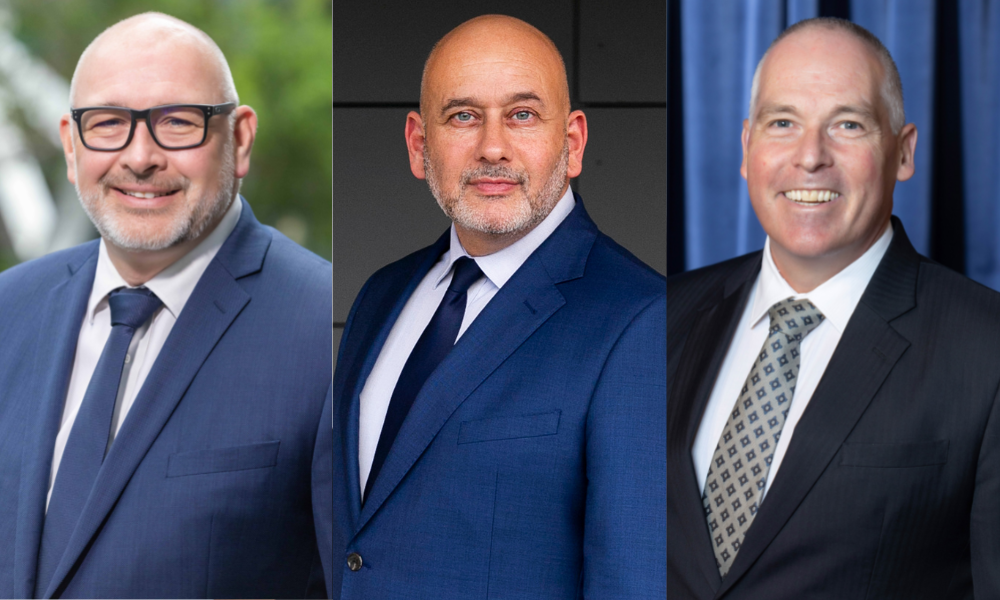 First home buyers have struggled recently in the wake of the Reserve Bank's seven consecutive months of interest rate hikes, with the potential for more increases in the short term.
On top of that, cost of living pressures and construction supply issues have impacted the sector further. ABS lending figures for July 2022 show that the number of new loans to the first home buyer owner-occupier segment fell 10.7% nationally and was almost 36% lower than the previous year.
First home buyers are also finding that they are not able to borrow as much due to higher interest rates. The Aussie dream of buying your own home remains strong, however – boosted by a number of government first home buyer incentives and the ability of mortgage brokers to wade through the landscape of lenders' tailored loans suited to first home buyers.
MPA spoke to CommBank general manager third party banking Australia Adam Croucher (pictured above left), Bankwest general manager third party Ian Rakhit (pictured above centre) and ING Australia head of customer experience, service and distribution Glenn Gibson (pictured above right) to find out more.
First home buyer trends
Croucher says the increased cost of living pressures and rising house prices that Australians have endured over the last six months have impacted housing affordability, particularly for first home buyers.
"Unfortunately, this has led to a decrease in the proportion of first home buyers entering the market," he says.
"At CommBank, we're continuing to help a large proportion of first home buyers into the property market through our streamlined processes, competitive pricing and by providing the government's Home Guarantee Schemes. Recently we have removed postcode restrictions from this scheme, opening it up to even more first home buyers and single parents."
Rakhit says Bankwest has finalised its 2022 Home Truths study, canvassing the opinions of current and potential homeowners on their priorities and preferences.
"It was clear affordability concerns were being felt across the country," he says.
"More young people are feeling home-ownership is less achievable, and that seems most evident in WA. Gen Z homebuyers who feel the goal is unobtainable jumped from 11% to 27% from 2021 to 2022, with millennials also up [18% to 30%]."
However, Home Truths also revealed that the "great Australian dream" remains alive for most aspiring homeowners, says Rakhit, "with more than 60% of people telling us that the goal remained important to them".
Rakhit says rising costs of materials and transport fees, skilled labour shortages and supply issues are affecting the first home buyer market, but the effects are different between states. About 10% of Home Truths respondents said they had cancelled or delayed plans to buy a home because of the current environment, but it was WA that again stood out with significant shifts in homebuyer purchasing intentions.
"The number of those looking to build fell significantly in the past 12 months from 38% to 24%, while those seeking a property ready to move into increased from 46% to 57%, and even those looking to renovate increased [13% to 18%]," says Rakhit.
The reduction in a preference to build, an increased desire for already-built houses, and even those not wanting to move appear to be a direct response to the challenges facing the construction industry, he adds.
Gibson says the first home buyer market may be challenging, with CoreLogic figures for July 2022 showing that FHB finance represented just 21.3% of owner-occupier finance in July, the lowest level since July 2017.
"First home buyers will continue to be squeezed," Gibson says. "As rates increase, FHB borrowing power will decrease. The outlook for rates is for them to continue increasing in the short term; however, there's no preset path."
Gibson says borrower rates were below 2.50%, with assessment rates often under 5.50%. With interest rates now at the 4% level, assessment rates are often higher than 7%, which has a material impact on borrowing power.
"This impact could well be offset by reductions in property values, although most forecasts are at a maximum of around 20% off national highs," he says.
However, rising rents may encourage first home buyers back into the market, he adds. CoreLogic figures show that national rent values rose 10% in August, a record-high growth rate.

Loan products for first home buyers
Rakhit says the current housing market undoubtedly fills first home buyers with a greater level of uncertainty. "And they've told us as much through our research, so we're focusing on certainty and speed-of-process to support our customers and brokers," he says.
"Our case ownership model, which gives brokers a single point of contact throughout the application journey, and our fully digital pathway provide brokers with an efficient home loan process that leads to fewer errors and quicker turnarounds."
Bankwest also provides certainty to brokers and customers by offering a fully validated approval in principle for customers looking to purchase via an auction process, Rakhit says. The bank also offers free upfront valuations.
Croucher says CommBank has a range of home loan products suited to all borrowers, from first home buyers through to seasoned investors.
"For example, first home buyers may be interested in our Extra Home Loan product, which offers borrowers a low variable interest rate, low fees and flexible features, such as redraw and the ability to change your repayment details, such as the amount, frequency and date," he says.
Beyond delivering brokers and their customers competitive and flexible home loan products, Croucher says CommBank has sought to simplify and enhance its processes to make the service experience more streamlined.
"We've enhanced and simplified our pricing and offer a broad and flexible credit policy to support more Australians on their homebuying journey. We have also introduced digi-docs and case ownership to help deliver our brokers and their customers a faster time to 'approved'."
Team numbers have also been increased, ensuring that every accredited CommBank broker has a dedicated relationship manager for support, guidance and advice "when they need it most".
At ING, Gibson says there are a number of home loan options that cater for first home buyers. These include the Orange Advantage offset home loan and the Mortgage Simplifier home loan.
ING's Mortgage Simplifier features no monthly, annual or other ongoing fees (a settlement fee of $299 applies); low variable interest rates; no fees for making additional repayments at any time; and no redraw fees with no minimum redraw amount.
Gibson says ING also offers fixed rates, including a discount of 0.10% p.a. on standard fixed rates when split with an Orange Advantage loan.
Other features include LVR band pricing that allows for a deposit of 5% or more, discounted LMI for first home buyers, and a family security support policy.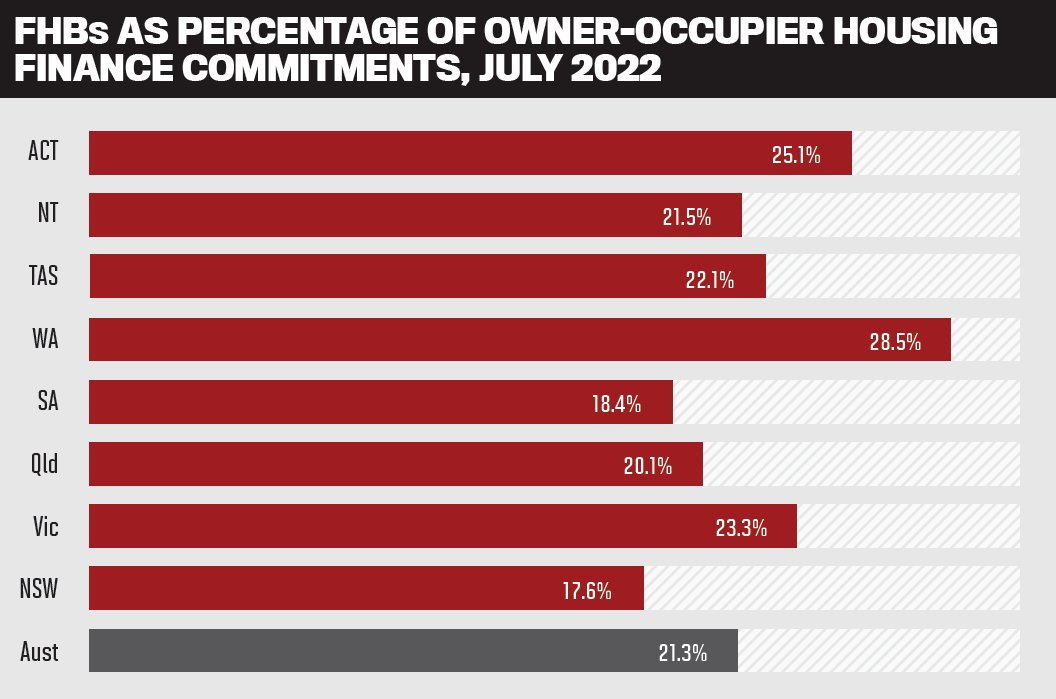 Government grants
Croucher says CommBank has seen strong demand and uptake of government schemes that aim to help first home buyers enter the property market sooner.
"Since 2020, CommBank has helped more than 13,000 first home buyers and single parents find a home," he says.
Recent data from the National Housing Finance and Investment Corporation shows that borrowers using the Home Guarantee Scheme (HGS) were helped to overcome the deposit hurdle and purchase their homes sooner, with deposits for HGS participants typically less than a third of the average first home buyer deposit.
"We know brokers provide exceptional service, and we encourage customers who are considering utilising schemes such as the Australian government Home Guarantee Scheme to speak to their relationship manager to understand what options are available for their clients and how it might help them realise their homebuying goals," Croucher says.
Bankwest homebuyer trends showed that applications in the first six months of 2021 were up more than a third year-on-year. Rakhit says this highlighted the significant impact of the various federal and state grants in June 2020, driving first home buyer activity.
First home buyers usually account for 10–15% of loan applications, but that number rose as grants were announced, peaking at more than 30% in November 2020, before tapering, with levels normalising since then.
"We also saw the number of applications through our critical broker channel increasing significantly, and while those numbers have also since normalised, they've done so at an increased level," Rakhit says.
While the grants and the higher homebuyer activity occurred a year to two years ago, he says "the impacts of delays in the construction sector mean the effects of that period continue to play out in the housing market".
Is it now a buyers' market?
"It's hard to say whether the market is ideal for buyers or sellers," Rakhit says, "because while we're seeing increased activity, it's coming in a market that has undergone significant pricing increases over recent years and with availability challenges."
At CommBank, Croucher says the lender's economists predict national home prices will drop 15% by mid-2023 before gradually rising again.
"We're seeing an increase in the total number of property listings, as well as days on market for property listings, indicating there is more supply and time for buyers looking to purchase," he says.
"As property prices come off their peaks and greater supply is available on the market, there may be more opportunities for first home buyers looking to enter the property market."
Broker conversations with clients
Gibson says brokers have always worked to educate their clients on the homebuying process, home loan products and rates, and that is never more important than in a rising-rate environment.
"Some first home borrowers look to their brokers to assist with a budgeting plan to make sure that if their repayments increase, they will still be OK, he says.
Gibson says it's also beneficial for brokers to walk their clients through a first home purchase checklist or plan, especially if those clients don't yet qualify for their first home loan. It's not unusual to see first home buyers who work with their broker to secure their first home then use that broker for their future purchases.
Rakhit says brokers are the ideal advisers for first home buyers in a market in which young Australians are feeling the financial pressures.
"Brokers are able to objectively support aspiring homeowners with solutions that are best for their unique circumstances – solutions that consider rates and much more," he says.
"That's why Bankwest prides itself on the collaborative relationship it has built with brokers, ensuring we deliver the tools and processes that meet their needs and expectations to support them in delivering the best experience for customers."
Croucher says first home buyers will naturally have many questions throughout their homebuying journey. "Brokers can really drive value by coupling their knowledge of the property market with detailed insights about things like the process of getting a loan or how a loan is assessed."
He says brokers can also add value by helping clients understand what grants or schemes they might be eligible for and deter-mine the most suitable home loan structure for their customers.
Looking ahead
It appears the current down cycle has some time to play out, Gibson says, but there are still opportunities for first home buyers to enter the market, whether they are purchasing a property to live in or as an investment.
Croucher says further falls in property values may create new opportunities for potential first home buyers.
"From July 1, the number of places avail-able through the First Home Guarantee increased from 10,000 to 35,000 per financial year," he says. "CommBank continues to offer scheme places to eligible homebuyers and will continue to support our broker partners and their first home buyer customers access this scheme through our streamlined processes."