Nathan Vecchio shares five tips to gain those life-long clients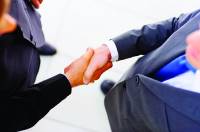 Director of Hunter Galloway, Nathan Vecchio, started broking in 2015 and using the techniques from Joshua's Top Broker Handbook, is writing big numbers, leading to Vow Financial naming him Broker Partner of the Year Rising Star in 2016.
Gone are the days where you can simply copy what the big banks are doing and rely on your location or timing to be the secret sauce to winning the business as an independent broker. Now between maintaining a strong presence online, to focusing on better customer service, it's so important for new potential clients to be able to understand exactly what the difference between working with you, compared to another broker is. So how do you differentiate yourself from the 15,000 other mortgage brokers and bankers across Australia all vying for the same business?
It might be a bit overwhelming to think about it like that, but really, there are so many ways to stand out as a broker and creating buzzing clients for life.
Figure out why you're different
Think about it, why do your customers come to you?
To find the best deal, save time and money?
Please… You're better than that.
If you look at most brokers, their unique selling proposition is that they're trusted, or do the legwork for you. Well, all of these reasons 'why' really do start to merge into one, and eventually they just sound the same.
So go beyond this and really stand out with an unforgettable proposition for your clients.
Think about how your clients may have been burned in the past and structure your services around that, focus on the pain points and how you can find a solution for them, beyond just saving them time.
If you need ideas, sit down with a few of your customers and ask them exactly why they chose to work with you, and also what they would say if they were to refer you to a friend.
Another idea is if you have a lot of Google Reviews, you can also look them, and see if there are any comments that seem to be more prevalent than others.
A good example of this is Yellow Brick Road Wealth Management. While it has an extremely large target audience and a lot of offerings, the way its services are angled in a personal way is what sets it apart. Tapping into the idea of how you can have it all, with the assistance of its services. Behind the business is a strong understanding of each buyer persona, which means communication online speaks directly to you, rather than a just blanket, one-size fits all approach to the masses.
Give more and focus on customer experience
You know when you go to the dentist and they give you a bag full of products to take home? Well, these little add-ons always spark my interest because I never really know what to expect. And, when I get more than just a tube of toothpaste in my take home bag, I feel like I've gotten so much more value than I had anticipated.
Well let me tell you, same goes for your business.
Think about how you can offer your clients even more value than they originally expected. Whether that's through giving them information packs, referring them for non-competitive extras (like which brand of paint is the best) or simply giving them a gift once their loan is approved, all of these little thoughts don't go unnoticed and can be the difference between a memorable experience or not.
It's also a great conversation starter between your clients and their friends/those who aren't (yet) your clients, with the potential to bring you another lead.
As an idea, in the past I've given gifts like Della Mano brownies, Edible Blooms gift packs and T2 tea. But more specifically, think about what your clients would appreciate.
Go beyond, in ways that aren't obvious
Ever had a problem with a bank and called them up, then the person on the other end of the phone simply couldn't help you? Seriously, how annoying is this?
Well, don't be that person!
If my clients ask for my advice or assistance, I always make a point of leaving them with SOME kind of information to lead them towards a solution. They're coming to you because they see you as an authority, so it's within your best interest to help them. This may be a small change in your behaviour, but really the loyalty and respect gained from this will be unprecedented.
Be process driven
The more streamlined you can make your client experience, the better their customer experience will be. So look at workflows and how the process of – from the minute your client enquires, to the final sign off on documentation, goes.
It's also important to build a list of learning's, like looking for holes in how the standard mortgage process goes with banks and fill in the gaps through your business. This naturally creates a point of difference in itself too.
Stay in contact after the deal has closed
Something a lot of brokers forget about is that even though you are no longer working with your clients, it's still important to keep in contact with them. Feed your clients weekly blogs, problem solving information or podcasts to maintain a long-term relationship with them.
Just like shooting fish in a barrel, there are more ways to convert past clients compared to new clients, so spend your time nurturing these relationships accordingly.
After you've figured out your point of difference, delivered an undeniably good client experience and have maintained contact with your client (even after the deal is settled), your clients will be buzzing, and openly want to sing your praises. These are all ways to maintain your reputation, and put yourself ahead of your competitors.
While there may be 15,000 other brokers in the industry, every single one of us have something different that we can offer, so be loud and proud about what makes you different and how you can help your clients!
PS: I'm going to be taking over here at Top Broker for a little bit while Joshua focuses on a few big and exciting projects we are looking forward to bring you in the next few weeks. A quick background, I started broking in 2015 and using the techniques Joshua has given in the Top Broker Handbook I have grown my business in a very short time to writing some big numbers, and was fortunate enough to be awarded Broker Partner of the Year Rising Star in 2016.