In our annual survey, brokers have their say on their aggregators' performance. After a year of changes and uncertainty the top priority for brokers has stayed the same, but other areas have moved higher up the list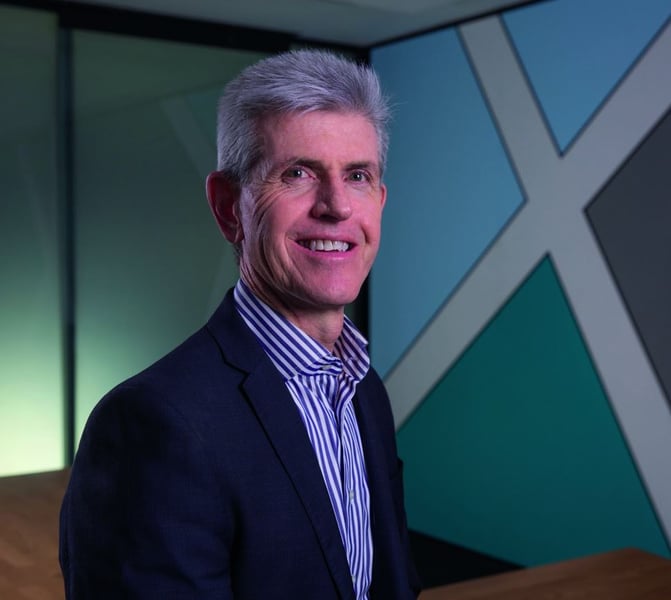 You had your say: now find out who is on top
Aggregators have felt the pressure of the last year as well, having to face the royal commission scrutiny alongside brokers and make sure they are providing support and education as policy changes.
It seems they have risen to these challenges, too; brokers had mostly positive things to say about their aggregators' services in this year's survey.
Eighty-seven percent of brokers said they were highly unlikely or unlikely to leave their aggregators over the next 12 months, which was an improvement on last year.
Brokers also responded positively to how they felt about their fee/commission split and about hidden costs. It was no surprise to see that the importance placed on aggregators' compliance support was higher than other areas this year.
While it received the same score of 4.48 as last year, the perceived importance of areas like the lending panel and IT and CRM support dropped.
This could be because in the environment over the last few months, brokers have been looking for support from their aggregators in di­fferent ways.
The broker image was being tarnished and banks have been making it harder than ever to apply for finance; they needed better support to keep compliant and get deals through the banks. Communication with brokers also rose in importance, which is not a surprise.
After the final report from the royal commission, the industry began its campaign to educate the government and electorate about the importance of brokers.
Many spoke out against aggregators at the time, suggesting there should be more communication about what they were doing to fight for the industry; of course, most of them were behind the scenes having meetings with officials and supporting the MFAA's advertising campaign.
Another thing the aggregators have been doing is improving their digital tools, CRM systems and processes to support brokers.
This is something they will no doubt keep working on as time moves forward, which is necessary considering 13% of brokers in this survey said they would consider leaving their aggregator if they had poor IT and CRM support.
In our final results section, you'll find the runners up talking about the areas they were rated highly for and then there is an interview with the managing director of MPA's number one aggregator.
Around 500 more brokers took part in this year's survey compared to last year and considering how positive the results were, this seems to be an indication of how willing brokers are to praise their aggregators.
Read on to find out which aggregators came out on top for which areas and what brokers had to say about specific services their aggregators provide.


Final Results
5th: Finsure
MPA: Finsure was awarded gold for quality of panel and white label offering. What will Finsure be doing to ensure it continues high quality solutions for brokers and their customers?
Simon Bednar, CEO: Finsure is built by brokers, for brokers. So, to ensure we continue to deliver high quality solutions, the answer is simple – we'll continue to listen to the feedback our brokers provide and evolve our solutions accordingly. We will continue to partner with new lenders that can help our brokers satisfy customer needs. We will continue to deliver marketing services that help brokers enhance their brand and attract customers. We will continue to offer market-leading commission structures.
4th: Outsource Financial
MPA: Outsource Financial came out on top for BDM support. What is your approach to working with broker members?
Tanya Sale, director: Our business has been built on a high level of support to members. One of our roles is to assist members to become successful business owners. With the introduction of ieducate, our in-house training facility, we guide members to unlock their potential, define target markets and put their business where their customers need them. ieducate will continue to create innovations which will assist our members to evolve. Our mantra will always be 'Education is Empowerment' and this will be driven by the outsource support team.
3rd: Loan Market
MPA: You were praised for your training and education. What is your approach to this area?
Kristy Bartlett, head of learning and development: Loan Market is obsessed with helping brokers grow bigger and more profitable businesses and at the heart of that is training and education. Loan Market also has a relentless focus on compliance to keep brokers safe, retain its people and attract new businesses. In May 2018, Loan Market revised its audit program where five random files are reviewed per broker, every six months. The results of the audit form a detailed report placing brokers in four tired rankings. The P&P team then coach the broker through their report, highlighting areas to improve.
2nd: Connective
MPA: Connective won the gold in broker communication and compliance support, both among the top four most important areas for brokers. Why is this so important?
Daniel Oh, group legal counsel: With an ever-increasing focus on compliance and broker behaviour, we support our members with their compliance requirements so they can focus on growing their business with confidence. We have the most well-resourced compliance team and strong relationships with key industry stakeholders.
Mark Haron, executive director: We are passionate about active communication with our brokers to ensure we are supporting their success. The Connective team are always available to talk to our brokers one on one. Our focus on communication was demonstrated during the royal commission and election campaign when it became more important than ever to communicate with our members as we fought for our industry.
1st: Liberty Network Services
MPA: Liberty Network Services came in second last year; what made the difference this year?
Brendan O'Donnell: Our relentless focus on helping advisers to help more customers get financial! We consistently engage with advisers to ensure we understand their challenges and the support they need to succeed.
We have a 'success framework' that guides our engagement with advisers with focus on eight key areas, namely: brand you, customers, prospects, professionalism, service excellence, differentiation, diversification and learning. These focus areas help advisers work on the things they can control and minimise any distraction on the things they can't control.
As we know, over the past 12 months we've had plenty to contemplate with the royal commission and federal election which can easily distract from day-to-day customer engagement and business growth. Many aggregators claim they have a high touch model where in reality this is often not the case.
Our Network Sales Managers have portfolios of no more than 25 advisers. Our BMS (Business Marketing Sales) program together with ongoing coaching, training and process management is proving very effective.
MPA: Your highest score was for IT and CRM support. What do you offer brokers and how will you continue to adapt?
BO: Our mobile technology platform Spark continues to evolve with the key emphasis on ease of use and navigation helping advisers to engage with customers and prospects in a seamless and efficient way. It allows advisers to stay on top of their business while they're on the road, with CRM, application, submission, settlement, document management, loan tracker, compliance, training and communication support.
Our CAP (Customer Appreciation Program) helps advisers engage with customers post-settlement, receiving feedback by way of testimonials and net promoter scores. While we have exceptional technology and constantly seek ways to work smarter, and digitise and streamline processes for advisers, we recognise that nothing replaces local face-to-face support, coaching and mentorship.
MPA: How is LNS continuing to support brokers who might be looking to expand in the current environment?
BO: We have no more than 25 advisers per Network Sales Manager (NSM), which means our advisers get personalised support when they need it.
Integral to our culture is ensuring good customer outcomes at all times.
We are fortunate with our agile approach and progressive technology that we are able to quickly adapt to any new requirements emerging from regulatory or industry bodies. We provide extensive support in terms of website leads, strategic referral partners, digital optimisation and connectivity to name a few.
Broker's Top Priorities

As the industry saw increased scrutiny and changing regulation as a result, it is no surprise the priorities for brokers have changed over the last year.
Brokers have shifted their expectations of their aggregators and while some areas have become more important, others have dropped down the line.
From fourth most important in last year's Brokers on Aggregators survey, compliance support was placed in second this year.
As well as regulation changes, banks have introduced di­fferent policies and are placing a higher emphasis on compliance.
To keep up with the constant changes, brokers have recently told MPA they started to introduce weekly sessions in their brokerages to talk over scenarios and policy updates.
It is no wonder they also want support and guidance from their aggregators.
Accurate and on-time commission payments remain brokers' most important service.
Poor accuracy and timeliness of commission payments also emerged as the top reason why a broker would want to leave an aggregator.
This overtook poor IT and CRM support, which was the top reason last year.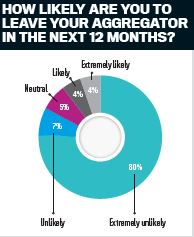 Despite these results, more than 94% of respondents said they were happy with their aggregator's commission split. IT and CRM support was the third highest priority for brokers in 2018 but it dropped down to seventh place this year.
Looking at the areas which now come above it, it is not hard to see why it dropped in importance.
After a year of constantly changing policies and the threat to the industry, brokers are placing more importance on the quality of the lending panel, communication with brokers, training and education, and BDM support.
Despite the talk about diversification as brokers faced losing trail commissions, aggregators providing additional income streams ranked only eighth in importance.
For another year, lead generation came at the bottom of the pile, although a number of respondents later said in the survey they expected more help in this area.
Brokers seem happier with their aggregators than in 2018, with 80% saying it was extremely unlikely they would leave their aggregator
When asked what one service your aggregator could add to improve its offering, one Queensland broker said, "Just lead generation. [It] should tie up with real estate agents and help the new brokers to generate more leads."
Mostly, the brokers responding in this year's survey were happy with their aggregators.
Only 8% said it was likely or extremely likely they would switch.
Brokers seem happier with their aggregators than in 2018, with 80% saying it was extremely unlikely they would leave their aggregator, compared to 75% last year.
Liberty Network Services placed in every aspect of support and communication in the survey.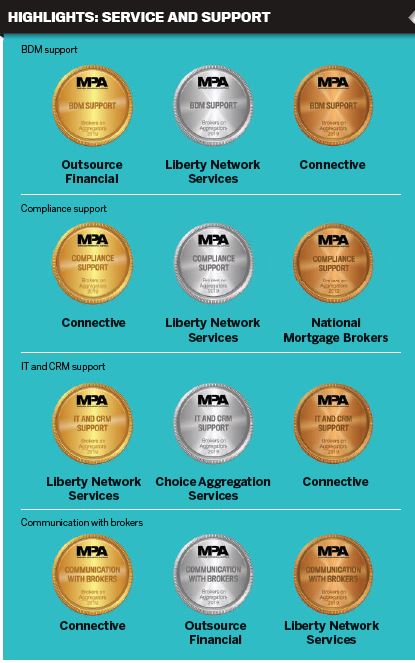 Getting paid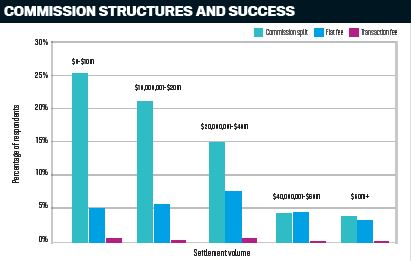 With broker pay a hot topic during the last 12 months, it was refreshing to see that most brokers are happy with their aggregator's commission/fee split.
In fact, even with the increased attention on commissions, fewer brokers said they were unhappy when compared with last year's survey.
Consistently voted the top priority for brokers, Finsure came out on top for accurate and on-time commission payments.

"With commissions being such an important part to a broker's business, our Commission Processing infrastructure has always been a priority for our development team, with a core focus on three areas – accuracy, e­fficiency and automation," said Finsure general manager Simon Bednar.
While brokers were generally happy across the board, there was a small percentage that said hidden costs by their aggregator were a problem. Last year, 6% of respondents said it was either a problem or a major problem. This year, the figure was double that.
For those brokers who said it was a problem, some raised concerns about not knowing where their money was going to and others said they had experienced increased fees without knowing why.
A broker from Queensland said it was di­fficult to get an answer from their aggregator.
"With the asset finance I always have to ask when I get paid and no one seems to know the answer. Same goes with the amount of commission which can be frustrating," she said.
Brokers on a commission split (71%) have taken an even larger share this year, above those on a flat fee (27%) and a transaction fee (2%).
The figures showing settlement volume based on pay structure paint an interesting picture.
Last year, those who earnt a flat fee were by far the most likely to be making $60m or more.
This year, they are less likely than those on a commission to be earning those figures.
Instead, they are slightly more likely to earn between $40m and $60m
This could be as a result of the higher proportion of commission earners answering the survey this year.
With talk of changing commissions over the last year, there has been a focus on brokers diversifying into other areas.
Liberty Network Services was voted on top for offering additional income streams, which matches the Liberty group's message to brokers.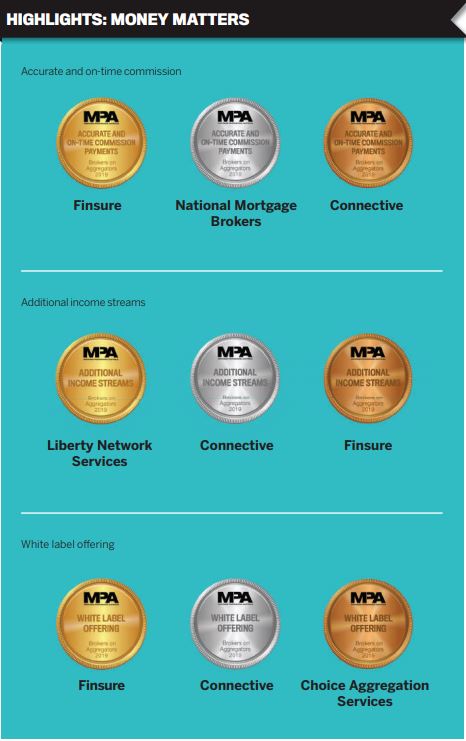 Growing your business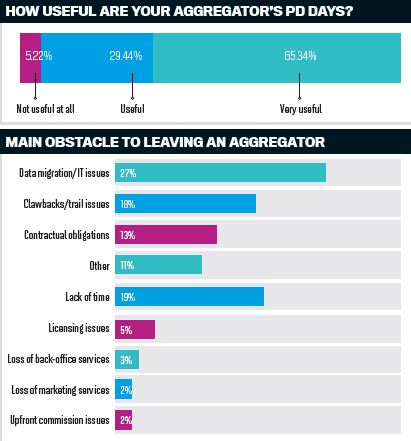 Particularly with the policy changes and threat to the industry that has been seen over the last year, aggregators are boosting their education and training.
Whether it be in marketing, diversification or scenario workshops, they are ensuring brokers are fully equipped to look after their customers.
The hard work is paying off it seems, as less than 6% of brokers said their aggregator's personal development days were not useful. Loan Market came out on top for its training and education.
It combines face-to face interaction between coaches and brokers with its online education platform, Springboard.
It also featured in the top three for marketing support and lead generation: two areas brokers are looking to more and more. In fact, aggregators seem to be doing a great job at training and education.
Only 8% of brokers said poor education would be a reason they would leave their aggregator, while 5% said it would be for poor marketing support.
For the 8% of brokers who said it was likely or extremely likely that they would leave their aggregators in the next month, there were a number of obstacles that would hinder their exit.
The biggest obstacle was data and migration issues and, worryingly, the second biggest obstacle was lack of time. Amongst the other concerns were the loss of certain services, trust in a new firm and disruption to their business.
One broker from NSW said the biggest problem for them was around transferring their trail book.
"It is the broker that is maintaining the ongoing relationship with the client not the aggregator.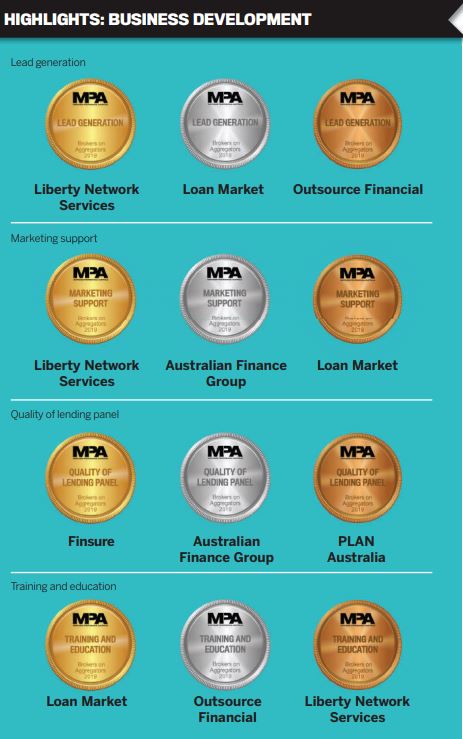 A consumer can refinance a loan and cease relationships with a bank, why can we not move our trail book?" he said.
While lead generation was nearly at the bottom in terms of priorities for brokers, when asked what one service their aggregator could add to improve its service offering, support with leads was possibly the most common theme.
One NSW broker said, "Lead generation, as that is the major thing that would improve the profitability of the business."
Other areas brokers would like to see more of was marketing support, improved CRMs and better communication.
When asked which lenders these brokers would like to see added to their aggregator's panels, there were some standouts.
The most sought-after lender for their panels by a long way was HSBC; Liberty, Newcastle Permanent and ME Bank were also popular choices.
This year saw a much higher demand for fintechs like Judo Bank and OnDeck, as well as non-conforming or specialist lenders.
The top three aggregators for the quality of lending panel were the same as in 2018, showing they are keeping up with broker and customer demand.
"Whilst there are a variety of factors that contribute to customer satisfaction, one of the fundamental requirements is providing a loan solution that is ideal for the customers' needs.
This can only happen by arming our brokers with a wide variety of products from Australia's top lenders," Finsure general manager Simon Bednar said.
What you're saying
"I already pay my aggregator a monthly fee and expect value for the money I pay them. Their value is a fabulous software package, fantastic back o ce support, professional development programs to maintain my industry knowledge and timely commission payments" – Vic broker
"If the aggregators assisted with a system/process to manage creditors to ensure we are paid by clients and paid on time, that would be valuable to me. I have charged fees before and following up clients to pay adds a whole new level of management to our business model" – SA broker
"The aggregator would have to be available for their members at all times and provide them with ongoing support in all aspects of the member's business i.e. marketing, compliance, assistance with lenders, scenario support, and assistance in growing their businesses" – NSW broker
"Lead generations to be included. Got to get leads from aggregator as the table has turned" – ACT broker
"I would be prepared to pay for a strong compliance proposition, as this will be imperative when Best Interest Duty is defined and legislated" – NSW broker
"Regular interaction with brokers, going into bat for the broker where required, working with the industry to improve the quality of brokers and their educational requirements" – Vic broker
"Brand presence to attract paying customers and a good white label product with specific advantages that you could promote to potential borrowers as an o‑ set to the fees you are charging"– NSW broker
"I would want an aggregator to provide a more personal contact person, in a way a BDM to look after us on an individual company basis, instead of only having certain people to go to within the aggregator company who don't know our business on a personal level. I would want this person to then be able to train our sta­ff as soon as there is a need for further training also" – NSW broker
"A customer-facing portal to enter holdings and track them in real time. Timely and relevant marketing and customer lifecycle management, automated trigger and event detection, seamless handovers to advice/wealth creation, proactive mortgage management and tax-e­ffectiveness advice etc" – Qld broker
"As brokers we would have to be more sophisticated in our client o­ffering; it's not just the newsletters or marketing, but perhaps bring clients into a networking world that can expand their businesses, enhance their lives and keep them on track to reaching their ultimate goals, not just purchasing a property" – NSW broker