NAB and ANZ still haven't required employee vaccinations despite surging case numbers in Victoria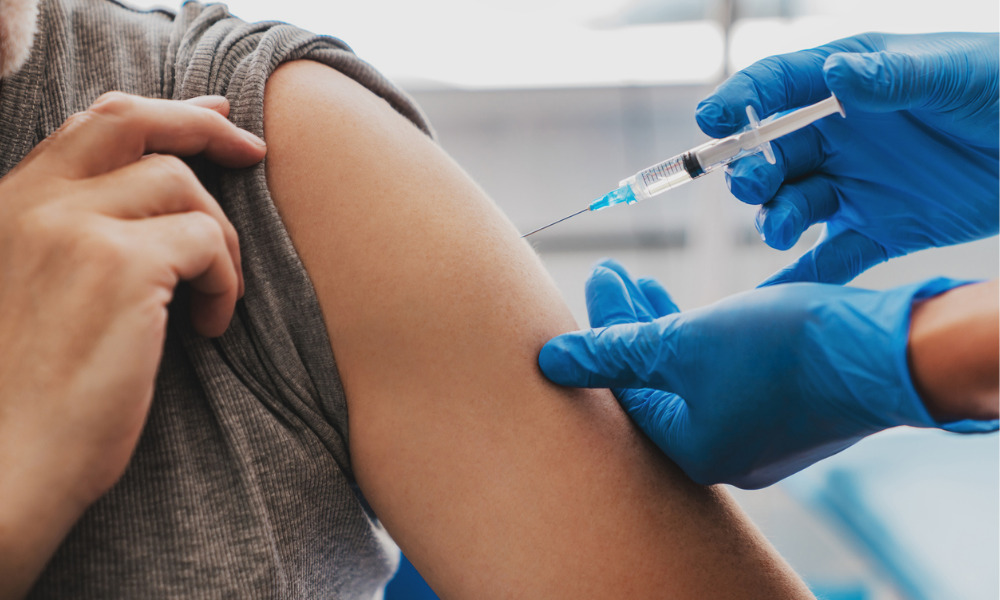 Commonwealth Bank, Westpac and Bank of Queensland will require employees to be vaccinated against COVID-19, but Melbourne-based National Australia Bank and ANZ have no current plans to require jabs for staff, despite surging COVID cases in Victoria.
Westpac, CBA and BoQ informed employees of the mandates this week, according to a report by The Australian. The banks said they needed to protect both staff and customers from the virus.
Westpac CEO Peter King said the health and safety of bank employees and customers was the lender's top priority, with COVID-19 cases expected to rise as lockdown restrictions are eased.
"We recently asked out employees for their views on vaccination and received more than 10,000 responses," King told The Australian. "Pleasingly, 91% said they are, or intend to be, vaccinated, with a further 4% undecided. Like other essential services, banking has remained open during the pandemic to support customers through COVID-19 with their banking needs. With a large workforce, it is important that we have the safest possible work environment."
More than 3,800 Westpac employees have been forced to isolate and more than 280 branches have closed and reopened since the New South Wales outbreak began in June, The Australian reported.
"It is clear that the best way to keep our people safe and stay open for our customers is for people to be vaccinated," King said.
Westpac will implement a phased approach for its mandate, with all employees entering a Westpac workplace in NSW, Victoria and the Australian Capital Territory required to be fully vaccinated by Dec. 1, according to The Australian. Employees in other states will be required to be fully vaccinated to enter the workplace by Feb. 1.
CBA is also taking a phased approach. Victorian employees must be fully vaccinated by Nov. 21, while NSW and ACT employees must be fully vaccinated by the start of December. Employees in the Northern Territory must get the jab by Christmas, while Queensland and Western Australia staff must be fully vaccinated by February.
"In line with our ongoing efforts to protect our people and customers from the health risks associated with COVID-19, we have updated our vaccination requirements, and will continue to, in line with state guidance," a CBA spokesperson told The Australian. "This follows regular feedback from our employees and customers who want certainty, consistency and confidence as the economy reopens and life in our communities returns to normal. This is also consistent with our approach to prioritise the health and safety of our staff and customers at the same time as helping the country to weather the substantial economic and social impacts of COVID-19."
Bank of Queensland said all of its employees, working across BoQ, Virgin Money and ME Bank, would be required to get vaccinated in order to gain entry to the workplace, The Australian reported. The mandate also applies to contractors, vendors and suppliers.
"As an essential service and proud employer of thousands of Australians, BoQ Group is focused on keeping its people, customers and the community safe," a BoQ spokesperson told the publication. "In line with the recent directive from the Victorian government, and the NSW road map, and in consultation with the Australian Banking Association, we will be taking a national and phased approach to ensuring our employees and the people we work with are vaccinated."
A BoQ survey revealed that more than 90% of the bank's employees were already vaccinated or had plans to do so, The Australian reported.
NAB and ANZ have yet to mandate employee vaccinations, despite surging cases across Melbourne. Victoria hit a new record of 2,297 cases on Wednesday, The Australian reported.
In a memo to staff this week, ANZ chief Shayne Elliott explained the reasoning behind the bank's decision not to institute compulsory jabs.
"Where necessary, government and safety regulators will indicate where mandated vaccinations are needed for the health and safety of employees," Elliott said. "These authorities are in the best position to determine if and when mandates should be used and, as we have found throughout the pandemic, following the best medical advice is the most effective way to combat this virus."
Read next: Mortgage industry falls silent on compulsory COVID vaccination for brokers
Elliott also said there was no need to mandate the jabs because a recent ANZ staff survey found 91% of respondents were either fully vaccinated or on their way to becoming so.
"We will continue to keep vaccine mandates under consideration but at this point we will focus on making it as easy as possible for you to get vaccinated," Elliott said.
Susan Ferrier, group executive for people and culture at NAB, said the lender was strongly encouraging its employees to get vaccinated.
"We are continuing to follow federal, state and territory government health advice, including requirements such as Victoria's where our people must be vaccinated if entering one of our buildings," Ferrier told The Australian. "Of course, we'll continue to monitor the situation in each state as it evolves. Throughout the pandemic, we've constantly considered our responsibilities to keep colleagues safe, particularly those on the frontline – as well as our customers. Reaching high levels of vaccination is crucial to saving lives and key to us all enjoying more freedoms again."
None of the banks are requiring customers to be vaccinated, The Australian reported.