The next chapter of MPA's fortnightly brokerage diary looks at why being based in a shopping centre pays off.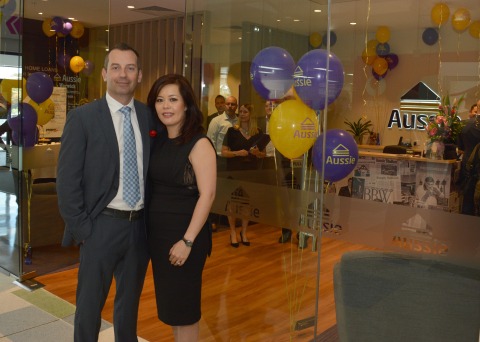 The next chapter of MPA's brokerage diary looks at why investing in the right location pays off.
Phil Barton and Natalie Duong began Aussie Warwick last year. In the the first of 12 exclusive diary entries they talk about the personal and professional challenges of running a new brokerage.
Having a shop front in a busy shopping centre like Warwick we have the benefit of consistent foot traffic walking past our door each and every day. This was a deciding factor in our choice of location when compared to a high street or work from home model that are available within the mortgage broking profession.
The centre itself is not huge with 76 retail outlets and for this reason it retains a friendly and local community feel; a positive in my opinion when offering the trusted services from a brand which promotes the values of family and the goal of home ownership.
Having an iconic and easily recognisable brand behind the store provides familiarity that connects us with the potential clientele within our area. Much of our business is drawn from this market and on the whole most of our walk-in client base is good quality, knowledgeable and stable.
The walk in clientele takes a small amount of pressure away from running a new business but it is up to us to build on this market and develop a reputation for service and professionalism that will draw a new home loan client away from dealing with the unknown lender at the banks.
We cannot however sit and wait, which is why Aussie provides every franchise store with a Retail Business Consultant (RBC) to assist and in many instances to offer advice. Our RBC, Guy Sanders, has been with us from day one and has offered support and mentoring in many aspects of establishing and running an Aussie Franchise. The help has ranged from contractual understanding, implementation of best practices and analytical perspectives on monthly performance. We base our performance on our own business plan which we developed with Guy before the business opened; it caters for worst, conservative and best case scenarios.
Key reports are only a fingertip away and having the ability to discuss conversion ratios, lead generation, projections and marketing with a third party cannot be underestimated. It genuinely gives perspective when looking at segments of the business generated from company sourced leads, walk-in leads and self-sourced leads.
I am writing this on the eve of one of our monthly meetings with Guy, which are pencilled in for generally three hours in duration. Three hours of our time out of the business in one day is significant and it has to add value and offer an open approach with a view to improving performance.
In my opinion having a monthly meeting with Guy turns the microscope on us and our business. It doesn't just highlight weak areas before they become concerns but motivates our ambitions further by recognising what is working within the business.
In that respect lead generation is always on the agenda, although our location is the foundation of the business and the marketing territory that we have has great potential. The question for me is how do we dedicate time to implement marketing plans and strategies to capitalise on our resources at hand whilst servicing our store clients? I look forward to sharing the answers with you after our next meeting.
Phil and Natalie will be detailing their experiences every other Friday on MPA Online and in Australian Broker magazine two weeks following. You can find Aussie Warwick's website here.