Nathan Vecchio shares his top five follow up tips to convert more prospects to settlements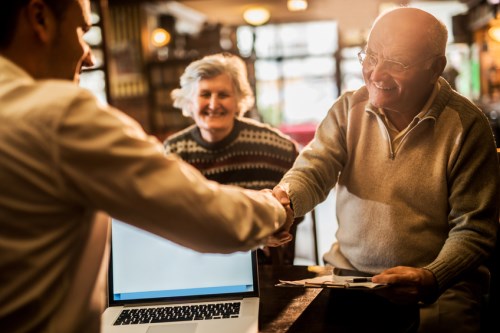 Director of Hunter Galloway, Nathan Vecchio, started broking in 2015 and using the techniques from Joshua's Top Broker Handbook, is writing big numbers, leading to Vow Financial naming him Broker Partner of the Year Rising Star in 2016.
One of my favourite sayings is that "fortune favours the brave". To me this is the crux of business for brokers, if we aren't putting ourselves out there and being brave in hard times and good times, we aren't growing our business. But having spoken to a few brokers recently, I realised this saying wasn't 100% true in my own case…
In the beginning of my career I was worried to be seen as too pushy for customers, and didn't know where to draw the line when it came to following up clients – so I wouldn't. I would just wait for a call. I knew it was important to be assertive but at the same time I was conscious, I didn't want to overwhelm my clients with a flurry of contact.
As I've progressed over the past few years I've realised in a competitive industry like ours, where we aren't only competing against 16,000 other brokers but also the banks, mobile bankers, building societies and online platforms, that it is more important than ever to make sure you stand out from the noise, without being overly persistent.
I've finally realised that in broking, fortune favours the follow up so here are my top five tips that have helped me convert more prospects to settlements, that I know you can start using from today.
Make the call
Too often, it can be easy to forget to make a follow up phone call and just see how your client is doing. This is a great way to build a strong point of contact and remind them that you are there for any advice or assistance they need.
I make a follow up call one day after an initial meeting with a client to ensure there aren't any further questions, queries or concerns.
Top Broker tip: When you're scheduling in an appointment with your client, add a follow up call into your diary straight away so that this doesn't get missed. Also, let them know in the meeting you'll give them a call the next day, so that they will be expecting it.
Try different times
Instead of always following up a client at 11am when it's scheduled in your diary, if you're having trouble contacting one specifically, try to give them a call at a later time, or early evening. Often, due to people's work schedules they can't always get to the phone. So keep this in mind. It's easy to forget to call someone back, so try your luck at different times throughout the day instead.
Top Broker tip: When meeting with your client, ask them about their schedule and their preferred method of contact, as this will help you understand what times of the day they are available and if they prefer text, email or phone calls.
Leave a message
If your client misses your call, make sure you leave a message (voice or text). There's nothing worse than having a missed call and not know what it's about. At least this gives your client the option to call you back or not and ask any further questions they may have from there.
Three strikes and you're out
As a general rule, I follow up three times and then leave it after that. Any more and the contact becomes a bit too much. You don't want the last thing people to remember you by as "that broker who wouldn't stop calling me".
Top Broker tip: Keep track of your calls and emails between clients with your CRM system or if you haven't got one set up, an easy way to maintain notes on each client is through Trello.
Know when to stop
If your client hasn't responded to your emails, texts or calls, don't assume the worst or take it personally. If you need an answer by a certain date, a good idea is to bring the deadline to their attention.
I usually write something like…
" I hope you received my email, I haven't heard back so I wanted to follow up on my previous email (or call)."
It's always best to be kind instead of taking it personally and getting frustrated. This just looks unprofessional and is a waste of your energy. You also never know what else is going on the other end.
I remember having a client who was ready to buy and looking to get pre-approval and then all of the sudden just dropped off the earth. Three weeks later he called me and let me know he'd broken his ribs in a surfing accident. Life happens, so don't forget that.
Tip Broker tip: Remember how busy your clients are. The most important thing is to make the process easy and when they are ready, they'll remember your incredible customer service, which will leave a lasting impression on them.
PS: I'm going to be taking over here at Top Broker for a little bit while Joshua focuses on a few big and exciting projects we are looking forward to bring you in the next few weeks. A quick background, I started broking in 2015 and using the techniques Joshua has given in the Top Broker Handbook I have grown my business in a very short time to writing some big numbers, and was fortunate enough to be awarded Broker Partner of the Year Rising Star in 2016.