Mortgage aggregator AFG is underlining its decades-long commitment to brokers with a brand-new suite of technology designed to help fuel their growth – and future-proof their businesses for whatever lies ahead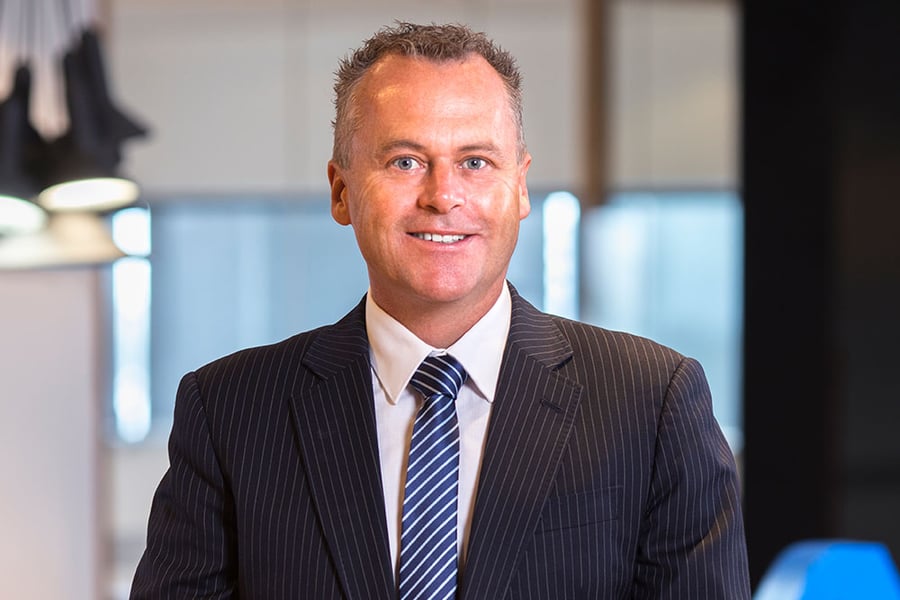 Making life easier for the home loan applicant, clearing any tripping hazards on the path to their new front door – that's the job of the mortgage broker. A job done so well that last year they hit record market share, settling over 60% of residential mortgages. So brokers are taking care of business – but who's taking care of them?
While brokers are hitting an all-time high, there are some stumbling blocks they could do without. A MyState bank survey late last year identified their chief concerns: speed and frequency of change around credit policy procedure; turnaround times; and meeting varying lender requirements throughout the application process.
Smoothing the broker's way – so they can get on with the job of helping Australians into homes – is something aggregator Australian Finance Group prides itself on. So, when two years ago AFG embarked on a major technology overhaul, naturally it turned to its 3,000-strong broker network to ask: 'what do you want most from the tools?'
The answers are distilled into AFG's exciting new array of technological initia-ives – Suite360. This includes the recently launched Customer360, a digital fact-finding tool brokers can use to engage with customers that captures information and uploads loan application documents. Added to this, there's the soon-to-be-launched customer relationship management platform that AFG COO John Sanger thinks brokers will be "delighted with".
"I think we are going to solve a lot of industry-wide challenges with the technology," he says. "We have led with 'what is the job to be done, how can we solve it differently?' Yes, it is a technology platform, but it's designed with what we believe is the best practice in customer experience and user experience."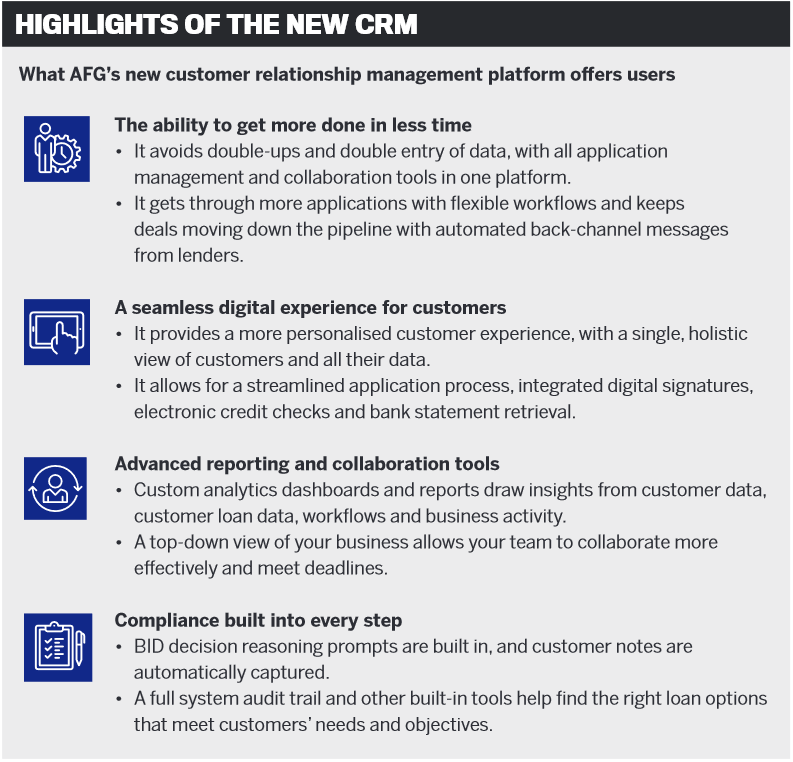 The new digital initiatives come hot on the heels of a brand redesign and new logo and website. AFG worked with award-winning Sydney creative agency The Works to develop the refreshed brand architecture and messaging. The new tech and new look were timed to coincide because it's more than just a brand update; it's also, crucially, a fresh look at how brokers need to work to get better customer outcomes.
The refresh, says Sanger, "is a strong reflection of who we are as a business and our commitment to partnering with our brokers for their business growth".
And while the branding and technology, created with tech partners Oracle on enterprise-grade platforms, is brand new, they're just a fresh chapter in a decades-long story. "For 26 years AFG has been standing side by side with our brokers. We are building on some very rich history here. But we are also looking to the future and innovating," Sanger says.
Over those hundreds of hours of inter-views with brokers, mining their experience and canvassing their concerns, what did AFG discover? There have been some key insights, he says.
To start with, brokers are seeking more efficiency; they want to spend less time processing and more time with customers. They also want help with navigating their compliance and best interests duty obligations. They need to meet increasing customer expectations, especially those of millennials looking for a more digitally led experience. Lastly, they want help with managing their businesses more effectively – more visibility of the deals, more oversight of compliance, better team collaboration.
Delivering on these needs – and replacing 15 years of core technology – was no small task, says CIO Matthew Faries.
"It's a whole new underlying technology – a purpose-built application for brokers. There is an expectation that brokers analyse customers' scenarios a lot more than, say, 10 years ago. Our job is to provide tech that enables them to get more data and find the best outcome."
What AFG has come up with is a CRM that ticks off the four main findings of its research.
Firstly, it offers a streamlined application process. "We are confident of saving hours more time with, for example, digital signatures and less double entry of data – this is a big one for our industry," says Sanger.
The second benefit is that the best interests duty is comprehensively embedded into the application process. There are compliance prompts at every step to make it easier for the broker to navigate.
Thirdly, the CRM is more centred around the customer, with a highly comprehensive customer record, including details like existing loans and residential and employment history. "Whereas a lot of the industry CRMs are about getting the deal done, we have centred it around managing the whole life cycle of the customer and everything in between."
Finally, for brokers with several people in their team, task management and collaboration is enhanced. "As the application moves through the process, the system can automatically create tasks and assign them to individual team members, who can easily see the tasks they have outstanding."
Seamless solution
Across the industry, brokers might use tools for specific jobs, but they are not well integrated back into the main platform, says Sanger.
"They have had to implement a number of other workarounds and other tools and systems where they are copying data from one and pasting it into another one. Often this also means having to pay for multiple software subscriptions. With our new tech, they will work in one platform to manage customers, manage applications and see the deals move through the pipeline."
However, he emphasises that while the new tech streamlines the application process, it's by no means a one-size-fits-all.
"One thing I love about this industry is each broker group is a small business, and they can each carve their own value proposition. Some are extremely relationship based and face-to-face, others are quite digital. We have had a comprehensive process of broker engagement and testing throughout the development to make sure the platform supports all those different business models."
It's also about being able to cater to an increasingly complex market, says Faries.
"We've recognised there is a need for us to be able to support the more complicated deal types, whether it's with multiple splits or multiple people from different households – so they all come together within one application, and that data gets represented accurately all the way through to the lender."
Analytics and learning
As mentioned, the CRM is just one – albeit impressive – offering in AFG's Suite360. Others include a rich analytics platform for brokers to see how their businesses are performing and find ways to improve, as well as an award-winning learning and development platform. This is a reflection of a growing commitment to what Sanger calls "the growth mindset" – with more brokers eager to take up learning opportunities, especially during the pandemic.
These are in addition to the existing – also award-winning – platform SMART, which gives brokers a full suite of automated marketing tools and website in their branding.
"We're working on further enhancing the marketing offering and how they can better integrate into the end-to-end customer communications for brokers," Faries adds.
Watch this space
The CRM has delivered on the brokers' wish-list, but it doesn't stop here.
"We are testing the product with brokers now, but there's quite a roadmap. We have a lot of new features and functionality in the roadmap over the next 12 months and beyond," said Faries. "The plan is to see how the platform is received and prioritise feature development based on broker feedback as we go."
AFG will continue with its research, design and validation to identify and solve problems in the here and now but with one eye on the future too. "Things change quickly, the expectations of our customers change quickly, and we have to keep up with that," said Faries.
It's not just about building technology, says Sanger. "It's a mindset around 'how do you continue to deliver great customer experiences' ."
He points to that record broker market share as confirmation of the value brokers bring to customers. "It highlights how brokers have helped Australians manage their finances in troubled times. Our business is helping our brokers grow their business, giving them the right tools to get the job done and delighting their customers."
ABOUT AFG
Australian Finance Group was established in 1994 and has grown to become one of Australia's largest mortgage broking groups. With a network of 3,000-plus brokers and a team of over 200 nationwide, AFG helps offer customers a choice from over 70 lenders across more than 3,800 finance products