The industry's biggest survey needs your input.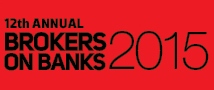 We need YOUR feedback on how the banks are performing in the broker channel.
Whatever your line of broking, chances are you deal with the banks on a daily basis, year round.
Who better than YOU to help us directly compare the performance of the major and non-major banks, from essentials such as turnaround times, to credit policies and diversification opportunities.
And just for taking part,
you could WIN a LG Sound Bar (RRP $399)
.
It will take less than five minutes out of your day, right now,
to share your knowledge
.
MPA's Brokers on Banks survey has been running for 12 years, and has become known as the definitive banking report for the mortgage broking industry.
Australia's banks and mortgage broking community use this information to improve their ongoing relationship.
This survey is an important benchmark for the banks themselves; in past years we have had third-party channel chiefs featured in MPA, directly responding to your concerns, as raised in these surveys.
The survey closes on Friday 8 May,
but please don't delay
.
The results will be published in MPA 15.7, on desks in late June.