Home prices and rents continue their upward march in this capital city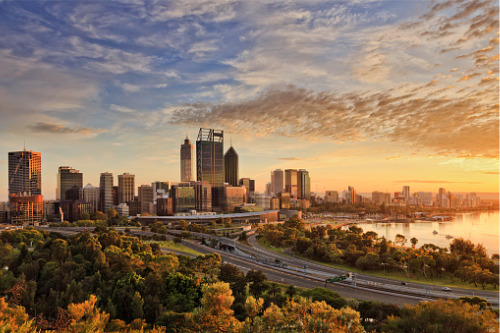 Perth is currently the fastest-growing major housing market in Australia, according to new data from CoreLogic.
Perth's home value index rose 1.6% in January and 3.8% quarter over quarter, according to CoreLogic. Damian Collins, president of the Real Estate Institute of Western Australia, said that REIWA data supported those findings, with Perth's median house price spiking to $490,000 last month.
"The improvement experienced in the latter half of 2020 has continued into 2021, which is pleasing to see," Collins said. "With the pandemic continuing to impact travel and our local economy bouncing back after a challenging year, more and more West Australians are recognising that now is the time to buy."
There were 8,287 Perth properties for sale on reiwa.com in January. That's up 1.2% from December, but down 33.3% from January 2020, according to REIWA. Collins said that although listings were significantly below levels seen a year ago, "we expect more sellers will see the benefits of listing their properties now rather than later."
"Properties continue to sell at a faster rate than they did last year, with the median days to sell sitting at just 21 days, down from 43 days in January 2020," Collins said. "There is little doubt now that the Perth market has swung into the seller's favour and buyers are needing to act a lot faster to secure a property."
Read more: WA taxpayers are shouldering costs for state's most expensive homes
House and unit sales in Perth were down slightly last month after a spike in December.
"The spike in sales Perth experienced during December was quite unusual," Collins said. "Typically we see activity drop off in December and January, before lifting again as we get further into the new year."
Despite sales activity posting an overall drop in January, several suburbs still posted sales improvements, REIWA reported. The top five selling suburbs included Meadow Springs (up 75%), Yangebup (up 67%), Mandurah (up 67%), Alkimos (up 64%) and Heathridge (up 44%).
The Perth rental market remained tight in January, which was the fifth consecutive month in which fewer than 3,000 properties were listed for rent.
"There were just 2,826 properties for rent in January 2021, compared to 5,784 in 2020, which is a drastic reduction in stock, and we currently have a severe rental shortage," Collins said. "While in the short term these conditions will entice investors back to the market, it is imperative the WA government keep their promise to end the rental moratorium on 28 March 2021 to ensure the situation does not worsen."
Perth was Australia's fastest-growing rental market in 2020, according to CoreLogic data. That trend seems to be continuing this year, with REIWA data showing that Perth's median house rent increased by $5 to $400 per week in January.
"With the rental stock remaining low and expected to do so in the coming months, combined with low interest rates and expected gross yield growth, we will expect investor numbers to increase in the latter end of the year, particularly when the moratorium ends in March," Collins said.