Brad Sewell, director of multi-award-winning brokerage Robinson Sewell Partners, talks to MPA about engagement fees, finding partners, and how business is bustling in outback Australia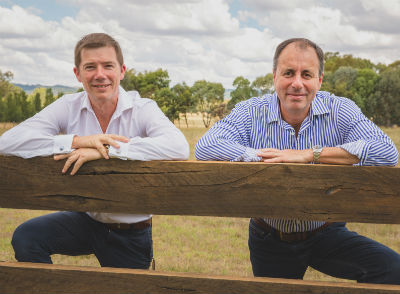 Brad Sewell, director of multi-award-winning brokerage Robinson Sewell Partners, talks to Maya Breen about engagement fees, finding partners, and how business is bustling in outback Australia
MPA: How did you carve out a niche in agribusiness and commercial?
Brad Sewell
: Both Ian and I are ex-agri and commercial bankers, and we worked with major lenders for the first part of our career, so probably in my case 15–20 years in agribusiness lending with banks around Australia, and likewise with Ian. He had a similar amount of time in the banks.
We just met one day and decided to jump on the other side of the table and represent farmers and small businesses in their negotiations with lenders around property acquisition and interest rate negotiation.
We also get involved in succession planning around helping farmers and families hand over the family farm to the next generation.
We travel all over Australia; we've got clients everywhere – Northern Territory, Queensland, New South Wales, South Australia and Victoria. As an example, I'm currently working with clients on sheep and cattle stations, sugar cane, horticulture, viticulture, irrigated cotton – that's just a sample of some of the industries we're working with at the moment.
MPA: What is your reasoning behind charging clients engagement fees?
BS:
We consider ourselves to be professionals, just like accountants and lawyers, and we don't know of any other professionals that work for nothing. Ultimately brokers like to work on the basis that they are going to generate income once the deal has settled – but every broker summit, seminar and conference that I go to there's always stories about brokers doing a whole lot of work, and for whatever reason the client just says they couldn't be bothered or they change their mind, so we charge a fee up front.
We call it an engagement fee, and the reason we call it an engagement fee is because it actually does engage the client in the process. Once a client's paid a fee they want to see a result, and to get a result they have to provide the information we request. The fee is also there to cover our hard costs, which are fuel, telephone, accommodation, meals – you just can't go and incur those costs, especially in regional and rural Australia.
We started with $500, then we went to $1,000 – we actually noticed the higher it went the more people engaged us. We found that once we got to $2,500, clients actually were really keen to sign up because they thought, "If these guys reckon they are worth $2,500, they must do a good job". The minimum is now $3,000, but the average is more like $5,000 – up front, non-refundable, and they don't get it back when you settle the deal.
It's a fee that's basically there to cover us in the event that the client is unsuccessful at auction or changes their mind. The engagement fee is critical to our business and it's easy to sell, and we actually find that clients see the value in what we do and are happy to pay that fee. Engagement fees cover nearly 100% of our operating costs.
MPA: Can you tell us more about your corporate partner program?
BS:
The corporate partner is someone who typically would have experience in the finance industry and a passion for starting their own business and being involved in the agricultural and commercial sector.
So we set up a company and Ian and I take a minority shareholding in the company, and we also take a minority share of the income and in return the corporate partner gets all our know-how, procedures and systems and intellectual property on how to run a successful broking business.
We're getting a lot of interest – our first corporate partner started three months ago down at Wagga, and our next corporate partner starts in about six weeks in another state. We have a very disciplined approach to taking on corporate partners, so there's a vetting process at the start and there's about four key steps that both parties take to ensure that what we're offering is what the corporate partner is looking for, and that it suits all of us.
Because really at the end of the day we're in partnership. Partnerships are like marriages; you've got to get up every morning not just for your family but for your partner's family, and with the corporate partners I've now got to start getting up for a whole lot of other families! It's good; it's nice to work with people that are looking to do something for themselves and get their own business up and running, and that's what we're doing.
FAST FACTS
Year founded
2010 – co-founded with Ian Robinson
Specialty
Agribusiness, corporate, commercial, asset finance
Location
Wagga Wagga, NSW, but with a national reach
MPA: What are your top three tips for new brokers looking to establish themselves in a niche?
BS:
Make sure you have a client-signed mandate. Get out and meet people and build your network. And focus on net profit, not just volume.