But how long will they stay in the market?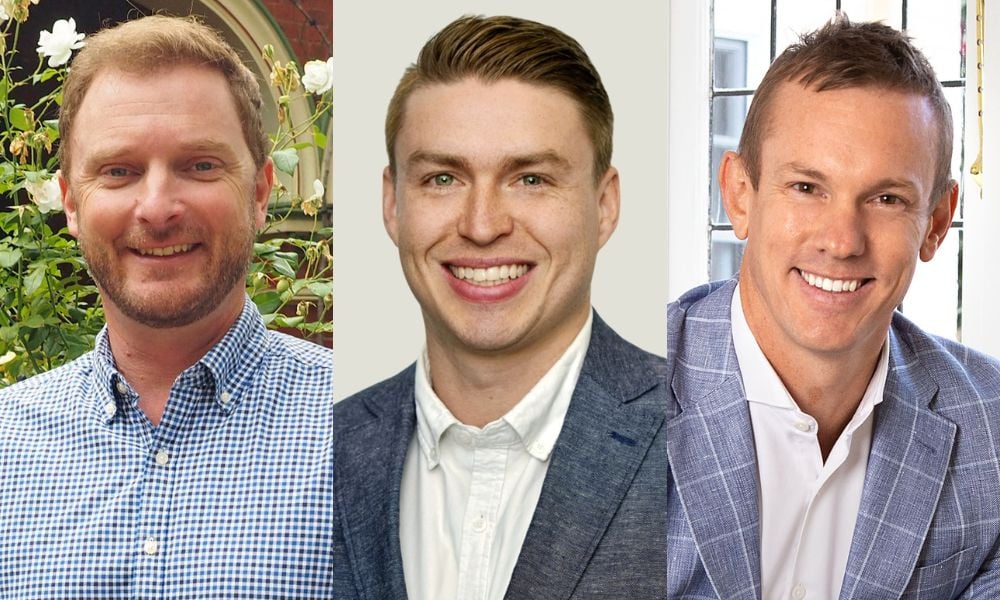 The busy spring selling period and recent interest rate pauses have prompted investors to return to the market, say experts.
Real estate comparison platform LocalAgentFinder's recent report shows the Reserve Bank of Australia keeping the official cash rate on hold for the fourth consecutive month is encouraging property investors back to the market but there's no guarantee that won't change.
CEO of LocalAgentFinder Richard Stevens (pictured above left) said mortgage brokers, like real estate agents, were continually monitoring RBA announcements and any shifts in the property market to best serve their clients.
"During periods of market and financial uncertainty it is critical that property owners surround themselves with the best information and make confident and balanced decisions that match their specific personal circumstances," Stevens said.
"Finding the right expert advice involves partnering with the right broker and a real estate agent plays a key part in this."
According to LocalAgentFinder's research, despite inflationary pressures, the decision to keep interest rates at 4.1% is a welcome development for property investors and property owners alike, especially after rates of mortgage stress hit an all-time high in July.
The current period of growth is marked by increases in home values and new listings.
Interest rates not a key factor for investors
Investorfi's managing director Wayne Hedley (pictured above centre) said brokers had seen an increase in investors willing to enter the market.
"Our conversations with clients have been less centred around how much higher rates will go to them wanting to understand the cash flow of taking on the debt for another property with an eagerness to enter the market," Hedley said.
"Suppose clients have the borrowing capacity and sufficient buffer of cash reserve post-purchase. In that case, they are looking for opportunities in the short term to enter the market sooner rather than later."

Hedley said some lenders had also introduced reduced buffer rates for purchasing, so clients who could not enter the market or were locked out of a price point could now jump into the market.
There's still a sector of the market waiting to see what will happen with interest rates generally these are new investors, he said.
"We will provide a summary of loan repayments vs potential rental income to show them a net cashflow position, noting additional holding costs would be added to this and give a summary of what a 0.25% increase in rates would do to their monthly repayment so they are informed if they do decide to enter the market.
"Generally, our more sophisticated investors have the mindset of time in the market rather than timing the market and are trying to get ahead of the curve for this next cycle and understand that they will hold for the long term. "
Run of interest rate pauses only one factor for investors
According to CoreLogic, the national Home Value Index (HVI) was up 0.8% in August – the sixth consecutive monthly rise.
CoreLogic's research director Tim Lawless said the trend in housing values, although generally positive, was diverse.
"Sydney has led the recovery trend to-date with a gain of 8.8% since values found a floor in January this year," Lawless said. "Brisbane has also posted a strong recovery with values up 6.2% since bottoming out in February."
"At the other end of the scale, some other capital cities are better described as flat, with Hobart home values unchanged since stabilising in April, while values across the ACT have risen only mildly, up 1.0% since a trough in April.
"These are also the only two capital cities where advertised supply is tracking higher than a year ago, suggesting a rebalancing between buyers and sellers is a key factor contributing to the stability of values in these regions."
Stevens said with cooling inflation and talk of the likely peak of interest rates on the horizon, the Australian housing market was poised to attract more buyers and sellers over the coming months, making it a fertile ground for investment opportunities.
"While Sydney, along with other burgeoning markets like Brisbane and Adelaide, has seen an increase in property and investor listings, this doesn't tell the full story. The current activity suggests that the market is dynamic, offering opportunities for quick sales and more favourable terms."
"However, this environment also signals that property owners and investors are actively recalibrating their strategies in response to various economic pressures."
"With property values having consistently risen over the past six months, there's a tangible energy that sellers can harness.
"Strategic property owners have already positioned their listings to minimise competition and maximise potential gains in the present market. It's not just about selling; it's about selling smart."
Investors need to be mindful of cost of living pressures when looking to buy property.
Sydney-based realtor Kevin Dearlove (pictured above right), who is the director of Stone Real Estate Beecroft, said investors were re-evaluating their assets, driven by pressures such as the increased cost of living and recent land tax implications.
"While rents have surged, the interest rate hikes have significantly offset these gains, eroding the potential rental yields," Dearlove said.
"This, coupled with concerns about short to medium-term growth in comparison to other asset classes, is urging property owners to reassess their portfolios, particularly in the residential apartment sector.
"They are compelled to take a more holistic view, ensuring their investments are optimally positioned against the backdrop of these evolving financial pressures."
According to Stevens, concerns about investment property affordability persist, especially in dynamic markets such as Sydney, Brisbane and Adelaide, prompting many to actively consider selling.
Stevens said while interest rates were a significant factor, they weren't the only factor affecting market health.
"Multiple dynamics are at play here, including housing supply, foreign investment, and changing population demographics. For potential investors or homebuyers, these all need to be considered in tandem with interest rates for a well-rounded investment strategy."
Stevens said the Australian property market continued to show its resilience to external factors, however this offered no guarantees for future investor gains.
"Property investors need the best local market information and finding a high-performing trustworthy agent is a key part of that process, ensuring that their needs are being fully supported."
Stevens said it's critical property investors "remain active and across what changing financial conditions might mean for their own financial circumstances".
In March this year new listings for investor-owned residential properties nearly doubled since December, with many landlords looking to exit the market amid rapid interest rate rises.
Are you seeing a surge in property investor clients? Share your thoughts in the comment section below