Three staff members promoted as merger progresses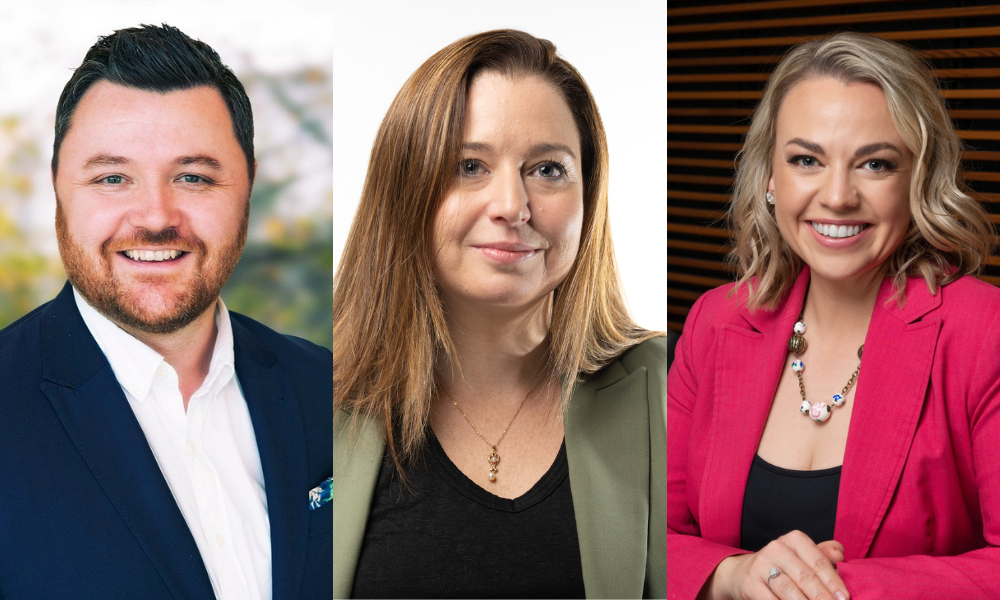 Changes are afoot within the Mortgage Choice leadership team, with three staff members appointed to senior distribution, operations, and communications roles.
It comes as the migration of the Smartline brand to Mortgage Choice nears completion. REA Group acquired 100% of Smartline in July 2019 and Mortgage Choice in July 2021. The leadership changes come as the business progresses its transition to a single network under one brand, due to complete by the end of the year.
Mortgage Choice general manager operations Aaron Slater (pictured above left) has been appointed to the role of general manager distribution for the broker network.
Read next: Mortgage Choice, Smartline merger progressing well
Returning from parental leave in November, Emma Dupont-Brown (pictured above right) will replace Aaron Slater as general manager operations. Having joined Mortgage Choice to fill Dupont-Brown's role last December, Sally Chadwick (pictured above centre) has been permanently appointed to the role of executive manager, corporate communications, events and franchise marketing.
Slater joined REA Group in July 2019 as a management consultant before assuming the role of chief operating officer of Smartline personal mortgage advisers in May 2020.
Following REA Group's acquisition of Mortgage Choice, Slater became general manager operations. His previous experience spans senior finance, strategy, business development and operations roles at Australia Post, Telstra, Lonely Planet, BBC Worldwide and Walt Disney.
Mortgage Choice CEO Anthony Waldron said Slater's "extensive experience" working across financial services and other industries would be valuable to the distribution position.
"His expertise in leading operational teams, strategic planning and building relationships means he will hit the ground running in his new role," Waldron said.
Dupont-Brown, who is returning to take up the role of general manager operations, has a wealth of experience in financial services, Waldron said. She managed the distribution functions at big four banks NAB and Westpac, and more recently led the product and communications function at Mortgage Choice.
"Emma's wealth of experience and deep knowledge of the Mortgage Choice business makes her well placed to work with our operations team to continue developing and implementing strategic improvements and projects for the business," Waldron said.
Having joined Mortgage Choice in December 2021 to fill Dupont-Brown's role, Chadwick has a deep background in financial services. This includes seven years in senior communications and change roles at CBA.
"Sally has made a significant impact on the way we run our communications, events and franchise marketing functions, and built strong relationships across our broker network. We're thrilled she has agreed to continue in the role," Waldron said.
Read more: Best interests duty 'part of our DNA', says Smartline franchisee
Waldron said all three appointments showcase the strength of the internal talent pool at Mortgage Choice.
"Aaron, Emma and Sally are all familiar faces for our broker network and bring extensive knowledge of our business and the industry and will allow the business to continue its great momentum," Waldron said.
Working with Waldron, Slater will transition to the role of general manager distribution over the month of October, whilst he prepares to transfer the general manager operations role to Dupont-Brown.
Mortgage Choice is owned by REA Group, which operates property-related websites including realestate.co.au, flatmates.com.au and property.com.au, as well as property research and analysis firm PropTrack.