Once burdened by a less-than-stellar reputation, reverse mortgages are becoming the product of choice for many older Australians who are looking to improve their lifestyle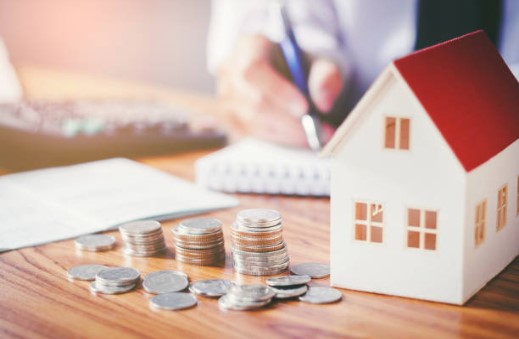 The application process is complex for brokers and the product is risky for consumers. These two concerns are heard all too often when it comes to reverse mortgages, but are they really warranted?
An ASIC review published in late August offers some insight. After reviewing data on 17,000 reverse mortgages, the corporate regulator confirmed the product was of significant value to consumers.
"Reverse mortgages can play an important role in helping older Australians improve their standard of living in retirement while remaining in their home," read the report.
Andrew Ford agrees. As the CEO of Heartland Seniors Finance he may be somewhat biased, but Ford insists reverse mortgages can provide a valuable solution for older Australians looking to free up some of the capital in their home.
"I've been in banking for 20 years and, as far as I'm concerned, there are no other financial products that can have the impact on customers that a reverse mortgage can," Ford tells MPA.
By allowing a homeowner to borrow against the equity in their property, a reverse mortgage releases funds to retirees without forcing them to leave the homes they love.
"I think critics sometimes forget that our customers see their home as more than just an asset," says Ford. "It's what connects them to their community, their family and their friends. It provides them with security and independence."
Interestingly, a survey conducted by Heartland earlier this year suggests that concerns surrounding reverse mortgages aren't shared by those with first-hand experience with the product. The survey found that 96% of Heartland customers would recommend the lender to family or friends, and 94% would recommend a reverse mortgage.
"There are no other financial products that can have the impact on customers that a reverse mortgage can" - Andrew Ford, Heartland Seniors Finance
"While misconceptions tend to exist amongst the general public, when we look at actual customers, their views are completely different," says Ford.
However, while borrowers appear to be overwhelmingly satisfied, the ASIC review expressed concerns that many have a limited understanding of the risks and future costs associated with their loans.
Rates generally vary across the industry but, under Heartland's current variable rate of 6.29%, a loan would double every 11 years if no repayments were made.
Heartland says providing an ASIC MoneySmart calculator twice throughout the application process helps to improve customer understanding.
"It helps them make an informed decision and see the impact of that compounding interest," says Ford. "They get that as both an illustration and a numbers breakdown, which provides a projection of what their property value may do over time as well as how the loan will grow."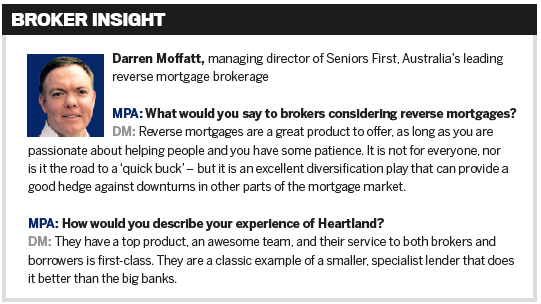 While the interest rate is certainly higher than a regular mortgage, Ford insists it's still "very competitive" and takes into account that there are no regular repayments and no terms.
He also explains that, for many customers, the 6.29% interest rate is actually signifi cantly lower than what they're accustomed to.
"In the last year, 44% of our customers used their reverse mortgage for some form of debt consolidation, and often credit cards and personal loans have much higher interest rates," says Ford.
"We do a lot of business direct with customers and we get no pushback on the interest rate – in fact, they're normally pleasantly surprised."
Ford is also quick to shoot down suggestions that reverse mortgages are in any way predatory, pointing to the incredibly thorough process applicants must go through before obtaining finance.
"Reverse mortgages offer brokers a fantastic opportunity to grow their business and diversify their income" - Andrew Ford, Heartland Seniors Finance
"The reality is that reverse mortgages are arguably the most heavily regulated consumer finance product in Australia," he says.
"The process is designed to ensure a customer makes an informed decision, and it includes things like seeking independent legal advice and considering alternative options."
While that may sound somewhat daunting, Ford says the rigid nature of reverse mortgages actually makes the application process easier.
"The heavy regulation and prescribed process makes the application relatively straightforward," he says. "Plus the customers are generally fantastic to deal with – they're typically not working, so you don't have to do after-hours visits, and a reverse mortgage can genuinely change their lives, so the sense of satisfaction for a broker is phenomenal."
Importantly, legal protections mean a borrower can never owe more than the value of their property and can remain in their home until they pass away or decide to leave.
Of course, it's not just customers who can benefit from the product. Due to Australia's rapidly aging population, demand for reverse mortgages has been steadily rising, opening up a potentially lucrative growth market for brokers.
"Reverse mortgages offer brokers a fantastic opportunity to grow their business and diversify their income," says Ford.