Jump to winners | Jump to methodology
Top brokerages geared up for change
The last few years have been like the gift that keeps on giving for mortgage brokerages across Canada. Despite being in the throes of a global pandemic that was expected to take the wind out of the housing market sails, the volume of business has been nothing short of staggering for many mortgage brokerages, with a red-hot housing market through 2020 and 2021.
The number of mortgage applications handled during this time outnumbered the hours in the day that mortgage brokers had to process them, and brokers experienced some of the busiest years of head-spinning activity seen in a long time.
"Brokerages' success is predicated on their internal, industry and external relationships and alignment throughout. That alignment is truly achieved when all parties work collaboratively"
Mark Kerzner, The Mortgage Group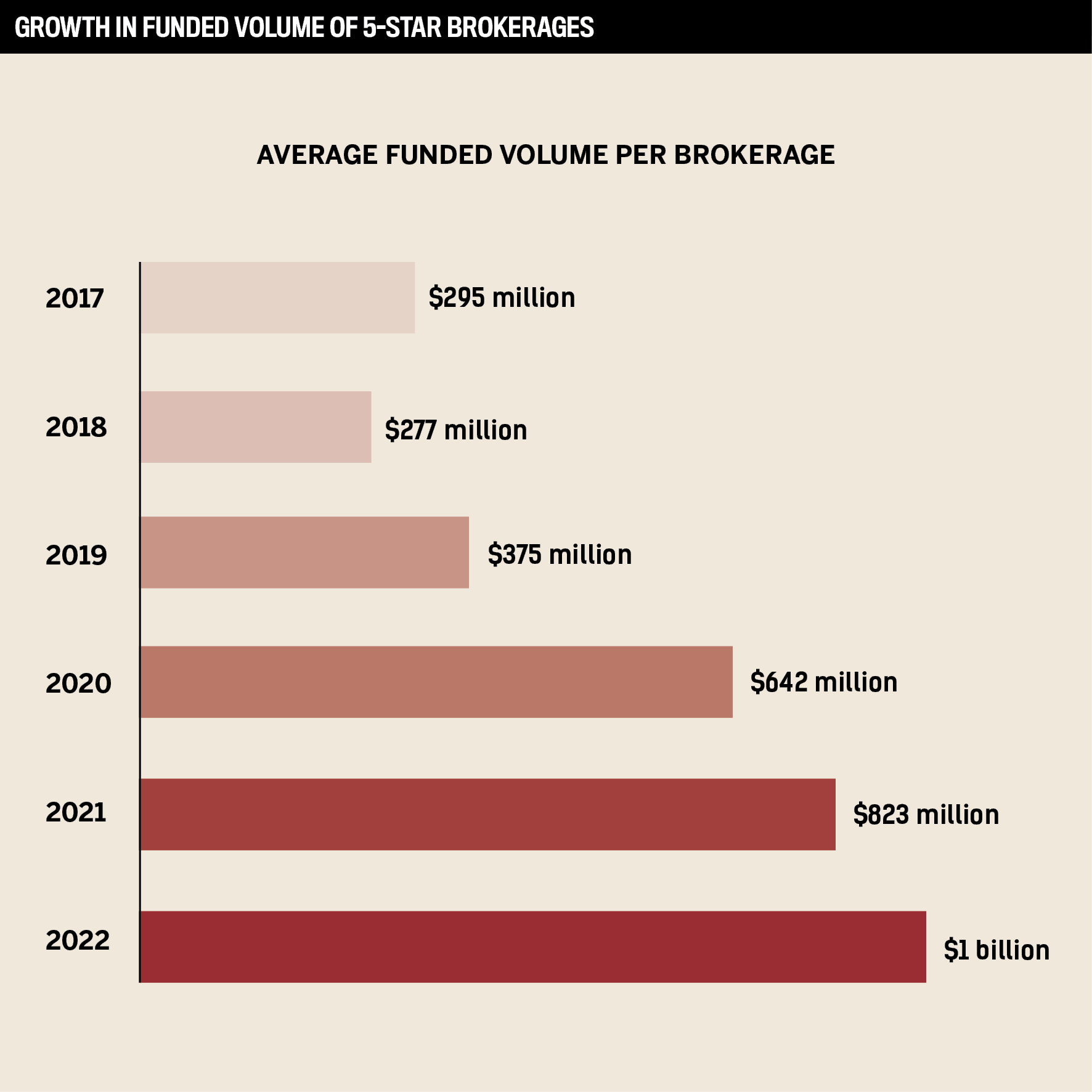 As buyers scrambled to snap up properties that have been in short supply, offers have been pushed through, often with no contingencies and well above the asking price. Brokers have, in turn, been forced to process loan applications quickly as loan demand has far outstripped available properties.
The brokerages that came out of the gates ready to meet the mortgage demand have forged ahead, battling stiff competition along the way. CMP is delighted to recognize these brokerages as winners of the 2022 5-Star Brokerages (previously Top Brokerages) awards.
CMP's top brokerages showed impressive mortgage volume numbers as well as growth in volume over 2020 and 2021, and this has catapulted them to the top of the mortgage ladder.
"We've got a real heart-centred culture. We need to look out for each other," says Tracy Valko, founder, CEO and principal mortgage broker at Valko Financial, one of the 5‑Star Brokerages.
"We've built a very strong and robust underwriting team that loves doing deals, looking at the documents, and understanding that supporting the deals allows the agents to focus on their sales skills."
James Laird, president of winning brokerage CanWise Financial, says, "To be an excellent brokerage is not just one thing. You must excel at everything and deliver all the things that are important to consumers, to our team members and to our lending business partners."
To help its brokers through the sheer number of mortgage applications processed over the last 18 months, CanWise leaned on its tested technology platform.
"Our technology has been very important. It makes things more efficient for all the different stakeholders – more efficient for the customer, more efficient for our mortgage professionals, and more efficient for our lending partners," Laird says.
Debbie Belair, broker of record at 5-Star Brokerage Belair Mortgage Group, says, "What stands us apart from the competition is that we learn from each other. We share our successes and challenges. Our sharing approach saves stress and time."
"Our technology has been very important. It makes things more efficient for all the different stakeholders – more efficient for the customer, more efficient for our mortgage professionals, and more efficient for our lending partners"
James Laird, CanWise Financial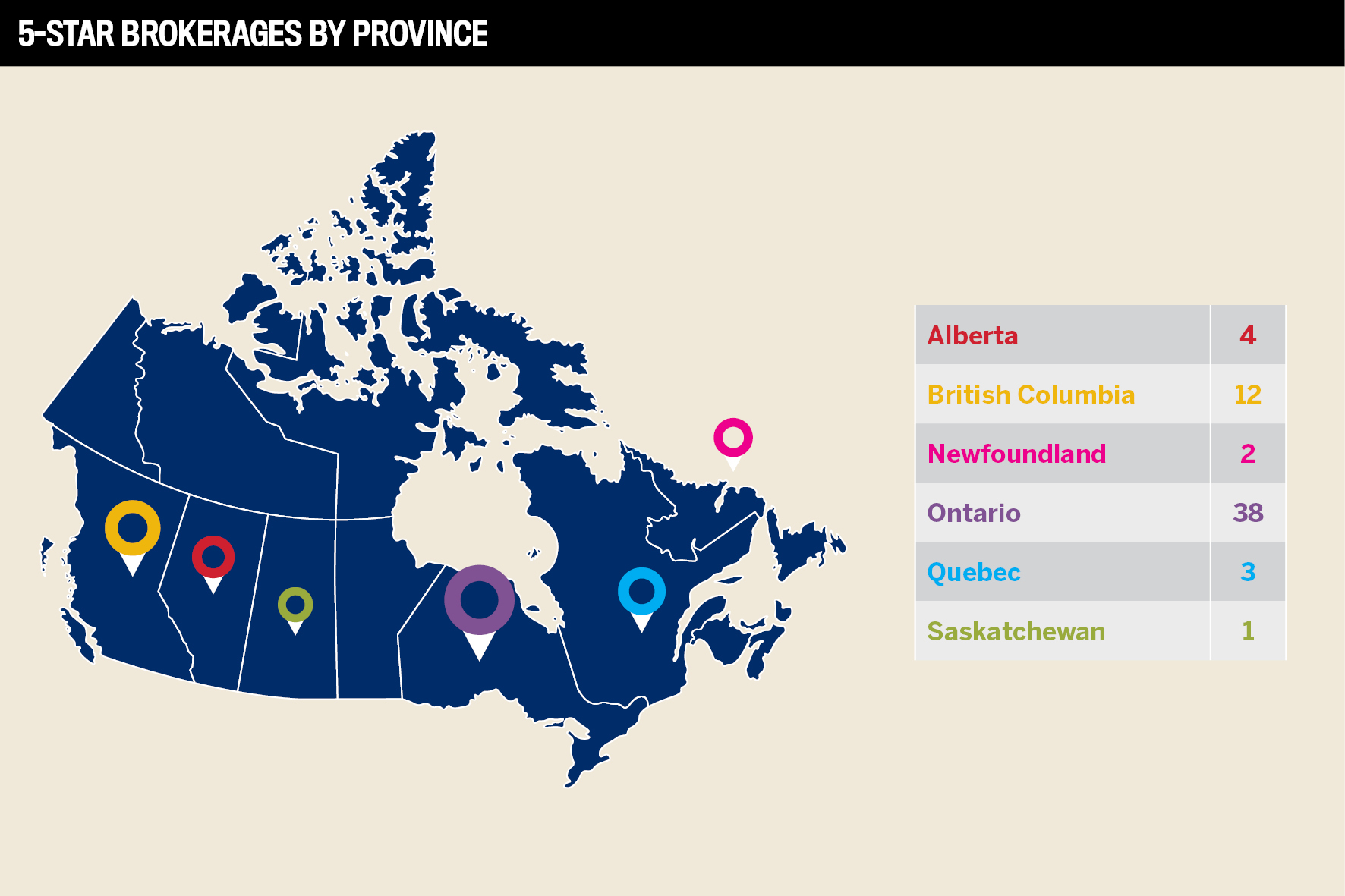 Shifting market dynamics
The last two years have demonstrated that broader economic mechanisms have been instrumental in directing the course of the Canadian housing and mortgage sector.
Top of the list is the continued housing shortage that has gripped the country and led to an imbalance in the number of properties on the market compared to high buyer demand. This has helped drive up housing prices from coast to coast, with appreciation numbers often in double-digits territory.
An equally beneficial economic factor helping to fuel the mortgage engine has been the continued historically low mortgage rates afforded by a low overnight Bank of Canada lending rate.
All good things must come to an end sometime. This adage holds true for the mortgage market, which has been showing signs of slowly shifting as we progress towards the second half of 2022.
More properties are popping up on the market as buyers are less nervous about the possible impact of the pandemic on the housing sector. This is coupled with the first signs of rates heading northward after the recent BOC announcement of its first of several rate increases through to 2023.
While they may not be slowing the mortgage volume train to a halt, rate increases and shifting market supply and demand will likely factor into the working models of brokerages looking towards a changing market in the months to come.
"Most of our lender partners, both monoline and banks, have mortgage products available to preserve our clients' existing low rates. I suspect that in the future we will work just as hard, but revenue will be much less than we've become accustomed to," Belair says.
Laird from CanWise says, "It's easier to support the mortgage when rates are low, and 2021 was a record year for the industry by probably any measure. One of the key variables for that was the historic low rates.
"From a market perspective, it's now going to be a challenge for all participants. We're expecting sellers to understand that they can't price their home at the peak if they actually want to sell it."
One thing brokerages had in common was the acceptance that rate holds and locking in pre-approvals are crucial in this year's higher-rate environment.
Those brokerages that implemented and utilized technology to optimally streamline the mortgage application process during the high-volume and low-rate environment will have the edge needed to outsmart the competition as the market dynamics shift.
"Just before the onset of the global COVID pandemic, we introduced a new, proprietary technology platform called Hurricane that allowed our brokers to provide their clients with a secure and intuitive online portal and brokers [with] the means to collaborate and manage deal fulfilment remotely," says Mark Kerzner, president and CEO of TMG The Mortgage Group.
"Our ability to lead is predicated not on a robust housing market, or only having low rates. It is based on the value we provide to those in need of mortgage finance solutions."
Kerner adds that "brokerages' success is really predicated on their internal, industry and external relationships and alignment throughout. That alignment is truly achieved when all parties work collaboratively with the same objective in mind – to help secure the best financing option for Canadian mortgage consumers."
"Slow and steady wins the race. You have to make sure your foundation is really solid"
Tracy Valko, Valko Financial
Winning ways to beat the challenges
To continue to grow with the demands and changes in the market is key for the brokerages on CMP's 5-Star Brokerages list.
Even though The Mortgage Group has been in operation for over three decades, Kerzner points out that "we are at our most innovative, passionate, respected and productive in our 32-year history."
For Scott Brown, owner and broker at Ultimate Mortgage Group, the solution to staying ahead of the competition lies in how the business has set up its broker structure.
"We stand out in that we have three business partners that operate three separate teams. So, I feel like our agents get more one-on-one support. There are fewer people tied to one person for assistance," Brown says.
"We have a lot more support [for our brokers] than a traditional brokerage."
Ultimate Mortgage Group has tackled the challenge of rising rates head-on in its approach.
"I have a lot of variable rate clients. So, it's just about keeping them informed through my newsletter and regularly posting on social media to try to get them not to panic," Brown says.
"It's just about them knowing it's OK, as well as how it will impact their payments.
"People will sit on the sidelines a little more, and it will be less of a busy market than the last couple of years, so that will be the challenge: just to keep the volumes up," Brown predicts.
So, what is the winning advice?
"Brokers should use any extra time wisely," Brown says. "Start doing a little bit more marketing, or rebrand a little or get your CRM updated."
In Valko's view, "slow and steady wins the race."
"You have to make sure your foundation is really solid," she says.
1. CanWise Financial
2. Bespoke Mortgage Group
3. True North Mortgage
4. Premiere Mortgage Centre
5. Mortgage Connection
6 (tie). DLC Royalty Financial
6 (tie). Mortgage Outlet
7. SafeBridge Financial Group
8. DLC Clear Trust Mortgages
9. TMG The Mortgage Group
10 (tie). Outline Financial
10 (tie). Planiprêt
10 (tie). Pineapple
11. Rock Capital Investments
12 (tie). Smart Debt Mortgages
12 (tie). DLC Entrust Mortgage Services
13. Tango Financial
14. Key Mortgage Partners
15. Xeva Mortgage
16. KeyRate Mortgages
17 (tie). Freedom Capital
17 (tie). DLC BlueTree Mortgages WEST
17 (tie). Forest City Funding
18 (tie). Orbis Mortgage Group
18 (tie). Affinity Mortgage Solutions
19. Mortgage Architects Experts
20. Homewise (Homewise Solutions)
21 (tie). East Coast Mortgage Brokers
21 (tie). DLC Mortgage Excellence
21 (tie). Ultimate Mortgage Group
22. Empire Mortgage Group
23. iConnect Mortgages
24 (tie). Streetwise Mortgages
24 (tie). VERICO Superior Mortgage
25. Valko Financial
26. Mortgage Wellness
26. Elite Lending Corp
27. The Mortgage Associates EST
28. 8Twelve Mortgage
29. Maximum Mortgage Solutions
30 (tie). Syndicate Lending Corporation
30 (tie). Anthem Mortgage Group
30 (tie). The Mortgage Coach
31 (tie). Mortgage District
31 (tie). Axiom Mortgage Solutions
32. intelliMortgage
33. Citadel Mortgages
34. DLC Mortgage Scout
35. Clover Mortgage
36. North East Real Estate & Mortgage Agency
37. Mountainview Mortgage
38. OMAC Mortgages
39. AKAL Mortgages
40. DLC Mortgage Man
41. Centum One Financial Group
42. IMI Financial Group
43. GreenFlow Financial
44. Ardent Mortgages
45. CENTUM Metrocapp Wealth Solutions
To determine the winners of the 5-Star Brokerages 2022 (previously Top Brokerages) awards, CMP invited brokerages across Canada to submit information about their performance in 2020 and 2021 based on criteria that included their total volume funded and total overall transactions. To be considered, the brokerage nominees must have had five or more loan writers in at least one office headquartered in Canada.