Jump to winners | Jump to methodology
Going strong and striving higher
Brokers come to the forefront in volatile markets, and the best mortgage lenders in Canada are in lockstep with them. The nationwide broking community plays a crucial role in shaping the industry as the bridge between borrowers and lenders. Their evaluation of mainstream and alternative lenders pushed the top 13 performers into the winner's circle in Canadian Mortgage Professional's 17th annual Brokers on Lenders survey.
As the challenges in the housing market showed no signs of abating, lenders worked collaboratively with their broker partners, communicating proactively and emphasizing flexibility to stand out in an increasingly competitive field.
Brokers rated lenders across 10 segments, highlighting and critiquing a lender's service over the last 12 months, identifying areas for improvement, and identifying where they performed at their peak.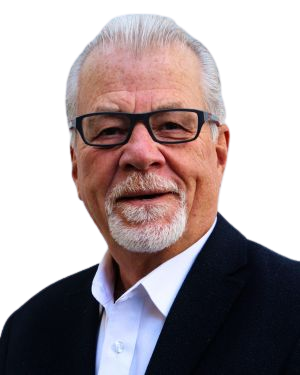 "Our team's expertise delivers results for brokers, and that's part of the reason they've chosen us as winners in some of these categories"
Todd Poberznick
Canadian Mortgages Inc. (CMI)
Broker analysis
This year, lenders logged a slight to moderate decline on their scores in seven of the 10 categories compared to 2022.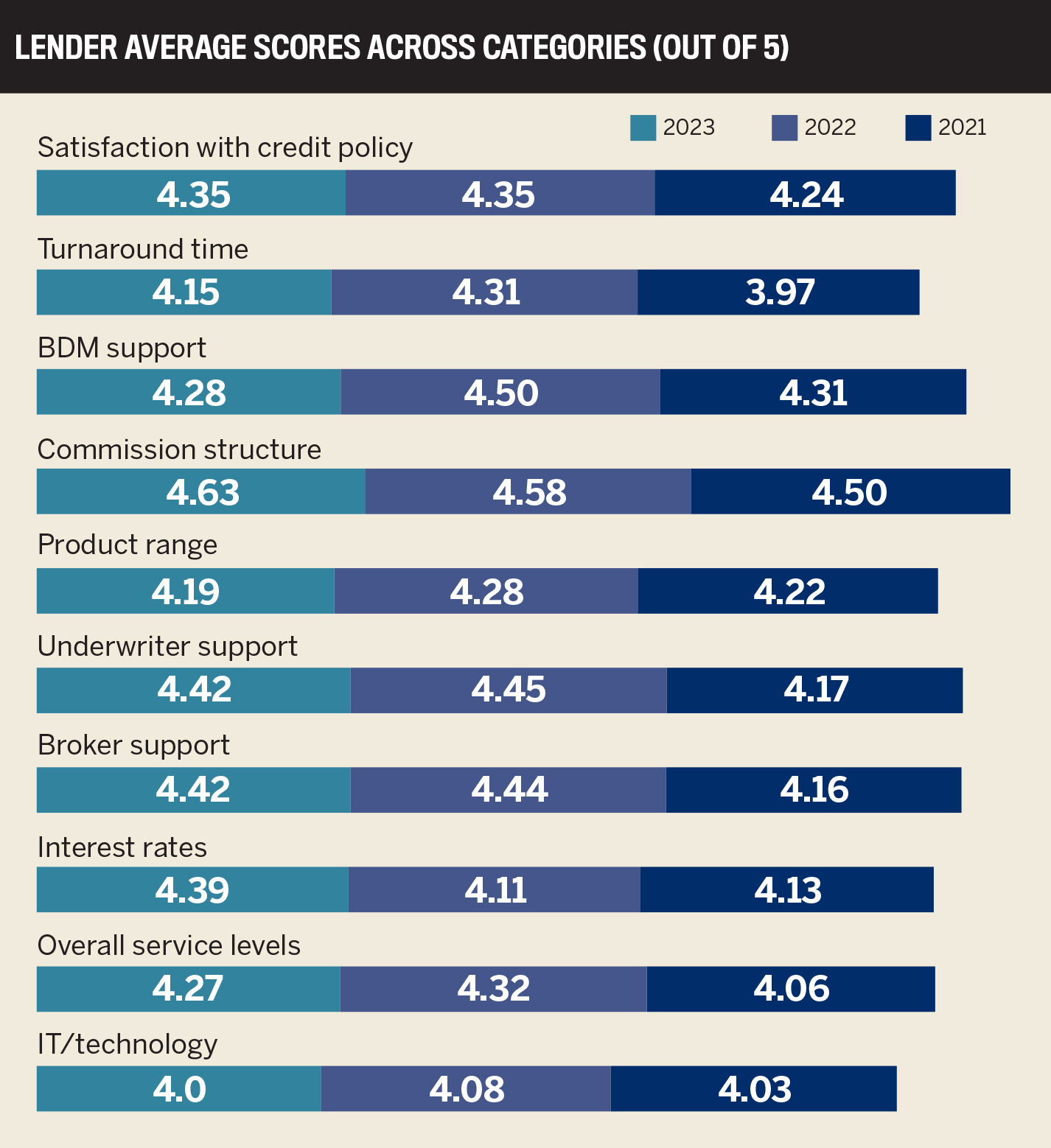 While turnaround time, BDM support, and product range scores fell the furthest, brokers still rated them well, suggesting lenders are performing above average but there's room for improvement.
One broker emphasizes that their lender "made great exceptions on files for people who need help." Another comments that their lender referred business to them.
"I always want to work with a lender who genuinely cares for your success; in turn, I place business with lenders who look after me and want to see me succeed," a broker says.
Lenders have also gone above and beyond to assist brokers in running their businesses effectively, as evidenced by the following feedback:
"Guided me to their resources to stay informed on their latest developments and offerings."


"Called us with a problem and a solution."


"Owned a mistake and covered the per diem and extra legal costs for a client when a deal didn't close on time because of their error."


"BDM stepped in and rescued a deal I had been working on for a month."


"Making an effort to help us learn and care about our clients."

The most significant brokers' score increases were in interest rates, and a year-over-year uptick in commission structure suggests lenders are at the leading edge with competitive offerings and packages.
All 13 top winners scored a medal in at least one category, with three runaway performers earning medals across all 10 categories. Another three lenders dominated six or more areas, a testament to the exceptional service and value they provide to brokers.
Alternative lender aims for excellence
In the alternative lending space, Canadian Mortgages Inc. (CMI) won a silver medal overall and nods in nine categories, including underwriter support, turnaround time, and product range. Brokers rated the private mortgage lender above this year's average scores across all metrics. The former brokerage draws on its profound understanding of brokers' and borrowers' needs to structure unique solutions.
"One of the keys to our success is that we encourage brokers to reach out to us even before submitting a deal so we can work proactively with them to ensure it runs smoothly," says vice president of national sales Todd Poberznick.
CMI's strengths lie in its:
broker partnerships


innovative processes to make onboarding and borrowing more streamlined


diverse and dedicated team of experts who understand and know their products

"We continue to lean into the collaborative approach with our brokers and partners, and we understand that things change," Poberznick says. "We need to be on top of what's happening in the marketplace to get the maximum for their clients and our future clients."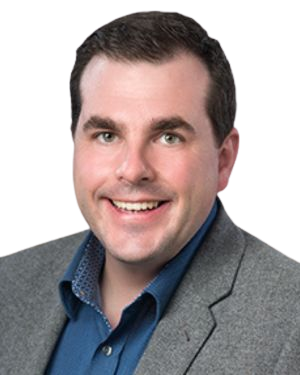 "We've got a heavy human touch here, and we're known for the expertise of our people; we're excited about the future, and we've got a lot of faith in our broker partners and the market"
Dave Fromow
Bridgewater Bank
Feedback fuels top lender's innovative products
Bridgewater Bank achieved a perfect 5.0 in BDM support for the gold medal and earned silver and bronze hardware in four other categories, including broker support, product range, satisfaction with credit policy, and underwriter support.
These achievements stand out as exceptional, particularly since brokers view their BDM as essential to success, sending a clear signal for others to mirror Bridgewater Bank's performance:
"No BDMs from any lender have come to meet us at our office in the last three to four years, and the attitude of the local BDMs has become horrible."


"BDMs need to be more in tune with the mortgage products their lenders offer."

In reflecting on its gold medal win in BDM support, COO Dave Fromow credits their expert-level team, who are good listeners and deliver personalized support built on mutual success.
"For the past two years, we've been fine-tuning our policies, and it's all based upon the feedback we've received from our broker partners," he says. "We've added some new products aimed at specific market segments where there's a need to find innovative homeownership solutions."
The top alternative lender has a more extensive lending reach than most competitors and has introduced a product to provide newcomers to Canada with a path to home ownership.
"We've made some great strides in providing policy and product to meet what brokers are looking for," says Fromow. "We're looking to leverage the technology investments we've made to improve turnaround time; we want to be one of the quickest in the market to process applications and move these deals across the finish line."
The gold medal overall went to Hosper Mortgage, continuing its years-long streak with top scores across all categories and an overall ranking of 4.76 out of 5. CMI earned the silver medal overall, and CMLS (Aveo) won the bronze medal overall.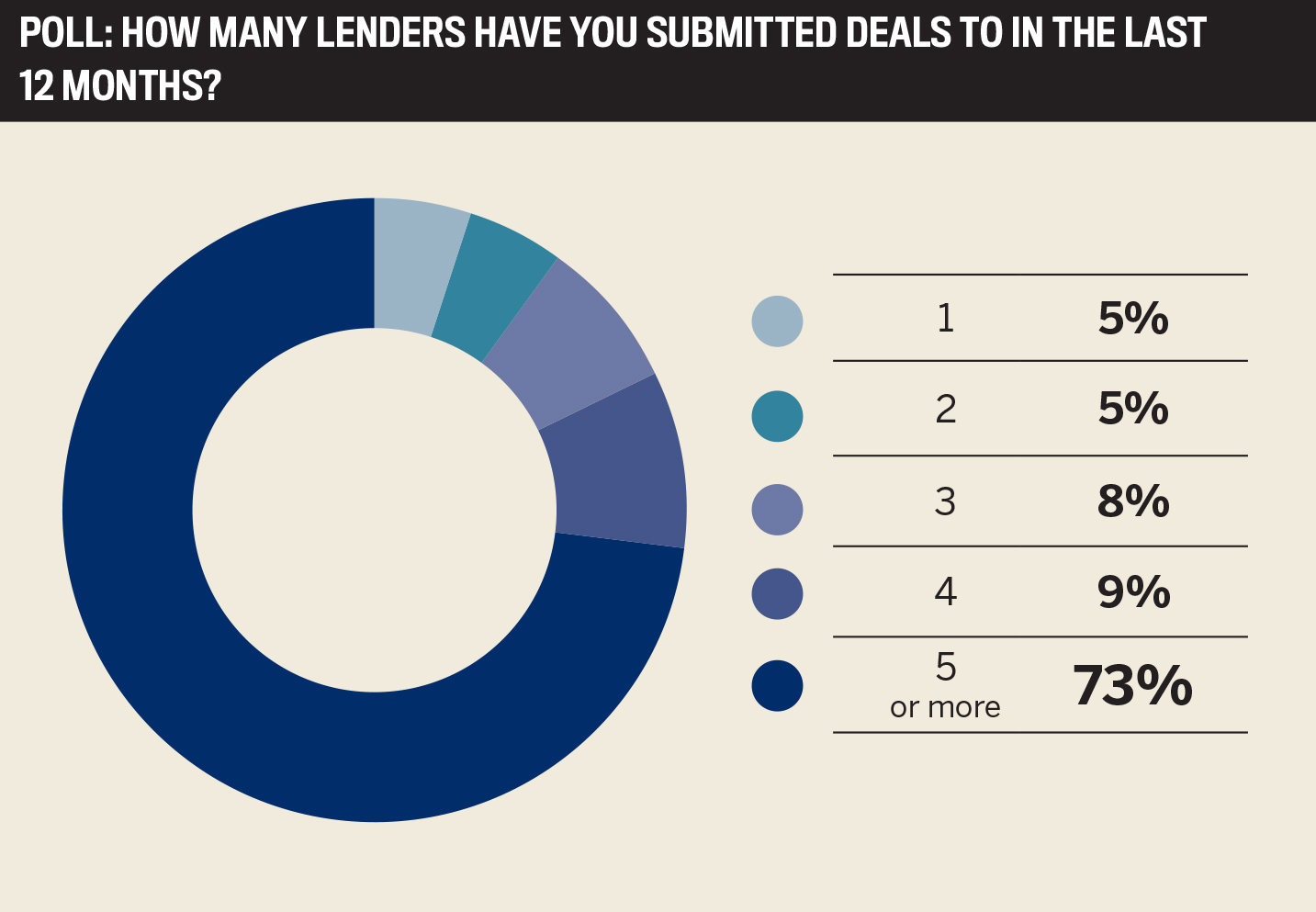 Top areas for improvement
Brokers were frank about the areas of a lender's service in the past 12 months that have frustrated their ability to serve their clients:
"Turnaround times and communication with a couple of lenders are routinely an issue; they have great rates but don't answer their phones or read notes while underwriting."


"My agents can't keep up with lender changes and quirks, making it hard to get deals done."


"Sometimes I feel like the underwriters don't want to work on my files; there are repeated questions and challenges two to three days before closing."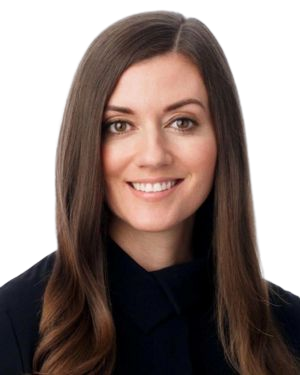 "Why we work so well is that we rely on our size, structure, and strengths, and when you combine that with great people, you're kind of unstoppable"
Megan McDonald
MCAP

However, brokers focused on solutions to the pain points that are amplified in this year's demanding market. Their top three areas for improvement encompass:
lender communication and responsiveness


flexibility and common-sense lending


turnaround time

Moreover, brokers shared with CMP the following ideas to rectify these issues:
"Improve on true equity-based common-sense lending, solely based on LTV and not on credit and income."


"Lenders should prioritize enhancing their digital capabilities to offer a seamless and user-friendly online borrowing experience."


"More transparency on rates, especially when certain lenders have wide discretion at times."


"More dedicated and immediate response to resolve fulfillment matters."


"Communication can always be improved. Everyone wants to get a deal done. It's not us vs. them, it's how can we help our mutual client."


"Improved document review, approvals, and closing processes."
Broker-lender bond strong and growing
Among the top-performing mainstream lenders, MCAP won a bronze medal overall, scored a gold win for underwriter support, tied for gold in overall service levels with RMG Mortgages, and achieved top scores in four other categories, including broker support and IT/technology.
As Canada's largest mortgage financing company, MCAP's people-first philosophy resonates throughout its operations. It prioritizes long-lasting relationships with brokers based on commitment and mutual respect. It likens that alliance to a marriage, ensuring the partners can survive the waves of a challenging market together.
"These partnerships are successful when you know where you stand with that person," says Megan McDonald, senior vice president of single-family sales. "Our brokers are our salesforce, an extension of us, and we don't get a mortgage unless a broker brings us their client; that's a gift, and you're never going to get that kind of partnership unless we're treating them well."
"MCAP's past is an excellent indication of its future," says McDonald, noting the company's track record of launching more products than other lenders in the Canadian marketplace and a steadfast dedication to investment in technology.
"We're that homegrown kind of company where people have long tenures," McDonald adds. "If we treat our people well, they will treat our clients well, and our Blue Culture campaign introduced many of our brokers to our leaders, BDMs, and underwriters to showcase them in a different light."
The overall gold medal was awarded to RMG Mortgages, which earned medals in all 10 categories. First National Financial won silver and garnered medals across nine categories. MCAP took the bronze medal overall.
This year's responses in the Brokers on Lenders survey overwhelmingly demonstrate that lenders are prioritizing communication and broker support and emphasizing policy exceptions and flexibility with the goal of helping brokers serve their clients better, some of whom found themselves in high-stress financial situations.
The broker-lender bond remains strong, bolstered by the gains made last year and an overall satisfaction rate of 4.2 out of 5 this year on lenders' performance. There's a reason for optimism in these results as lenders continue to refine their value propositions, paving the way for favourable broker experiences.


Top Lenders
RMG Mortgages




Gold

First National Financial




Silver

MCAP




Bronze
Top Alternative Lenders
BDM support
Top Lenders
RFA




Gold

RMG Mortgages




Silver

MERIX/Lendwise




Bronze
Top Alternative Lenders
Bridgewater Bank




Gold

Hosper Mortgage




Silver

CMLS (Aveo)




Bronze
Broker support
Top Lenders
RMG Mortgages




Gold

MCAP




Silver

First National Financial




Bronze

MERIX/Lendwise




Bronze

RFA




Bronze
Top Alternative Lenders
Hosper Mortgage




Gold

Bridgewater Bank




Silver
Interest rates
Top Lenders
First National Financial




Gold

TD Bank




Silver

RMG Mortgages




Bronze

RFA




Bronze
Top Alternative Lenders
Hosper Mortgage




Gold

CMLS (Aveo)




Silver
IT/technology
Top Lenders
RMG Mortgages




Gold

MCAP




Silver

First National Financial




Bronze
Top Alternative Lenders
Overall service levels
Top Lenders
RMG Mortgages




Gold

MCAP




Gold

First National Financial




Silver

MERIX/Lendwise




Bronze
Top Alternative Lenders
Product range
Top Lenders
Scotiabank




Gold

RMG Mortgages




Silver

First National Financial




Bronze
Top Alternative Lenders
Satisfaction with credit policy
Top Lenders
First National Financial




Gold

MCAP




Silver

RMG Mortgages




Bronze
Top Alternative Lenders
Transparency of commission structure
Top Lenders
RMG Mortgages




Gold

MERIX/Lendwise




Silver

First National Financial




Bronze
Top Alternative Lenders
Turnaround time
Top Lenders
First National Financial




Gold

RMG Mortgages




Silver

MCAP




Bronze
Top Alternative Lenders
Underwriter support
Top Lenders
MCAP




Gold

First National Financial




Silver

RMG Mortgages




Bronze
Top Alternative Lenders
To uncover the best lenders in the eyes of Canada's broker community, CMP reached out to brokers across the country, asking them to rate the lenders they work with across 10 key areas, including turnaround time, interest rates, product range, broker support, overall service levels, and more.
As in previous years, CMP also asked brokers to weigh in on important aspects of the broker-lender relationship, such as how commissions and bonuses might change and why they choose to send deals to banks rather than monoline lenders.
For each category, lenders were ranked in order of merit according to an average score calculated from the ratings they received from brokers. The top three lenders and alternative lenders in each category received a gold, silver, or bronze medal. Lenders' combined average score from all categories determined the overall gold, silver, and bronze medallists.
58% of respondents said past clients were their strongest referral partners
41% of respondents have been brokers for over 11 years
93% of respondents said their own business was the type of deal they had with the lender