The innovative lender is set for further success after a phenomenal 2022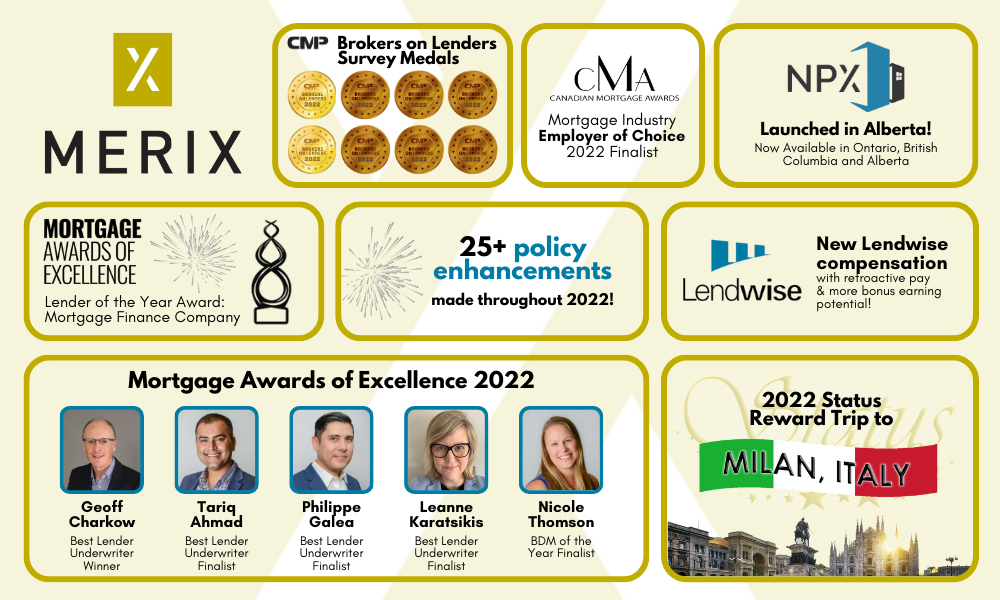 MERIX Financial is a consistently innovative lender, exerting tremendous effort to support its brokers and homeowners in a variety of ways across a host of circumstances, from unique compensation to solution-finding and flexibility of offerings — and it's that dedication that led to MERIX experiencing a record-breaking 2022 in terms of volumes.
Much of that success is attributed to another year of improvements that ultimately propel brokers' business forward. Some of the most impactful include over 25 policy enhancements, such as launching AVM, more favourable treatment of rental income, 120-day rate holds across the board, adding uninsured rentals in Alberta and Saskatchewan, and improving policies for uninsured business, rentals, bridge financing and switch/transfers. MERIX also launched a new-and-improved model for its upfront compensation option, Lendwise. The compensation, an alternative to its industry famous MERIX Trailer Fee model, now features retroactive pay as brokers fund more business with the brand and even more bonus earning potential. MERIX Financial remains committed to the unique compensation offering that it's known for, always providing brokers with the luxury of choice as to how they're paid. Last year, the alternative lending option, NPX, celebrated one year of lending in BC, launched in Alberta, and looks to continue expanding its presence and offerings in Western Canada in 2023.
While the depth and breadth of their offerings is paramount, MERIX also took great pride in the return of its annual Status reward trip. MERIX took its Top Status Originators on an all-expenses-paid vacation to Milan, Italy, to express the MERIX team's deep appreciation of their broker partners, as well as to give back by investing in their education and growth. Twenty-one (21) MERIX Status Originators and other Sub-Agents went to Italy where 16 were selected based on top individual support, three based on top overall funded volume, and two selected as wild card winners. Connecting face-to-face with top supporters, learning about their business, and forging lasting partnerships were the main themes of the exclusive trip — and MERIX is already well into planning 2023's iteration.
But the real key to MERIX's success comes down to its people: the lender boasts an impressive record of awards, from an individual level to the company as a whole, and its best and brightest were splashed across the industry throughout 2022. Recognitions included the company's nomination for Employer of Choice at the 2022 CMAs; Nicole Thomson's nomination for BDM of the Year at the MAEs; eight medals in CMP's annual Brokers on Lenders survey; and MERIX's strong underwriting team — including Leanne Karatsikis, Philippe Galea, Tariq Ahmad, and Geoff Charkow — representing almost all of the nominations for Best Lender Underwriter at the MAEs, with Geoff ultimately taking home the award. The jewel in MERIX's crown was taking home the title of Best Mortgage Finance Company at the MAEs.
Heading into 2023, MERIX's goals remain in large part the same as always. They aim to continue to support their brokers and homeowners with more solution options than ever; to contribute meaningfully to the industry as a whole by providing frequent tips, education, and extensive free marketing to brokers; and to continue to navigate an uncertain financial climate through innovation and tenacity. Ultimately, the MERIX mission is simple: stay on top of the ever-changing mortgage industry by not being afraid to make bold moves, and through that evolution remain a trusted leader in the space.