Expert discusses how investors can snap up the best units in the city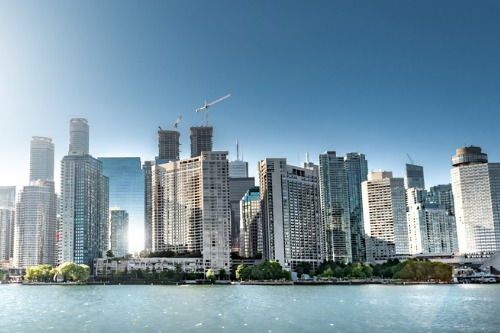 Condo prices in the Greater Toronto Area are on an upsurge, rising 44% since the 2017 housing peak, driven by the segment's relative accessibility compared to other property types, recent data from tech-enabled brokerage Properly has revealed.
"This past year, condo sales were hit the hardest by the pandemic," said Anshul Ruparell, co-founder and chief executive officer of Properly. "While sales are now back up to pre-pandemic levels, it's relieving for condo owners to know that their investments have appreciated significantly over time. Moving forward, it's forecasted that solid growth in condo sales will continue as pandemic restrictions ease."
For perspective, the historical average condo appreciation rate in Toronto before the coronavirus outbreak was between 4% and 5% annually.
A separate analysis by Zoocasa, meanwhile, found that month-over-month price growth was strongest in the 905 area, with Simcoe County (56%), Durham Region (46%), and Halton Region (26%) posting the largest gains. Average condo prices in the city of Toronto stood at $716,976 in May, representing a 17% jump from the previous month.
Zoocasa attributed the increase in condo values to Canada's march towards a full economic reopening and May's 170% annual spike in sales activity.
"As vaccines roll out and pandemic restrictions ease, it's clear buyers are once again interested in high-density living at the heart of it all," the real estate and brokerage website said.
Why are Toronto condo investments a good idea?
This price surge, along with a combination of the abovementioned factors, is what makes condo investments, particularly in the 416 area, sensible in an "economical point of view," according to Toronto-based real estate agent Pierre Capaterian.
"When it comes to investing in Toronto real estate, the condo market is where the biggest gains are. Toronto condo prices have gone up an average of 13% per year since 2015," he wrote in a blog post. "With Toronto's average 10-year historical growth rate of 5% a year and the most recent years averaging over 10% a year, investing in the Toronto condo market in 2021 means you'll get in at today's rates."
Capaterian added that Toronto has become an "evolving world-class city," joining the likes of New York, San Francisco, and London, but with property values still way below those cities.
He then laid down three reasons why it is a good idea to invest in Toronto condos:
1. Equity gains
Access to high equity gains is among the biggest reasons why Toronto is a prime location for condo investment, according to Capaterian. He cited the Toronto Regional Real Estate Board's (TRREB) February 2021 data, which showed condo prices in the 416 area rising by 52% since 2015.
"To put that in perspective, if you had purchased a condo in 2015 for $400,000, you would have made over $200,000 (or $50,000 per year) just by living there," Capaterian wrote, adding that while investing in Toronto real estate "can be very fruitful, it requires a 'proper investment strategy'."
2. Stable rental demand
While the pandemic has dampened rental demand in the city, Capaterian believes that the impact is temporary and the demand for rentals remains stable.
"With college students returning to school and immigration expected to reach record-breaking levels, we anticipate stable but increasing demand for rental inventory," he wrote. He added that major developments, such as the East Harbour, and the growing number of high-profile tech companies "choosing to set up shop" in Toronto will push up demand further.
"Pair that with Toronto's record high rental rates – one-bedroom condos currently rent for about $2,225 per month – and your tenant can help pay down your mortgage," he wrote.
3. Stringent lending practices
Toronto's delinquency rate – mortgage left unpaid of 60 days or more – is also considerably low, according to Capaterian. In the past year, the figure has dropped to 0.56%, indicating how property buyers in the city are "well-funded." He added that the government's recent raising of the stress test threshold can help ensure that buyers "are not overleveraged to the point where changes in rates or the market causes them to have to dump their assets and take a loss."
What are the keys to finding the best condo investment?
"It's not about buying one thing; it's about buying the right thing," Capaterian wrote. He listed several signs that a condo is a good investment, including:
Units that are priced below what other properties in the area are trading for
Units located in gentrifying neighbourhoods where prices are low but are on the rise
Future developments or transit infrastructure that will add value in the years to come
Resale condos that are known to perform well in the market
Capaterian also emphasized the importance of buying strategically.
"Don't be misguided by condo developments that seem juicy because they're along the waterfront," he wrote. "You're looking for condos with the best margins and they can be found both in the resale condo market as well as the pre-construction market."
He also noted the value of working with an experienced real estate agent, adding "when it comes to the resale market, having an agent who knows which buildings and floor plans yield the better ROI [is an advantage]. With regards to pre-construction, you need an agent who has platinum access to projects throughout the city. This gives you preferential access to the best floor plans and the lowest pricing available."
Capaterian added that the best condos in Toronto often never reach the open market as seasoned agents and their clients snap them up during the platinum phases. This is the reason why working with an agent who has deep knowledge of the developments in the city is a must in securing the best investment property.