Where can you find the cheapest places to buy a house in Canada right now? Let's take a look at 2023's cheapest!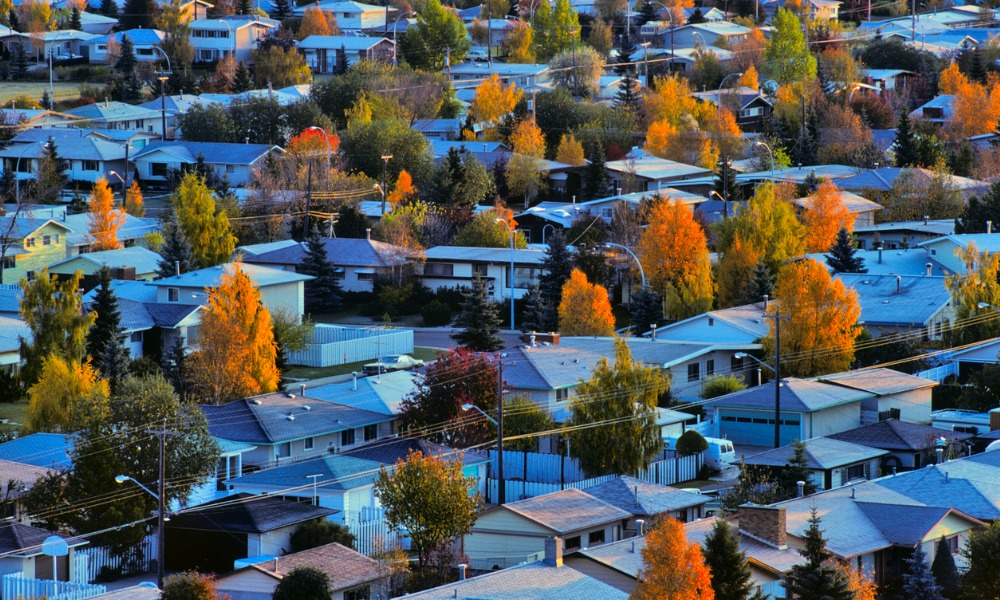 While Canada's two most expensive housing markets—Vancouver and Toronto—remain out of reach for many prospective home buyers, there are affordable options available across Canada. It may just be a matter of how far you want to move, as well as what you are looking for. Is it solitude or the Big City? How much are you willing to spend? How little?
Housing markets around the world are notorious for their fluctuations—and Canada is no different. Historically, it seems that safe bets have been—and, for the most part, remain—hunkering down in the East Coast or settling down in the Prairies.
In this article, we will look at housing prices in one Maritime province that are tough to beat. If that is less your thing, there is a northern Ontario town that is offering lots for $500,000. Manitoba is also emerging as a province that seems to offer it all—and at one of the most affordable home costs in the country.
Here is everything you need to know about the cheapest place to buy a house in Canada.
The province that has the cheapest houses in Canada is New Brunswick. Located on the Bay of Fundy, the average home price in this Maritime province at the end of 2022 was $265,800. The province with the next highest average home price for the same period was Newfoundland and Labrador, with an average of $281,200, according to CREA. Here's a full breakdown of average home prices for each province, with cheapest at the top: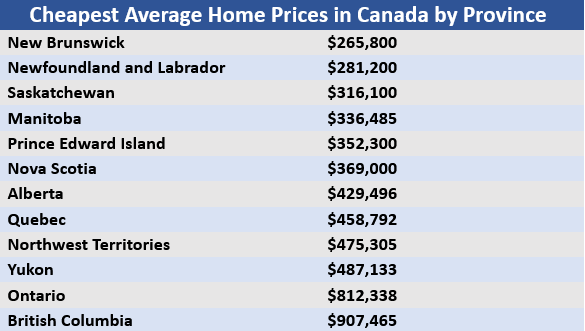 While these two East Coast provinces are the only two nationwide that are under a $300,000 home price average, it should be noted that, when factoring in living expenses—such as groceries, electricity and water, and home and car insurance—Newfoundland and Labrador actually offers the best bang for your buck in terms of living expenses plus home expenses.
While the provincial averages in New Brunswick and Newfoundland and Labrador are lower, the cheapest place to buy a house in Canada in a city of any noteable size is Portage la Prairie, Manitoba, where the average home price is $161,277.
Some of the other cheapest places to buy a home in Canada include:
Northern New Brunswick, where the average price is $169,300
Cape Breton, Nova Scotia, where the average is $186,300
Saguenay–Lac-Saint-Jean, Quebec, where the average is $267,000
St. John's, Newfoundland and Labrador, where the average price is $280,200
Saint John, New Brunswick, where the average price is $294,900
Which cities have the most expensive houses in Canada?
According to the same CREA data, the three most expensive cities/regions are as follows:
Greater Vancouver: $1,223,700
Greater Toronto: $1,210,600
Fraser Valley: $1,118,200
Which provinces have the most expensive houses in Canada?
For scale, the two provinces that have the highest cost of living will come as no surprise to anyone interested in Canadian real estate. The average house price at the beginning of 2023 in Canada's most populous province of Ontario was $812,338. British Columbia remains the most expensive province, with an average house price of $907,456.
All things considered, Manitoba is likely the most affordable province in Canada to live in. This prairie province at the geographical centre of the country offers Big City living in Winnipeg at more affordable rates than Canada's major metropolises of Vancouver, Toronto, and Montreal. As of December 2023, the average price of a home in Winnipeg was $323,400, a 2.8% drop year-over-year.
The economy in Manitoba is also stable and strong, and it also offers home options for a quieter life outside the city. Provincially, the average price of a home is the fourth lowest in Canada ($336,485) and Manitoba also offers one of the cheapest places to buy a home in the country: Portage La Prairie's average house price hovers just above $161,000.
The cheapest land in Canada between 1990 and 2020 was Saskatchewan, followed by Manitoba and Nova Scotia, according to data released by Risk Concern. Saskatchewan offered on average $1,595 per acre during that 30-year period, while Manitoba offered $2,269 per acre and Nova Scotia offered $2,332.
By contrast, the most expensive land in Canada between the same period was as follows:
Ontario: $11,815/acre
Quebec: $6,838/acre
British Columbia: $6,382/acre
Cheapest place to buy a house in Canada: Land appreciation
The same Risk Concern data found that, over the last 30 years, Quebec land prices saw the highest average growth rate, of 7.25%. This was followed by:
Alberta at 7.12%
Manitoba at 6.7%.
The lowest appreciation in land prices was in Nova Scotia at 3.7%, Prince Edward Island at 5.07%, and New Brunswick at 5.28%.
The best small city to live in in Canada is Victoria, B.C., according to a recent report. While the average home price in British Columbia's capital is more than $600,000, Victoria was lauded for its mild climate year-round, as well as an independent spirit surrounded by wild natural beauty which includes Pacific beaches and rainforests.
The cost of living in Victoria is considerably less than the average in Vancouver, but it remains one of the most expensive provincial capitals in the country, even for renters. An 85-square-metre apartment in Victoria costs roughly $1,300 per month on average.
Alberta is the province that has the lowest tax in Canada, although it shares this designation with Canada's three territories of Yukon, Northwest Territories, and Nunavut. However, Alberta has a significantly larger population and a high average individual income.
The Prairie province pays lower taxes because it has the highest basic personal amounts countrywide. Alberta's basic personal amount sits at $19,369 while the federal basic personal amount is $14,398, meaning that residents in Alberta are only taxed on their income if or when they earn more than $19,369.
As we have seen, there are many options for cheap places to buy a house in Canada. It can be a very tricky road to navigate, and we advise you to speak to the best mortgage professional in your area for assistance. They can help you see the bigger picture.
If you need help determining what sort of down payment you need to make in these Canadian markets, use our free mortgage calculator.
Do you have experience looking for the cheapest place to buy a house in Canada? Let us know in the comment section below.