Running your business just like the big industry players can produce big results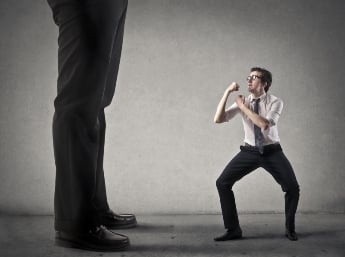 A recent survey that small businesses are more reluctant than ever to invest or employ. To that end, I believe that now it is increasingly important for small businesses to reevaluate how their businesses are run in order to survive. I believe there is a very strong case for running every business in line with the principles of the big market players.

Yes, smaller organizations have the advantage of being nimble and creative with their fingers firmly on the pulse at all times, but because there is often a lack of funds, staff and other resources, management can be challenging.

Operating like a big business can produce big benefits for smaller companies, including a trustworthy reputation, loyal customers and an increase in efficiency.

So here are my top dos and don'ts to running your business like a successful organization:

DO:

Seek to understand everything you can about the big players in your industry
Keeping an eye on the influential players is crucial for every small business owner, regardless of the industry you're in.

Following industry publications and news sites religiously, and following websites and social media channels of industry leaders to stay up to date with their internal news and observe their actions, is essential.

Learning from businesses enjoying success will only lend to your own, so always keep your finger on the pulse.

Make it easy to work together
Effective communication between employees, partners, suppliers and customers is the best way to boost efficiency similar to that of a major player.

How can you update your communication methods or channels to increase efficiency? Consider integrating regular WIP meetings, monthly reviews and evaluations, ongoing and constructive feedback, quantifiable objectives and timelines into your workplace structure.

Keep brand consistency
Cultivating a strong brand with consistent messaging will help your business to secure repeat customers.

The more recognizable your brand and the clearer the philosophies of your business, the more customers will be encouraged to engage with it.

Brand consistency not only increases awareness, it helps to establish a brand as a prominent player in the industry. Small businesses should make it one of their key objectives to implement ongoing strategies that are effective in amplifying brand consistency across all channels, including its website, social media platforms, PR outreach and all other forms of marketing.

Utilize cloud-based applications
With all of the technology available today, it's now possible for small businesses to employ infrastructures that previously could only be afforded by large organisations. Using cloudbased applications, such as email and project management tools, levels the playing field and allows small businesses to operate more proficiently and economically.

DON'T:

Be mired down by a slow or unsecured company network
Small businesses often neglect this measure due to the lack of a dedicated technician.

A secure, reliable network helps your employees access the information and resources they need to keep up with major competition. Network security is an indispensable constituent for small businesses endeavouring to run like a big business.

Lose track of payments
Whether these are outgoings or incoming, make certain that your payment structures are seamless and timely.

Compromising your business reputation with wavering financial matters is a big no-no. Always ensure to stay up to date financially, assign an employee to supervize all payments or download user-friendly accounting software from the web.

Disregard the significance of work-life balance
It's too easy to rack up the hours when you have a smaller workforce, but don't. Always enforce measures that afford you some quality down time. Balance work and life by prioritizing responsibilities, establishing clear business hours and delegating effectively to team members.


This is a slightly amended version of an article written by Sharon Zeev Poole, agency director, Agent99 Public Relations. It has been shortened to make it suitable for web publishing.