This banker-turned-broker shows up every day for his clients, fights to save them money, and takes the guesswork out of the fine print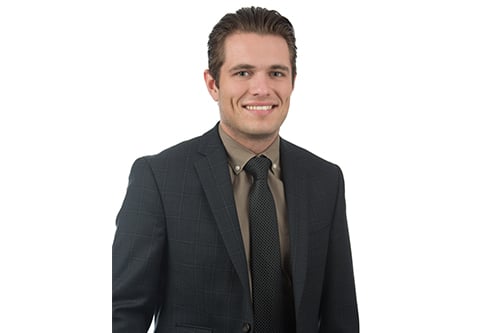 Matthew O'Neil has been an entrepreneur his whole life.
In Grade 9, he started a landscaping company, and he's been working for himself in one way or another ever since. Even when he went to RBC soon after graduating from McMaster University, he went into the mortgage division as commissioned mortgage specialist. When the stress test came into effect, however, he thought it was a good opportunity to "jump ship" and become a mortgage broker.
"I've always worked for myself and I've always known I wanted to work for myself," O'Neil said. "It was a good opportunity to expand my horizons."
He joined forces with his father, John, who was also ready to share his database after having been in the mortgage business for more than 20 years. Transitioning from banking to brokering was pretty straightforward for the A business but for the rest, leaving the banker mindset behind was more difficult than O'Neil expected. He was approaching files like a bank underwriter, but learned that less traditional deals have to be viewed through a different lens.
"I thought I'd know what I was doing after two or three months, but it probably took a good year before I wrapped my head around the alternate lending space," he said.
Today, O'Neil runs a one-stop shop. In addition to being a mortgage agent with Mortgage Intelligence, he's also the president of Connolly Capital, a mortgage administration company with in-house funds and in-house investors that helps with clients' private lending needs.
"If a client walks through the door, we can find a solution," O'Neil said. "We don't have to farm a lot of stuff out. We get a deal, we can service it."
Running Connolly Capital is a lot of work, O'Neil admits. Headed by his dad, the company has to jump through more hoops than the brokerage and is under FSRA's microscope. It's worth it, though, to answer what they identified as a growing need in the industry. Private lending is about 20% of their lending pool, up from about 6% a couple of years ago.
O'Neil established his business in Port Credit, Mississauga, which is about 45 minutes west of Toronto and the same neighbourhood where he grew up. He runs the team with two agents, as well as an administrative assistant. About 40% of their business comes from real estate agents, 40% comes from repeat business, and 20% comes from other sources. O'Neil's business is pretty balanced, but he says that the realtor business is stronger, and it tends to have bigger volumes as well—and it helps that they're linked with a Royal LePage office.
In 2019, O'Neil's brokerage closed 200 units for just under $100 million, which was almost double the units and an increase of $40 million from 2018. With the start they've had to this year, O'Neil said, he expects that they'll surpass $100 million.
O'Neil's team has been adopting and adapting to new technology, including a good CRM that helps them stay in touch with previous clients. Even though only about 20% of O'Neil's business comes from repeat clients, their marketing budget for 2019 was nearly nothing. This year, however, will be very different. They've been working with a videographer to film a series of videos in addition to increasing their presence on social media to reach more clients. This, O'Neil says, is an area of business where they're currently not realizing their true potential, and they want to change that.
O'Neil has found a lot of support in the broker community. Brokers across the country are willing to connect online and offline to share stories, ask questions, and exchange experiences. Brokers are fighting everyone for a slice of the pie, he said, but 99% of the time, brokers are willing to help each other. In turn, he's willing to pass along what he's learned to others, including the advice to focus on building relationships with the handful of most useful lenders.
"The more you send in, the more you'll understand the policies, as opposed to trying to spread the love to multiple lenders. I find if you can focus on one, you do a really good job, your efficiencies will go up because you know exactly what you're looking for and everything becomes a better experience: the underwriting, the client interface, and then just the fulfillment on the back end with the documents and the conditions as well," he said.