Without a doubt, last year's winners will be eager to defend their awards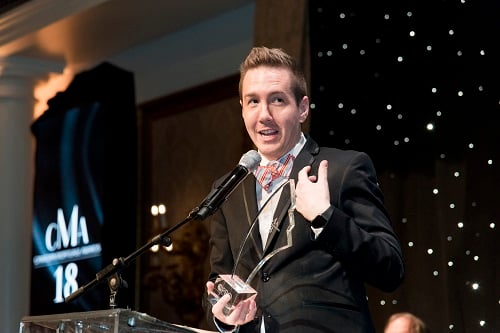 Clinton Wilkins
Nominations are now open for the 2019 Canadian Mortgage Awards, which will be held at the Liberty Grand in Toronto on April 26, 2019.
The 13th annual edition of the CMAs promises to be a good time where peers from coast-to-coast can network and, most importantly of all, enjoy themselves. Without a doubt, last year's winners will be eager to defend their awards.
Clinton Wilkins of the Clinton Wilkins Mortgage Team with CENTUM Home Lenders Ltd. won the Award for Mortgage Broker of the Year (Fewer Than 25 Employees) for his 230 transactions in 2017 that totaled $50 million. The Halifax-based Wilkins says that since winning and advertising the award, business has surged.
"Since the win, I've had the best year ever in the 12 years I've been in the industry," said Wilkins. "This year, I'm up 80% over last year and I attribute that to the momentum that I've had and winning a CMA is justification for what I'm doing in the industry. Winning a CMA has 100% helped me increase business, especially as broker of the year. It really speaks to the good things going on in Halifax and it's put me on the map on a national level."
Upon winning the award, the Wilkins Team immediately put out a press release and emailed clients to break the good news.
"It essentially communicated to our customers and business partners that we're the biggest game in town," said Wilkins. "Being able to win the Broker of the Year Award goes to show that sometimes these small players, these underdogs, really have some heavy hitters on their rosters. At CENTUM, the leadership that Chris Turcotte has brought to the organization has helped us get to the next level and it's incredible to be recognized by the CMAs for it."
Another one of the big winners at the 2018 Canadian Mortgage Awards is Andy Anastasiou of SGE Financial Inc., who won the Award for Commercial Mortgage Broker of the Year. Anastasiou credits the award with bringing his firm more visibility from outside the commercial space.
"We've gained a lot of visibility from a lot of residential brokers that don't know how to handle commercial deals," he said. "We've gotten a lot more referral business since winning."
In fact, things are going so well for SGE that they have had to cut back on advertising.
"We've been advertising our CMA win in our signatures and running some advertisements via Google ad boards, but we have so much business that we stopped that because we don't want our level of service to suffer."