For this principal broker, a leader's responsibility is not just directing, but also supporting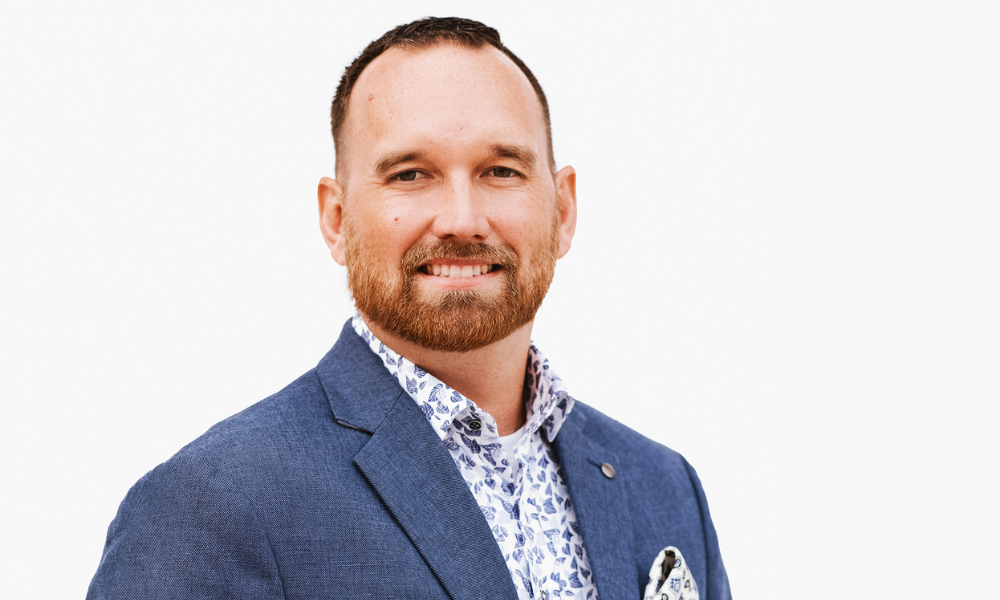 Prior to entering the mortgage industry and making waves through a tech-driven brokerage, Joe Markham (pictured), principal broker and director of operations at Edison Financial, cut his teeth with a far different discipline – a tenure that, it turned out, proved to be a vital foundation for his long-term success in mortgages.
"While pursuing a policing career, I was working as a regional manager in theft/fraud for a large CDN retailer. In 2012 and 2013, the company did several major restructures and in the third wave of cuts, I was let go," Markham told Canadian Mortgage Professional.
"In late 2017, my love of technology and entrepreneurship took over and I ventured out to start a blockchain-based tech company focused on developing technology within the mortgage space," he added. "I joined Edison Financial on Jan. 20, 2020 as part of the start-up team, and then assumed the role of principal broker in July 2020."
Providing tangible help to others was a notion that long held appeal in Markham's estimation, which is why the shift to the mortgage industry was a natural one for him.
"It's such a cliché to say, but the reason why I was so attracted to policing and law enforcement is that I have such a strong sense of care for others and wanting to help those in need," he said. "Wondering what to do next, I considered my desire to help others, a love of numbers and real estate along with a sudden desire to 'do my own thing' and it just clicked. I signed up for the [Real Estate and Mortgage Institute] course one week later and set off to become a mortgage agent."
This dovetailed with Markham's passion for knowledge, mentoring, and coaching. The combination proved helpful in developing a leadership style that has so far successfully navigated Edison Financial through an ever-changing, round-the-clock industry.
"New lenders come into the mix, product tweaks happen, government rules change, regulatory requirements are updated, a generational change in terms of clients' wants and needs happens, and so forth. You either set aside the time to digest it all and evolve, or you don't," Markham said.
"Given my role at Edison Financial, I'm fortunate to be looked at as a leader and mentor to so many great people," he added. "From professional encouragement and coaching to being an ear or a shoulder when things are going on in their personal life – it's my responsibility to provide the support, feedback and required resources available to them if I don't have the knowledge or skillset to help."
Markham believes that those he leads deserve nothing less than his best, as they "are the lifeline of Edison Financial, an extension of our leadership group."
"Throughout my life, I've had the good fortune of having many people who have shared their knowledge with me, thus creating a huge impact on me in doing so," he said. "Being able to 'pay it forward' is one of the many reasons I have continued to educate myself and make myself available to whoever I can."
Markham said that industry newcomers, in particular, can benefit from keeping this approach in mind.
"Find someone in the industry you can lean on and ask questions. Finding a great broker, mentor and leader is so important," Markham said. "Remember, in interviews with different brokerages, you should be interviewing them as much they are interviewing you. Do they have a training program? Do they offer ongoing sales and product development? Do they have a strong company culture that aligns with your own?"
"Being new is OK – but turning 'I don't know' into the solution or the answer is what is going to make you great. Pair that with a great company and mentorship and you will become an absolute rockstar."
This combination of meticulousness and empathy is also apparent in Markham's time off work.
"I enjoy DIY renovations and all the learnings and frustrations that inherently come with that," he said. "I enjoy wood working, sports of all kinds, travelling, googling random facts/information, technology, sarcastic humour, corny dad jokes – but most of all I enjoy pursuing a great life for my family.
"Someone told me a while ago that no matter your upbringing, when it's all over, if you provided your family with a better situation than what they had when you came into this world, you did good."