Higher purchase and rental prices are pushing families away from suburban sprawls and towards smaller units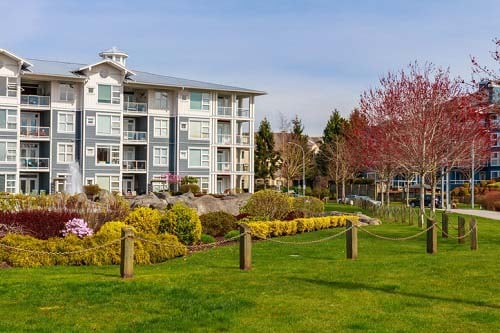 Fresh data from Statistics Canada revealed that the number of people living in apartments taller than 5 storeys went up more than 12% between the 2011 and 2016 census.
The change was particularly noticeable in B.C. where the number of people living in single-detached homes dropped by 1.4%, while the number of people living in apartments taller than 5 storeys went up by more than 23%.
Among the Canadians choosing to live small include artist Shelley Vanderbyl, who lives with her husband and their three kids in a 950-square-foot home in Winnipeg.
Living small was never the plan, Vanderbyl said, but it's worked for the family, which includes a 15-month-old, a 3-year-old, and a 6-year-old.
"My kids have always grown up in this space. It doesn't feel small to them. You sort of just get used to it," she told The Canadian Press, adding that the limited area teaches children problem solving, creativity, and conflict resolution.
"If you're angry at someone, you can't go somewhere and be away from them. You've got to sort it out. You just decide that you're going to get along."
Read more: Canada's biggest generation is flocking to these cities
A small floor plan does require flexibility, Vanderbyl noted. Her family has learned to use every room for a variety of purposes and to move people and objects around as needed.
Sometimes the results are non-traditional, but she stated that the expectation for families to have large, spacious homes is relatively new and doesn't exist in many places outside of North America.
"I think you have to let go of expectations and not feel guilty if your baby sleeps in a play pen because it's smaller than the square footage of a crib or it's on wheels and rolls better," Vanderbyl explained. "You just do what your family needs to do and what feels right for you."
Minimalism is also key to small living, according to freelance writer Emily Morrice, whose family of five lives in a 1,000-square-foot, two-bedroom condo in downtown Montreal.
Constant decluttering is necessary, as is saying "no" to people who want to buy the kids presents.
"You have to be careful about that," Morrice said. "Or once you let new stuff in, you have to be willing to send things out."