This came about in part due to economic concerns and fears over the coronavirus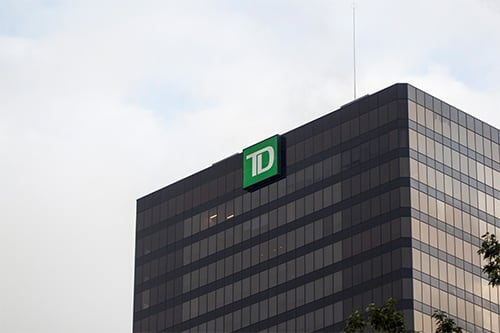 Toronto-Dominion Bank has announced that it has cut its five-year posted rate for fixed-rate mortgages from 5.34% to 4.99%, and its special rate to 3.09% (or 3.11 with annual carrying fees).
The decision came earlier this week with the drop of the five-year government bond yield to 1.34%, from the 1.70% in mid-December. This development was in part due to the widespread fear surrounding the coronavirus threat.
"Based on current market conditions, lower funding costs have led to a growing variance in customer rates versus posted rates," bank spokeswoman Ana Aujla told The Canadian Press.
"This rate decrease aligns TD's 5-year fixed posted rate more closely with current customer rates."
Dominion Lending Centres chief economist Sherry Cooper hailed the decision as a positive step, but also noted that other major banks should consider taking similar steps.
"By keeping posted rates too high, the Big-Six banks have inflated the qualifying rate, making it more difficult than necessary to pass the stress test to get a mortgage."
A concerted move by Canada's largest banks could lead to the B-20 qualifying rate dipping below 5%, Cooper predicted.
Despite the less than ideal economic and geopolitical situation, however, Canada's consumer confidence levels stood generally stable last month, hovering close to historical averages.
The Bloomberg Nanos Canadian Confidence Index was at 56.4 by the end of January, which was nearly unchanged from the level seen at the end of December.
The share of respondents who are expecting the economy to weaken over the next six months declined to 27.9%, from the 34.2% level seen at the end of 2019. Meanwhile, the number of those who are looking forward to a stronger economy increased to 15.6%, from December's 13.4%.