Neighbourhood Holdings underwriters on some of the factors agents and brokers need to keep in mind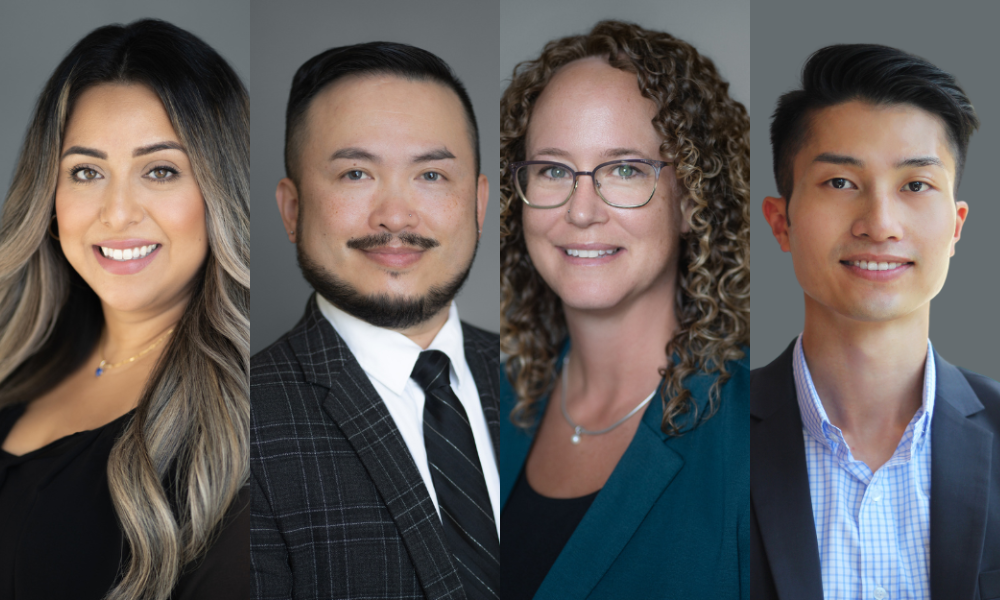 This article was produced in partnership with Neighbourhood Holdings
Fergal McAlinden of Canadian Mortgage Professional spoke with Neighbourhood Holdings underwriters Aida Oviedo, Lindsay Munif, Andy Hoang, and Nathan Nguyen on what they look out for when receiving a deal from agents and brokers
Accurate and detailed deal submission has always been an essential part of mortgage brokers' and agents' work – but in the current market, what should be top of mind for those mortgage professionals when sending a file?
Canadian Mortgage Professional spoke with the underwriting team at Neighbourhood Holdings – consisting of team lead Aida Oviedo (pictured top, far left) and underwriters Lindsay Munif (centre right), Andy Hoang (centre left), and Nathan Nguyen (far right).
Oviedo said Neighbourhood has developed three "pillars" that inform and guide its approach to underwriting – namely, collateral, credit, and capacity. Each brings certain nuances that brokers and agents must understand, she said: for instance, location is an essential component where collateral is concerned, with rural locations typically seeing lower loan-to-value (LTV) ratios than urban settings.
On the credit front, reviewing the company's guidelines or double-checking with its business development managers (BDMs) is also a useful way to ensure a smooth deal, while an explanation of how borrowers will manage payments – especially with higher ratios – is the main thing underwriters are looking out for concerning capacity.
Having underwritten a vast number of files, the Neighbourhood team is also well-placed to spot some common mistakes and things agents or brokers might not do so well with a deal.
Most prominent among those, said Munif, are inaccurate or missing information in the application, few or no comments explaining the deal, and too many notes when a lot of the information is in the application. "Make relevant notes specific to the deal only," she advised.
Meanwhile, agents and brokers often fall into the trap of submitting deals in areas where Neighbourhood doesn't lend – an error that reflects on their closing ratios – or when unlicensed in the province the subject property is in.
What makes an underwriter more likely to approve a deal?
There are plenty of things an agent or broker can do to increase the chances of approval on a deal, according to Hoang, with clear and constant communication always a plus.
"I really appreciate quick responses to any questions I have on a deal," he said, "as well as brokers who provide purchase documents and other important documents as soon as we acknowledge the deal."
Nguyen said having the appraisal ready to send to the designated underwriter is also an asset if it's a deal with severe time constraints, while detailed summary comments explaining the deal's overall purpose and any unusual parts of it can put an underwriter's mind at ease.
Oviedo emphasized the importance of explaining the relationship between the borrowers – for instance, whether they're married to each other – and if there are any large shortfalls, how the applicants are planning on covering those.
"If there are any problems, tell us how the borrowers plan on working through them," she said. "Explain all discrepancies and let us know how we're benefitting the borrowers, and how they're situation's improving."
The importance of an exit strategy – a clear route to a more traditional or conventional option –can't be overstated, Munif told CMP. "Checking to make sure the application is fully complete is also vital," she said, "and where a pre-sale request is made, the original purchase date and price should be included."
It may seem self-explanatory that as complete and comprehensive an application as possible should be submitted, but it's a point that bears repeating. "This is our primary source of information for the borrowers," Hoang said. "P roviding a fully completed application, it will expedite the underwriting process and avoid additional questions, which in turn will improve our turnaround time."
How can brokers and agents learn more about Neighbourhood Holdings?
Agents and brokers should keep a close eye on Neighbourhood's promos, said Nguyen, and remember that BDMs are always on hand to run a deal by or provide further information and clarification where required.
The company has also recently launched a Broker Toolkit, offering various tips and points of information for any mortgage professional who needs it. "Our website is extremely helpful for brokers," he said, "and the broker tab has lots of resources to help brokers get their deals funded."
Find out more about Neighbourhood Holdings and its offerings for brokers and their clients on the company's official website.
Neighbourhood Holdings is an alternative mortgage lender based in Canada. Neighbourhood Holdings also recognized as winners for the best mortgage products in Canada in the recent 5 Star Mortgage Products survey, read the full report here.