Jump to winners | Jump to methodology
Exceptional women leading change
Newsflash: women are hugely under-represented in the New Zealand mortgage and finance industry.
A 2020 paper in the Australian Journal of Management estimated that the proportion of female authorised financial advisers in New Zealand was just 23.5%.
While the nomenclature in New Zealand is somewhat fuzzy, roughly one quarter of the profession being women is in line with the proportion of female mortgage brokers across the Tasman and financial advice professionals in other developed countries such as the US.
This compares to women comprising 52% of lawyers and around 40% of chartered accountants in New Zealand.
"Constant change is both our enemy and our friend – there are opportunities and challenges"
Katrina Shanks, Financial Advice New Zealand
Sure, low representation is not exactly breaking news, but it's one reason why NZ Adviser's 2022 list of Elite Women in the New Zealand mortgage profession is important.
Following on from NZA's Women in Mortgage and Finance New Zealand event in Auckland last year, these awards provide a further platform for measuring the success of women and building momentum towards expanding the female footprint in a male-dominated industry.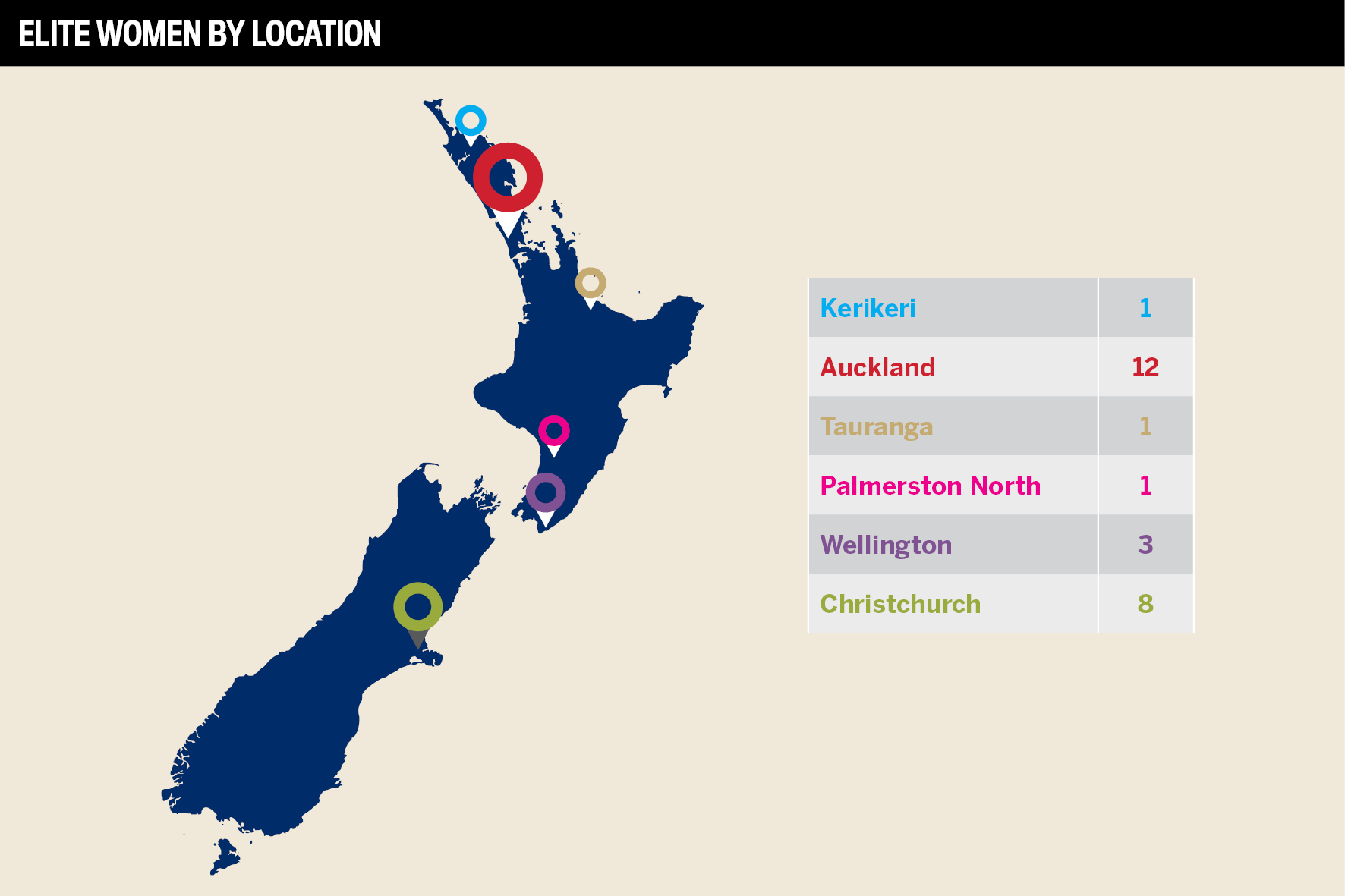 Opportunities in change
Celebrating success is especially sweet after a year that was tougher than most.
Chief executive of Financial Advice New Zealand (FANZ) Katrina Shanks summed up 2021 as a "roller coaster" that necessitated new ways of connecting with advisers and providing meaningful dialogue with the public.
"For many women in the industry who have had to balance full-time work, childcare at home and the challenges of workplaces where business patterns are constantly changing, it's been exhausting," she says.
"Constant change is both our enemy and our friend – there are opportunities and challenges."
She picks inflation as the biggest danger for the future as it will slow down individuals seeking financial advice. Even so, she says New Zealanders are maturing financially, and the time is ripe for the sector to shine.
Looking ahead, FANZ aims to focus on assisting financial advisers to deliver quality financial advice, while building public confidence and trust by ensuring high standards.
Elyse Peters, director and co-founder of The Mortgage Girls, says the rising interest rate environment is something many clients have not experienced before and is a big change for those who purchased at low rates.
But 2022 still presents opportunities, and she hopes to grow her team partly to share an increasingly hectic schedule.
"This will allow us to spread the load a little more and enable us to help more people achieve their financial goals," she says.
"Being a woman, we find a huge proportion of our clients have women organising the finances – and from working with us, they get the confidence they need to improve their family's financial future"
Sarah Curtis, Sarah Curtis Mortgages
Women as educators
The success of women in the industry translates to success for women and families financially, says founder and co-owner Sarah Curtis of Sarah Curtis Mortgages (SCM) in Kerikeri.
"Being a woman, we find a huge proportion of our clients have women organising the finances – and from working with us, they get the confidence they need to improve their family's financial future."
She says the last 12 months were a period of change for the industry, but the acceptance of working from home and flexible working models has boosted business for many women.
"I'm used to answering the phone while at gymnastics and doing late-night meetings with clients to work around their kids," she says.
"The last 12 months have driven client engagement to more phone [and] online meeting interactions, which has meant that I can talk to more clients at times that suit us both."
She is concerned about the lack of action on supporting first home buyers and would like to see less talk and more action on this front. SCM set up a series of lessons for first home buyers to help educate them on financial matters.
"If we aren't careful, we will turn into a society where it is going to become incredibly difficult for first home buyers to purchase without their parents' support," she says.
"We adapted our approach and advice so that we were not only managing our customers' expectations but also creating a bespoke and realistic strategy that would enable them to get on the property ladder"
Tapere Hewett, Hewett Mortgages
Adapting to new challenges
While women mortgage brokers are still in the minority, within the profession there are other even smaller minorities such as Maori or Pacific Islander advisers.
Director of Hewett Mortgages Tapere Hewett is a Cook Islands Maori woman also dedicated to helping people achieve financial independence.
"Homeownership creates security, freedom and stability for families without the fear of the landlord increasing the rent or selling the home."
She says 2021 was a big year for the industry with COVID, the spectre of higher rates and the introduction of stricter lending rules under the Credit Contracts and Consumer Finance Act, which made it difficult for some customers to source finance.
"The year as a whole has been phenomenal and challenging at the same time with COVID and not knowing if customers would still continue to purchase homes," she says.
These events meant Hewett had to pivot and put any long-term plans on hold.
"We had to ensure we adapted our approach and advice accordingly so that we were not only managing our customers' expectations but also creating a bespoke and realistic strategy that would enable them to get on the property ladder or purchase the investment property they desired."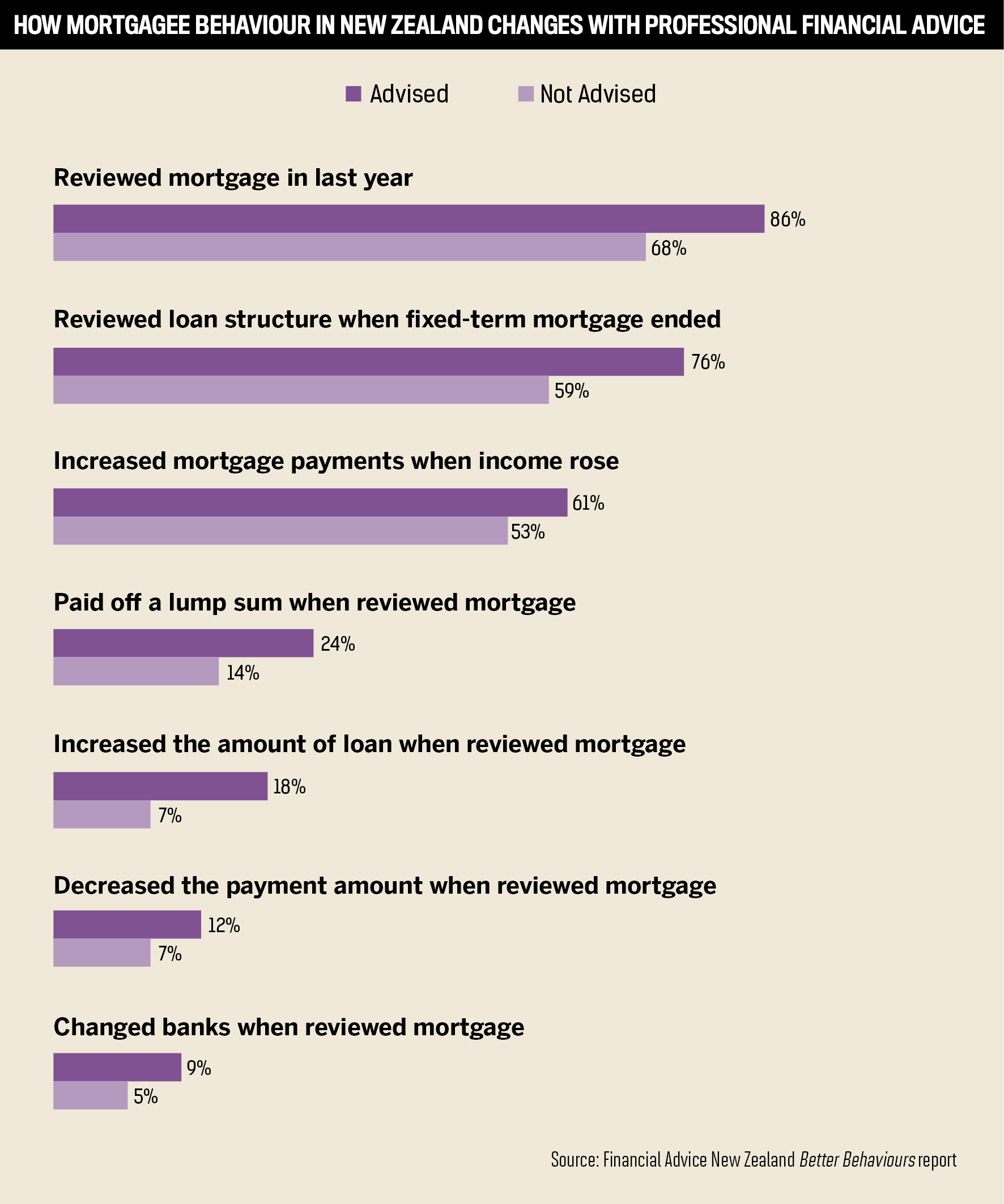 Towards better representation of borrowers
Hewett says more networking in the industry would help reverse the gender imbalance.
"I feel we need to have more women's adviser network groups and share advice, stories and help each other succeed."
Unless women of all types work together more, the status quo will remain.
"The industry is extremely male-dominated, and this absolutely needs to change," she says. "I would like to see a better balance of ethnic and gender diversity throughout the mortgage industry, [because] better representation will encourage increased homeownership for those groups."
Diversity of experience is evident in the winners list too, with advisers new and old.
A few women decided to launch mortgage advice businesses in the middle of the pandemic. Angela Downie in Auckland and Jen Taylor in Palmerston North both founded new companies in early 2021 on the back of respective careers in finance spanning more than a decade.
"We've helped over 120 clients into properties – all of that while trying to navigate lockdowns, policy changes, COVID and being a mom," says Taylor.
On the other hand, Robyn Ashkettle has been running Ashkettle Financial Services for nearly a quarter century. She says she is one of the oldest mortgage advisers around but has similar goals to many other women in the industry to help a diversity of clients. She plays a large role working within the Rainbow Community in the Auckland central city district and helping new immigrants.
Opening doors to women advisers
Pauline Trotter, who works under the Loan Market franchise, is keen to mentor women new to the industry.
"I quite often have new women advisers wanting to speak to me about joining the industry. What I do is lock them in for a 30-minute phone call so I have time to answer all their questions," she says.
The tutorial runs the gamut of the processes involved in the business, including pre-approval, settlement, post-settlement, and Google reviews.
Mentoring women who are interested in a mortgage and finance career may be a key point. Across the Tasman, the proportion of female brokers fell during the pandemic due to the large numbers of new male brokers entering the business.
But against this background, 27-year-old Izzy Constantinou was the first woman to ever top the Mortgage Professional Australia yearly rankings of commercial brokers in 2022.
Constantinou says the fact that a young woman took the number one spot in the male-dominated commercial broker rankings suggests that rather than any glass-ceiling phenomenon holding women back, there could be an image problem that makes joining the finance industry seem less appealing to females – an observation that may hold true on this side of the Tasman also.
With so many top women in New Zealand on the same page in terms of motivation and vision for the future of mortgage and financial advice, what better time than now to make the industry more female-friendly?
Angela Downie


Platinum Mortgages New Zealand, Auckland

April Hastilow


Become NZ, Christchurch

Ashlene Prasad
Resimac, Auckland
Cherry Qin


Loan Market, Christchurch

Chrissy Richardson


Tony Mounce Mortgages, Christchurch

Heather Roney-Kleb


Mortgage Ladies and Co, Auckland

Jen Taylor


Taylored Mortgages, Palmerston North

Jinal Doshi


Loan Market, Auckland

Julia Winterbottom
Avanti Finance, Auckland
Karyn Barnfield


Tony Mounce Mortgages, Christchurch

Katrina Shanks


Financial Advice New Zealand, Wellington

Michelle Sargeant


Pepper Money NZ, Auckland

Paulette Trotter


Loan Market, Auckland

Robyn Ashkettle


Ashkettle Financial Services, Auckland

Sarah Curtis


Sarah Curtis Mortgages, Kerikeri

Sarah Johnston


Astute Financial Management NZ, Auckland

Sue Griffiths


Bluestone, Tauranga

Tapere Hewett


Hewett Mortgages, Auckland

Zebunisso Alimova


Mike Pero, Wellington
Nominators were asked to describe their nominees' standout professional achievements over the past 12 months, along with their contributions to diversity and inclusion in the industry and how they had given back through volunteer roles and charity work. Recommendations from managers and senior industry professionals were also taken into account.