Auckland's median price bounces back over the $1 million mark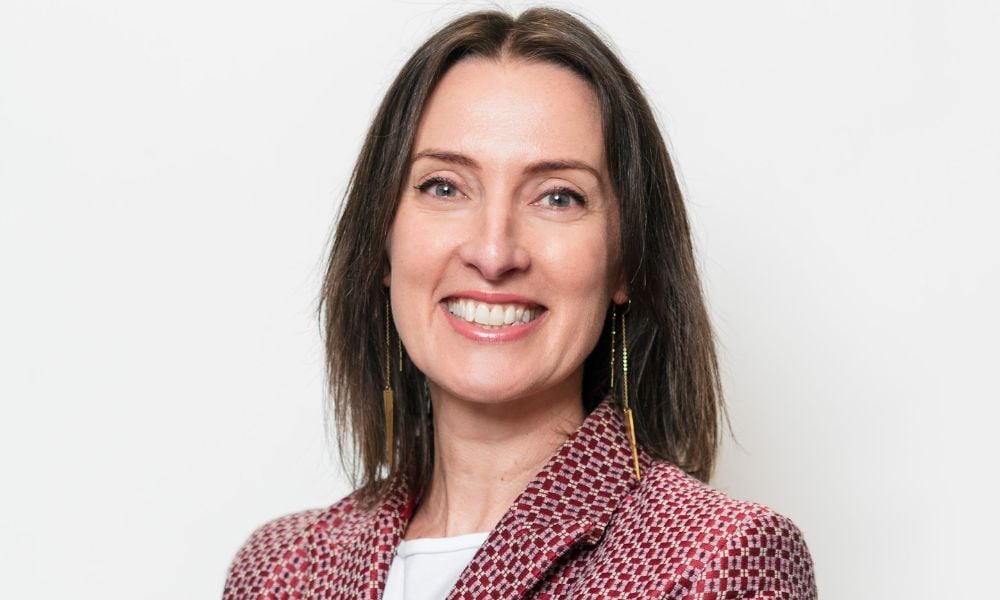 Some "late winter confidence" has sprung up in the property market in August, with listing numbers and sales counts both up on July, according to the latest figures from the Real Estate Institute of New Zealand (REINZ).
REINZ CEO Jen Baird (pictured above) said market activity often picks up in August as spring approaches.
"We saw steady activity this month with increased sales counts both compared to August 2022 and last month. This lift in market activity has also seen the median days to sell decrease this month," Baird said.
More properties were sold across New Zealand in August as compared to the same month last year, with sales counts rising 9.2% to 5,509, from 5,047. Month-on-month, the increase was 9.2%. For New Zealand excluding Auckland, sales counts also lifted by 5.2% year-on-year from 3,508 to 3,690.
Across the regions, sales counts increased yoy in Northland (4.5%), Auckland (18.2%), Waikato (16.2%), Manawatu-Wanganui (8.6%), Tasman (8.0%), Nelson (12.3%), Marlborough (38.1%), Canterbury (24.9%), and Southland (4.2%), REINZ data showed.
"Local agents are reporting that, as new listing numbers continue to decrease, the demand for entry-level property is holding and fairly strong, and properties are starting to move quicker," Baird said.

The national median days to sell dropped by five days month-on-month, with 11 regions also seeing a decrease in the median days to sell compared to July.

The total number of properties for sale across New Zealand dipped 1.5% to 22,750 mom in August. Housing stock in New Zealand excluding Auckland was down year-on-year by 7.5% annually to 14,099.

New listings across New Zealand, meanwhile, decreased by 0.6% to 7,444 yoy and lifted 20.9% mom. For New Zealand excluding Auckland, listings were down 4.2% yoy to 4,550 and were up 18.3% mom.

"The number of properties available for sale over the last three months continues to fall," Baird said. "Listings are still at lower levels compared to August 2022, but only slightly. Month-on-month we have seen a 20.9% increase of stock coming to market, suggesting seller confidence is returning and we can expect a more normal spring ahead for the property market."

Nationally, the median sale price in August was $767,000, down 4.1% yoy from $800,000. In the regions, median sale prices were still down yoy except for Nelson (+0.7%), Canterbury (+0.8%), Southland (+2%), Northland (+3.6%), and Gisborne (+14.8%).
Auckland's median sale price, meanwhile, bounced right back up over the $1 million mark to $1,010,000, lifting 2% mom, but falling 8.2% yoy.

In Wellington, the median sale price lifted 2.3% mom to $750,000 and the number of properties sold rose 16.9% to 512 over the same period. Days to sell decreased by 14 days to 38.

"Higher interest rates and ongoing cost-of-living pressures continue to impact the market ahead of the looming election," Baird said. "There is a sense across the country that the market has seen the bottom both in terms of prices and sales volumes, but we are all waiting to see how long it will take to see growth reemerge."

The HPI for New Zealand was 3,588 in August, which was up 0.9% compared to the prior month but was down 4.7% when compared to the same period last year. The average annual growth in the New Zealand HPI over the past five years has been 5.7% per annum, which was 16.1% below the peak.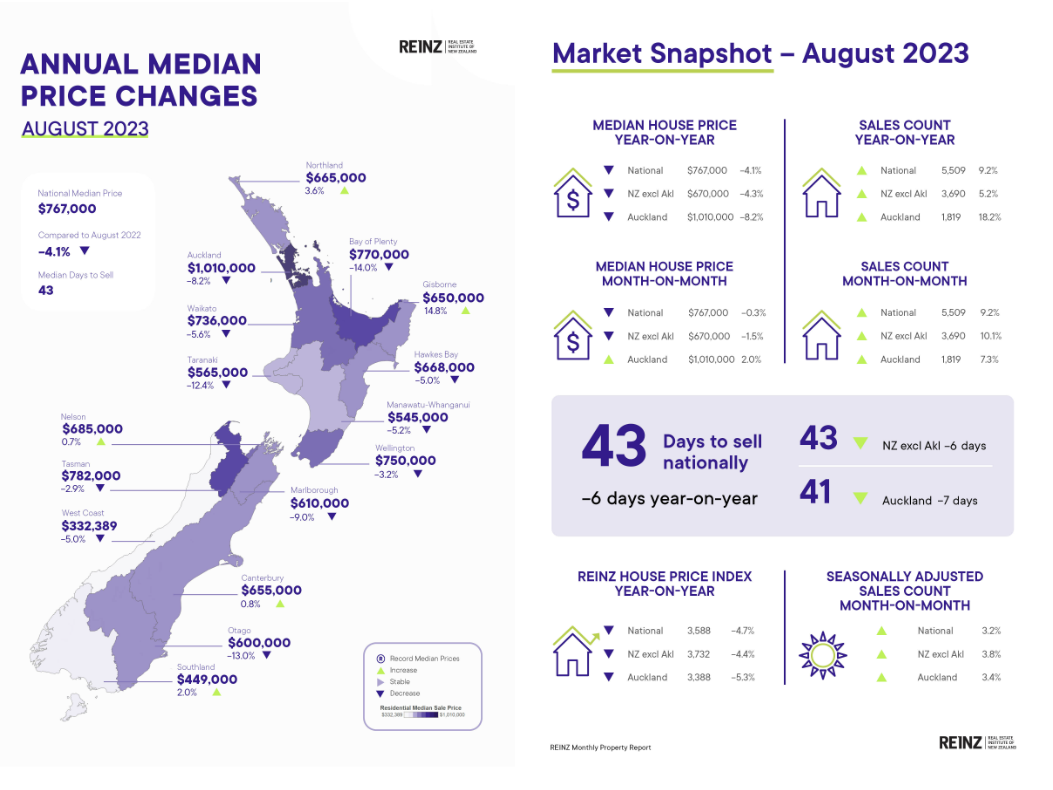 Click here for full Monthly Property Report
Click here for House Price Index (HPI) Report
Use the comment section below to tell us how you felt about this story.