Borrowers could be better off with a fixed rate, economists say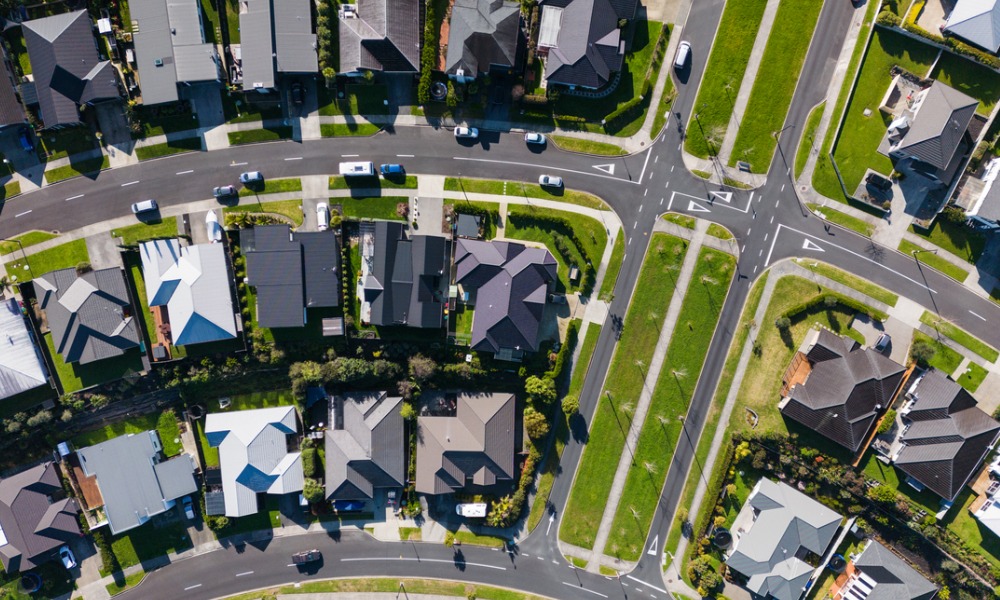 The New Zealand house price cycle has "convincingly" turned the corner and home loan borrowers may be better off fixing their mortgages, according to ANZ economists.
ANZ's latest publication, titled New Zealand Property: Focus Regional Revelations, said housing data for July confirmed that that the house price cycle has turned at a national level as the bank continued to pencil in a 3% increase in house prices over the rest of the year.
REINZ's house price index for July was up 1.4% compared to April's cycle low, in seasonal terms, with monthly increases of 0.6% seen in both June and July. Annual house price inflation slightly recovered, at -8.9% year-on-year on a three-month moving average basis, compared to the -10.6% inflation in June and a low of -14% in February.
"On balance, housing indicators suggest the market remains on a tightening trajectory," ANZ economists said.
The economists believe RBNZ's tightening cycle may not be over yet, with the bank forecasting an OCR increase in November, although that may be delayed based on slower growth in China, which could see the central bank making its next hike in 2024, or even taken off the table completely "if things start to go off the rails in a major way."
ANZ economists believe the OCR should be kept at its current level for longer to ensure "the inflation beast is slain." It does not believe cuts can be considered currently, based on conditions.
"That makes us cautious about fixing for a shorter term," they said. "Longer terms offer more certainty, but their main advantage right now is that they don't come with the proviso that rates need to fall for it to be cheaper over the long run, as fixing for a shorter term does."
A one-year rate, for instance, would need to fall from its current level of 7.24% to 6.55% in a year's time (and then on to 6.14% in two-years' time) for back-to-back one-year fixes to be cheaper than fixing for two years at 6.89% (or three years at 6.64%).
"That could happen, but as was the case last month, that's a more aggressive fall than we are projecting (based on our wholesale interest rate forecasts)," the ANZ economists said. "Getting it right all the time is impossible. Surprises are inevitable. But as we have said in the past, spreading borrowing over several terms can help smooth costs."
The bank also maintained its forecast of around a 3% increase in house prices over the second half of the current year, before moderating due to deteriorating job security, lingering unaffordability, and the reality of high-for-longer mortgage rates setting in.
Meanwhile, the West Coast was the only region where annual house price inflation was positive. It was also the most affordable region compared to incomes in the country. See the table below for the house price-to-income ratio across the regions.
House price-to-income ratio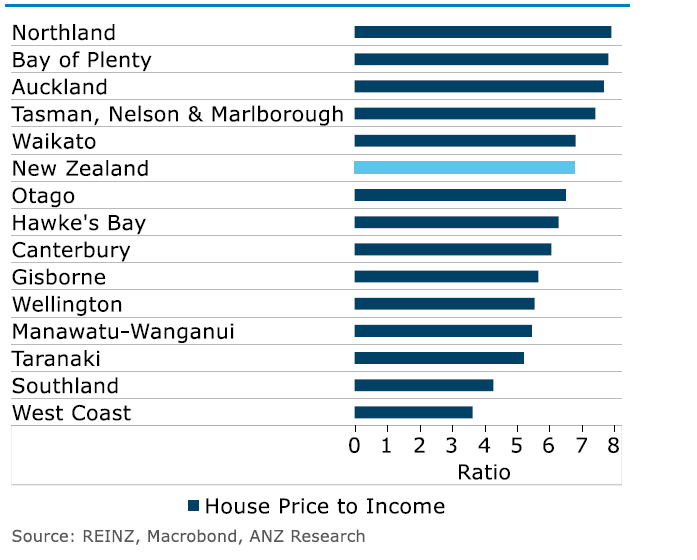 "All up, we certainly wouldn't call the housing market strong, but it is does appear to have turned a corner," the ANZ economists said.
Use the comment section below to tell us how you felt about this.