What's the difference between a local and an organic search, and why should it matter to you?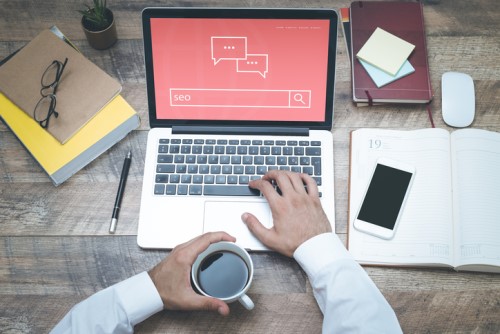 'Create a website!' they said. 'Clients will find you!' they said. What "they" didn't say was how that process works, and why some business are much more successful than others.
Marketing has come to be so targeted and precise, and there are any number of articles on algorithms, keywords, and tactics entrepreneurs can manipulate to get into Google's good graces—and let's face it; what Google thinks matters. It is the largest and most powerful search engine, with 88.6% of the mobile search market in the U.S. in October 2018. Many people, however, don't understand the difference between organic and local searches, which has a big impact on the kind of people who find mortgage originators, and where they are in their buying process.
Searching for a home online continues to be the first step that most buyers take, according to the 2018 National Association of REALTORS® 2018 Home Buyers and Sellers Generational Trends report. Given that, it's fair to say that most people who want to learn about mortgages start online as well. Typing in 'how do I get a mortgage?' in the search bar will result in an organic search. Whether someone is in Montana or Georgia, the information that comes up is going to be relevant. If someone searches 'mortgage in Indianapolis, Indiana,' however, their goals are slightly different.
In a webinar outlining ways to build a good online reputation and get new customers, Jeffrey Moss, regional sales director for Podium, explained the different between an organic and a local search in one sentence: "Simply said, the organic side is the research side, and local is, 'I'm ready to buy.'"
The key difference, of course, is location.
Convenience reigns supreme, and borrowers are much more likely to choose a business that they can find quickly and easily. Any hurdles that someone might have to jump to locate a business may require more work than a borrower is willing to do—and lead them right into the arms of a competitor.
There are ways for originators to maximize local search results for their business and make it front and center when those "ready-to-buy" borrowers come looking for a mortgage.
1. Be mobile-compatible
Whether on the couch or in the car, people are much more likely to use their mobile devices for searching the internet as opposed to a desktop. According to Google's internal data, more Google searches take place on mobile devices than on computers in 10 countries, including the United States. Google has also begun rolling out mobile-first indexing, which means that it will use the mobile version of a webpage as opposed to the desktop version for indexing and ranking, to better help primarily mobile users find what they're looking for.
Any website that isn't optimized for a mobile device may as well not exist, and if a website isn't mobile-friendly, it's easy for a potential client to move to one that is.
2. Google My Business
When a location is used in a search, the "map pack" shows up; a list of business that Google thinks will satisfy that particular search query, and those results are generated based on a business's Google My Business page, what Moss calls "the modern-day yellow pages." Once that page is equipped with high quality photos, up-to-date hours, and as much information as possible, it serves as having a really large billboard for a business, and searchers can click right into it from that search page.
3. Be consistent across all platforms
It's really important to have consistency across all platforms, but this is especially true when it comes to the name, address, and phone number (NAP) of a business. 555 North Main Street can't be 555 N. Main St. in one listing and 555 North Main St. in another. Best Mortgage Company can't be Best Mortgage Co., LLC, and so on. Pick the details and go with them on every bit of information available online.
4. Make online reviews easily visible
Every originator has happy clients, so make use of them. "No matter what business you're in, people want to buy a loan from you the same way they buy products on Amazon," Moss said. "Most consumers today say that [they] choose a business based solely on reviews and star rating. Your reputation is what drives sales, reviews really do influence the entire customer journey." Many originators have gotten on board with sourcing online reviews, and the more an originator has, the more visibility they have.
Not only does having stellar local search results get a business to the top of Google's search listings, but that results in more contacts with those 'ready-to-buy' leads. According to Google's 2011 "The Mobile Movement Study," 77% contacted the business after the results of a local search, and 88% of searchers take some kind of action within a day.
Who can afford to miss out on those leads? Originators who are able to maximize those local search results can put themselves to gain more business in 2019.