If rates hit 6% then impact will be significant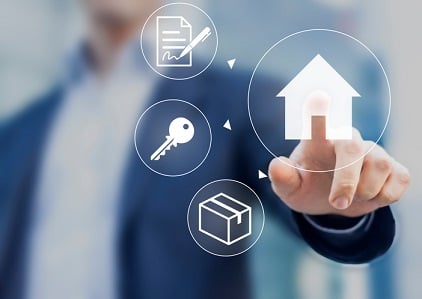 A homebuyer earning the median US income is finding their choice of affordable homes falling as mortgage rates rise.
Assuming they use 30% of their income for monthly mortgage payments, they would have been able to afford a home up to $393,700 a year ago. But while rates were 4.15% in January 2018, as we begin a new year, an analysis from Zillow finds that the budget is slashed to $372,000 due to 4.63% rates.
If mortgage rates climb to 6% in 2019, that homebuyer will see the ceiling for their budget cut to $319,200 if their income remains the same and they stick to using 30% for mortgage payments.
The figures reveal that those buyers could be priced out of almost 50,000 US homes.
"In the end, the best time to buy a home is always when the time is right for an individual buyer – often when they're financially ready, when they're relocating to a new area or a major life event requires them to upsize or downsize. It's also important to remember that rates on a typical mortgage remain very low by historic standards – especially given the type of strong economic growth we've been experiencing."
The impact of rising rates cuts buyers' budgets even more in expensive markets. For example, in San Jose, the nation's most expensive metro, a 6%mortgage rate would mean buyers making the $118,400 median household income, would see their budget reduced by $102,100 than they might consider now to maintain monthly mortgage payments at 30% of income.
In each of the 35 largest metro areas in the U.S., the drop in buying power is at least $46,500.
Metropolitan Area

Median
Household
Income

Median
Home
Value

Affordable
Home at
Current Rate

Affordable
Home at 5
Percent Rate

Affordable
Home at 6
Percent Rate

United States

$61,240

$222,800

$372,000

$337,100

$319,200

New York, NY

$76,582

$435,700

$465,200

$421,500

$399,200

Los Angeles, CA

$70,591

$650,400

$428,800

$388,500

$367,900

Chicago, IL

$70,123

$223,600

$426,000

$385,900

$365,500

Dallas-Fort Worth, TX

$67,605

$237,800

$410,700

$372,100

$352,400

Philadelphia, PA

$70,321

$231,100

$427,200

$387,000

$366,500

Houston, TX

$64,822

$203,200

$393,800

$356,800

$337,900

Washington, DC

$101,124

$403,000

$614,300

$556,600

$527,100

Miami, FL

$54,135

$281,700

$328,800

$297,900

$282,200

Atlanta, GA

$66,202

$215,000

$402,100

$364,400

$345,100

Boston, MA

$87,854

$462,000

$533,700

$483,500

$457,900

San Francisco, CA

$104,496

$963,000

$634,800

$575,100

$544,700

Detroit, MI

$59,496

$158,400

$361,400

$327,500

$310,100

Riverside, CA

$62,052

$363,900

$376,900

$341,500

$323,400

Phoenix, AZ

$62,167

$262,000

$377,600

$342,200

$324,000

Seattle, WA

$84,631

$486,400

$514,100

$465,800

$441,100

Minneapolis, MN

$77,808

$265,200

$472,600

$428,200

$405,600

San Diego, CA

$75,831

$592,800

$460,600

$417,400

$395,300

St. Louis, MO

$63,468

$165,600

$385,500

$349,300

$330,800

Tampa, FL

$53,987

$211,500

$327,900

$297,100

$281,400

Baltimore, MD

$81,722

$267,400

$496,400

$449,800

$426,000

Denver, CO

$77,178

$403,800

$468,800

$424,800

$402,300

Pittsburgh, PA

$60,064

$143,400

$364,900

$330,600

$313,100

Portland, OR

$73,805

$393,700

$448,300

$406,200

$384,700

Charlotte, NC

$63,841

$203,900

$387,800

$351,400

$332,800

Sacramento, CA

$68,440

$403,400

$415,700

$376,700

$356,700

San Antonio, TX

$59,287

$190,500

$360,100

$326,300

$309,000

Orlando, FL

$55,315

$233,700

$336,000

$304,400

$288,300

Cincinnati, OH

$64,049

$165,900

$389,100

$352,500

$333,800

Cleveland, OH

$55,190

$144,400

$335,300

$303,800

$287,700

Kansas City, MO

$65,266

$189,100

$396,500

$359,200

$340,200

Las Vegas, NV

$57,909

$277,300

$351,800

$318,700

$301,800

Columbus, OH

$63,999

$187,400

$388,800

$352,200

$333,600

Indianapolis, IN

$60,431

$161,600

$367,100

$332,600

$315,000

San Jose, CA

$118,427

$1,251,200

$719,400

$651,800

$617,300

Austin, TX

$75,717

$304,200

$459,900

$416,700

$394,700