Rankings revealed as JLL predicts a dip in 2019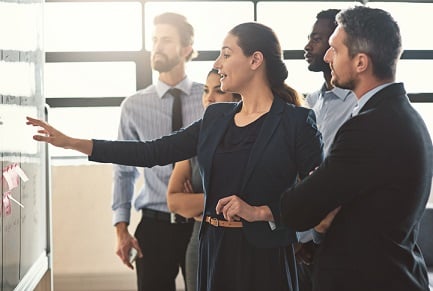 Despite Brexit, investors in commercial real estate are still favoring London as their top city with New York making a valiant attempt to reclaim the peak.
The global rankings from real estate firm JLL show that investors prefer cities they are familiar with, that have a well-established investment market, and high levels of transparency.
The world's largest gateway cities feature heavily, especially those with high concentrations of capital, companies, and talent.
New York was number one in 2016 but slipped back in 2017 with Los Angeles becoming America's top city behind London. But while London held pole position in 2018, LA has been usurped by cities including Paris, Tokyo, and Hong Kong, with New York second overall.
New York is one of 12 cities that has appeared in the top 30 ranking for every year of the past decade and together make up 30% of all real estate investment.
"In a year when investors have had to deal with increasing populism, protectionism and political uncertainty, the appeal of real estate as an asset class has continued to increase," commented Richard Bloxam, Global Head of Capital Markets at JLL.
He added that investors remain focused on gateway cities, despite tight pricing and that many are looking at alternative or emerging locations, as well as varying real estate property types within these cities, rather than exploring other less familiar cities.
Total volumes in 2018 were $733 billion, up 4% from 2017, the best annual performance in a decade.
Cross-border purchases accounted for 31% of activity in 2018, close to the 10-year average, suggesting investors still have appetite to buy outside their own markets.
"A notable trend is that half of these established gateway cities are in Asia Pacific. Increasing transparency in these markets is encouraging more investment, moving these cities even higher up the rankings in 2019 and beyond," Bloxham said.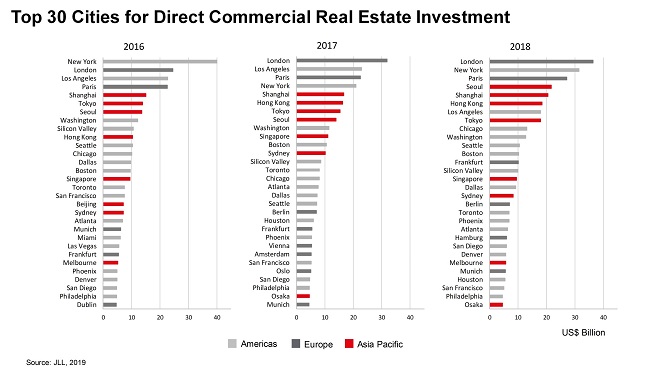 Looking ahead for 2019
Over the next year, JLL is forecasting a pull-back by some investors due to caution and selectivity.
That could mean a 5-10% reduction on 2018's volumes although real estate remains an attractive investment compared to other asset classes with strong fundamentals.
Yields are now at historic lows in most markets across the globe. A sharp correction is unlikely, as there is still a significant weight of capital looking to invest in real estate, and corporate occupier market fundamentals across many markets are positive.
Among other key factors in JLL's forecast:
The institutional real estate universe will continue to expand, driven by factors such as low volatility, diversification benefits, long-term income and an attractive pricing premium to core sectors. Asset classes such as student housing, senior living and multi-family have continued to attract more institutional money in 2018 and this is likely to continue in 2019.
Industrial now accounts for 17% of all investment, up from 10% in 2009. In contrast, the retail sector has seen less activity as investors adjust their investment approach to reflect changing consumer behavior. In gateway cities, the office sector tends to account for a higher proportion of investment volumes—68% in 2018, compared to 51% in global volumes.
The top 30 will continue to be dominated by the gateway cities in 2019. However, at the edges, investors will consider a widening range of cities in their strategies. Reflecting real estate investors' risk appetite, secondary cities in established transparent markets, such as Osaka and Atlanta, are likely to attract more attention, as opposed to moving into entirely new countries.