Proceeds from the sale of the hand-built car will go to help wounded veterans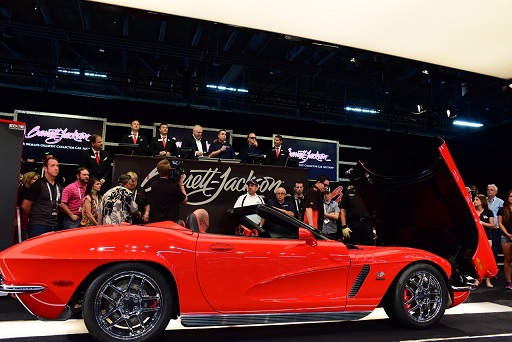 Carrington

Thousands of classic car enthusiasts gathered at Mandalay Bay Resort and Casino Oct. 13-15 for the Barrett-Jackson Las Vegas 2016 collectible car auction. Crossing the auction block on Friday, Oct. 14, was a 1962 hand-built and modified retro Corvette donated by an anonymous owner to Carrington Charitable Foundation, the nonprofit organization of The Carrington Companies.

The sought-after classic was auctioned for $200,000; and proceeds from the Corvette's sale directly benefit CCF, which serves communities through such causes as fundraising events, donation drives and volunteering that reflect the interests of Carrington leaders and associates. CCF assists veterans through its signature program, Carrington House, and the Veterans Airlift Command, improving the lives of wounded heroes who have returned from service and who need support. Several veterans who have been beneficiaries of CCF programs, joined by loved ones, attended the auction and were present on the block as the car was sold. According to the buyer, he first noticed the car in the auction catalogue; and once he heard about Carrington Charitable Foundation and its ongoing commitment to veterans, he was determined to win the car.

As part of the winning package, the Corvette's top bidder also receives custom garage cabinets designed to match the car, to be built at the location of their choosing by Proslat, manufacturers of award-winning, patented storage solutions. The CCF Corvette was generously transported by Reliable Carriers from California to Las Vegas.

"We are immensely grateful for the generosity of the people and companies who worked together to make this event a reality, and humbled that the proceeds from this sale will help Carrington Charitable Foundation continue to provide assistance to wounded veterans and their families," said Rosemary Rose, Carrington Charitable Foundation chairman.

To date, Carrington House has contributed to the construction of 14 custom, adaptive homes in communities across the United States – with four additional homes in different phases of planning and construction. With construction management provided by Carrington Development Company, each home is designed to meet the special needs of wounded veterans and their families. Most recently, Carrington House has officially broken ground on a home in North Carolina for Master Sgt.
David Glenn, his wife, Robin, and their two children. The new home will be a complete rebuild on their current property, and is slated for completion in May 2017. CCF recently announced it is expanding its mission to provide veterans with the guidance and support they need to rejoin civilian life through such services as job-search assistance and business-plan consulting to counseling and treatment referrals.

The 1962-titled red Corvette was built on a highly modified 2004 chassis by Classic Reflection Coachworks, a company renowned for manufacturing state-of-the art retro Corvettes. The mint condition instant-classic was manufactured with carbon fiber exterior panels; a distinctive black and red custom leather interior; and the 403 cubic-inch Lingenfelter motor under the hood generates 510 horsepower and 500 foot-pounds of torque. The car is replete with such modern conveniences as anti-lock brakes, traction control, power steering, air conditioning and power windows — all mated to the sweeping curves of the 1962 body. The hand-built car is No. 13 in a series now extending to over 200 − each car requiring more than 900 hours to assemble.