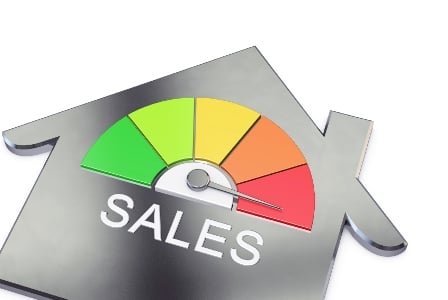 This type of 'Home' Schooling can cost a mortgage.
The mortgage industry has long been at the forefront of using the Internet to generate sales leads. The Internet leads market was riding high in the glory days of the mortgage refinance boom, but then the market came crashing down. Literally overnight hundreds of banks failed, mega-banks were on the brink, and for months consumers had little or no choice for mortgage financing.
Well, you're a mortgage broker or lender most probably—is it possible to believe the marketing opportunities are even bigger in this new market?
Lots of Demand for Mortgages
Let's review the facts: There are millions of homeowners still in problematic loans (i.e., ARMs, option-ARMs, interest-only, and negative amortization); others are watching their home values dip below their current financing; and even more are losing jobs and income--challenging their ability to repay their mortgage.
These conditions are certainly filling the funnel with demand for mortgages and loan modifications. Despite the complex qualifying issues associated with these borrowers there are hundreds of government and private programs available to help them. However, the path there is increasingly complex.
This is good for the savvy mortgage broker or lender that solves these challenges in their marketing strategy.
Volatility and Complexity
Newspapers learned long ago volatility sold papers. The same rule holds true for mortgages. When mortgage rates fluctuate, governments regulate, and loan programs undulate; homeowners turn their attention to their mortgages.
The difference in this market versus the previous mortgage refinance boom is that borrowers are unsure of what they need—it is not as clear as, "the lowest rate."
This is your mortgage marketing opportunity.
Consumers, homeowners and new homebuyers, are looking for information. They need to be educated and guided through this confusing tangle of government stimulus, legislation, and mortgage servicer workouts.
Consumers are looking for education. And if you want an endless supply of mortgage leads you will quickly learn how to offer that service.
How to Offer Consumer Education
There are a variety of ways mortgage brokers and lenders are executing on their consumer education marketing plans. From large to small mortgage businesses, these smart companies are finding that investing in educating their prospective clients is quickly turning profitable.
Large National Lender
David Wind, President of Guaranteed Home Mortgage Company, tells an interesting story of how consumer education evolved from a plan for business survival into a highly profitable marketing strategy.
Managing more than 500 lenders in over 27 states is no easy task and when stated income loans were the rave David spotted a significant risk. He realized that many borrowers didn't understand the representations they were making. Specifically, he was worried about their understanding that their stated income had to be accurate and would support the repayment of their loan. He realized that at some point the investors in these mortgages would hold Guaranteed Home Mortgage accountable for these borrowers' understanding.
"Our consumer education program started as a simple measure of self-preservation," tells David Wind. "We included a letter in every application package, explaining very clearly the income representations they were making and had the consumer sign it."
That simple letter made all the difference. As other mortgage lenders began to meltdown under the weight of loan buy backs and imploding stated income mortgage portfolios—Guarantee Home Mortgage survived.
"This simple survival plan demonstrated how important it is to develop a partnership between consumers and lenders," says Wind. "It is the responsibility of the lender to arm the consumer with enough information to understand when something isn't right about their mortgage process—we protect them and they protect us."
Guaranteed Home Mortgage has expanded their consumer education strategy into a core business differentiator. They invest much of their marketing dollars in explaining a good mortgage process to consumers and automating data verification to speed the customer experience.
Wind is so confident in his approach that he puts his cell phone number on the cover of every mortgage application package.
Marketing Partnerships
Not everyone needs to go through this long learning process and upfront investment. Some marketing companies are already experts and can assist you on the consumer education path immediately.
LendingTree was one of the first Internet mortgage marketing brands and uniquely maintained a consumer-first message. Remember stampeding suited bankers in "When Banks Compete You Win!" commercials?
This always seemed an odd message for a marketing company that made its money from bankers paying them to market on their behalf. Perhaps, they had the formula right all along?
However, if you have visited LendingTree.com recently you have seen them crank up the volume on consumer education. No longer is it a sidebar message. It is literally impossible to click without learning something about the lending process—credit scores, payment calculators, financial guides, and breaking news.
"We are focused on being a general financial management resource for consumers," Nicole Hall, Editor-in-Chief of LendingTree.com, passionately explains. "Our goal is to build trust and loyalty through consumer empowerment."
Hall continued with how this obviously creates a more compelling value proposition to the consumer and the lender network they support—"consumers understand better, they have better conversations, and they come prepared to get a loan."
Obviously, putting a brand like LendingTree behind your consumer education marketing strategy can be a short cut, but is it a sustainable strategy?
SurePoint Lending would certainly agree. LendingTree's leader in closed loan volume and also the top converting lender, started working with Internet leads in 2000 and in 2003 became a pure online originator. Unlike many lenders they survived the bust and continue to thrive.
LendingTree.com attributes their success to an emphasis in consumer education that carries beyond the consumer hand-off from LendingTree. Their tagline is a sure indication of that importance—"Straight talk. Straight answers."
Independent Mortgage Broker
Even the smaller mortgage operations are reaping big rewards from marketing education to consumers.
Dan Green, a loan officer and publisher of TheMortgageReport.com, told me: "My blog educates today's homeowners and tomorrow's home buyers. It builds trust and makes my phone ring and my inbox ding."
Green has used a simple do-it-yourself approach with technologies like a Wordpress blog, Photoshop, and Twitter to create an award-winning mortgage information resource for consumers. Although the mortgage market isn't terribly complicated with regard to mortgage rates (one of the most popular mortgage searches), Green says analyzing the data is important to building trust with a prospective borrower.
"I use my blog to educate savvy consumers," informs Green. "It builds trust with new customers and builds a relationship fence around my existing clients."
Positioning your mortgage business to capture these curious borrowers is limited only by your creativity. The key is obvious—exchange education for trust.
Customer Loyalty Too
An even more compelling part of this strategy is that it can extend beyond the originations process and the closing table. An investment in educating the consumer can easily return referrals and references before, during, and after a customer actually engages you for their loan.
A good understanding of the broader opportunity can really rocket your long-term return on investment. Uses for great consumer education content and processes go beyond individual mortgage shoppers. Media, blogs, and consumers will also reference this quality content, creating an even bigger marketing funnel.
To implement this long-term effect you need to consider a few key questions:
·
Is your content simple to understand and accurate?
·
Is your content easy to reference, refer, and forward?
·
Are you covering the basics of the mortgage process?
·
Do you continue to educate the consumer even after closing?
This mortgage market is unlikely to become simple anytime soon. The more time and investment you put into bringing yourself educated borrowers, the quicker and more frequently you will be closing loans.
Bill Rice is the founder and CEO of Kaleidico.com; experts in Internet lead generation and lead management. Rice has more than a decade of experience as an executive in Internet mortgage originations and lead-generation businesses, including DeepGreen Bank, Quicken Loans and MortgageLoan.com. Rice is a passionate mortgage industry expert regularly speaking and writing on topics of mortgage marketing, lead generation and lead management. Rice can be reached at
[email protected]
or (734) 775-4487.