The chairman of the House Financial Services Committee is praising a recent ruling that the CFPB's current structure – which he calls 'bizarre and defective' – is unconstitutional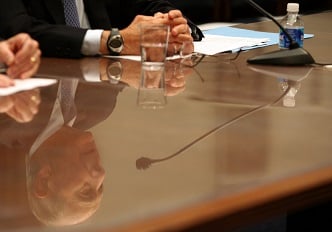 The chairman of the House Financial Services Committee is praising a recent court decision ruling that the structure of the Consumer Financial Protection Bureau is unconstitutional.
The US Court of Appeals for the District of Columbia ruled yesterday that the CFPB's structure violated the Constitution's separation of powers because the agency's director lacks enough oversight – in particular, he isn't sufficiently answerable to the president, according to a Wall Street Journal report.
Financial Services Committee Chairman Jeb Hensarling (R-Texas), who has long been a critic of the agency, said the court's decision confirmed what Republican lawmakers have been saying for years.
"This is a good day for democracy, economic freedom, due process and the Constitution," Hensarling said Monday. "The second-highest court in the land has vindicated what House Republicans have said all along, that the CFPB's structure is unconstitutional."
Read more:
Hensarling called the DFPB "arguably the most powerful and least accountable Washington bureaucracy in American history."
"The bureau has infringed on the economic freedoms of consumers, limited their financial choices, increased their costs, and failed to hold managers accountable for widespread discrimination and abuse of its own employees," Hensarling said. "This must change."
While Hensarling decried the current structure of the agency, he acknowledged that it had "an important mission."
"Properly designed and led, it is capable of great good," he said. "But the Bureau's bizarre and defective structure allows it to evade the time-tested checks and balances that are necessary to hold it or any other government bureaucracy accountable."
While the court ruled that the CFPB's director needed to be more accountable to the president, Hensarling said he favored replacing the current structure altogether, substituting a five-member commission for a single director.