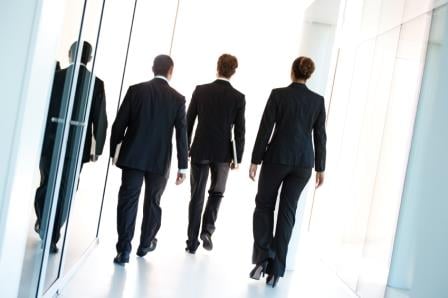 Your world is being turned upside down with this one—especially if you are a broker! But wait, this affects EVERYONE—bankers, lenders, creditors—anyone who provides closed-end mortgage loans.
The Mortgage Disclosure Improvement Act was created for 3 reasons – uniformity, disclosure, and comparison-shopping! You will also find changes in GFE and HUD 1 and HUD 1A. Oh, by the way, more waiting periods kick in. MDIA should be renamed to "How Long Can We Delay the Closing Act"!
In fact, to be a little more technical, MDIA defines and consolidates the information from TILA, HOEPA, HERA, EESA and Reg X and Reg Z (It's published in
Federal Register Vol. 74, No 95, May 19, 2009 if you want to research on the internet, download and read.)
It's designed to clearly answer the questions borrowers have when applying for a mortgage and gives them the ability to compare estimates—both with your competitor's rates and fees and a second disclosure if the terms, fees or APR have changed by more than the tolerance levels.
MDIA requires a "waiting period" between the times when the disclosures are given, fees are paid (other than the credit report) and the closing date of the mortgage transaction.
The Federal Register specifically says that creditors are the entities that are supposed to provide the GFE's and re-disclosures. Creditor is defined as the one funding the loan. If you are a mortgage broker, you are at the mercy of the creditor/lender to send them to your borrowers.
Standardized forms now required – GFE (used for disclosure and re-disclosure) but the big addition here is a section where the consumer can use "The Shopping Chart" to comparison-shop with other lenders. The HUD 1 contains basically the same line items—but now includes the loan terms on page three. Now the biggie, the HUD 1A – the GFE is compared to the closing costs so the consumer can easily decipher what was quoted on the disclosure versus the actual closing costs.
Covers "closed-end mortgages".
1.

Effective date – All loan applications taken ON or AFTER July 30, 2009
a.
Definition of a loan application (6 pieces of info required)
i.
Borrowers' Names
ii.
Social Security Numbers
iii.
Gross Monthly Income
iv.
Property Address
v.
Estimate of Value of Property
vi.
Dollar Amount of Mortgage Requested
2.
New Forms Required
1. Must contain the following paragraph: "You are not required to complete this agreement merely because you have receive this disclosures or signed a loan application."
b.
Closing Statement - HUD 1
c.
Comparison of GFE HUD 1a
d.
Optional Form Transactions without Sellers HUD 1A
e.
New Information Booklet (Not Available Yet)
3.
Defines "Business Days"
a.
Monday thru Saturday are now ALL considered "business days" – EXCEPT:
i.
Sunday
ii.
Federal Holidays – New Year's Day, Martin Luther King Birthday, Presidents Day, Memorial Day, Independence Day, Labor Day, Columbus Day, Veterans Day, Thanksgiving Day, Christmas Day
4.
Transactions that require MDIA Disclosures
a.
Purchase – both primary and 2
nd
home
i.
Condos, Townhomes & Co-Ops
ii.
No-cost loans
b.
Construction loans and end loans
c.
Refinance of primary and 2
nd
home
d.
Closed-End Loans
i.
Including Home Improvement Loans
e.
Time Shares
f.
Manufactured Homes or Mobile Homes on Real property
g.
Mortgage Assumptions (if loan terms change from the original mortgage)
h.
Reverse Mortgages
5.

Transactions that DO NOT require MDIA disclosures
a.
Rental property that will be/are used for business purposes
b.
Land
c.
Land & Home with 25 acres or more
d.
Seller-financed mortgage or contract for deed
e.
Loan Modifications – Original Mortgagors only
f.
HELOCS –(But will still require TILA but not 3-day and 7-day notices)
g.
Loan Application Denied – AT APPLICATION
i.
Or if Borrower withdraws with 3 days of loan application.
6.
Disclosure & Re-Disclosure Timing & Dates – Days are counted from the date that the disclosures was mailed, emailed, couriered or given to borrower at application. It is deemed that the borrower will have "received" it in the 3 or 7-day time period.
a.
Timing of Delivery of Early Disclosure
i.
Must "deliver" 3 days after loan application (see #1)
b.
Waiting Period to close loan after Early Disclosure
i.
7 days after loan application before you can close the loans – can close on day 7.
c.
Waiting Period after Re-Disclosure
i.
3 days if APR increased more than 1/8% on regular transaction and ¼% on an irregular transaction OR change in loan terms (See #7)
ii.
Applies only to the "last" disclosure sent – if you have sent out 4 of them, and the APR changed—as compared to the 3rd one sent (not disclosures 1 or 2)
a.
Mailed
b.
E-mail or Electronic
c.
Face-to-face
d.
Courier
e.
Any other method of delivery
a.
If 3-day disclosure is MAILED, borrower only allowed to pay for a credit report fee
i.
Midnight of the 3
rd
day – Collect additional fees on the 4
th
day if the disclosure has been mailed.
b.
If 3-day Disclosure is given in PERSON, appraisal, lock-in, commitment and other fees may be collected "any time after disclosure delivery."
9.

Re-disclosure Tolerances
i.
"APR…
is considered accurate if it varies in either direction by not more than 1/8 of 1 percentage point from the actual APR.
b.
Irregular transactions (i.e. Construction Loans)
i.
"APR…is considered accurate if it varies in either directly by not more than ¼ of 1 percentage point from the actual APR.
i.
Acceptable to quote an "APR Range" – Example: 10% to 10-1/4%. Since it falls within the 1/8% tolerance, quoting a "range" is acceptable
d.
Quoting "Estimated Fees"
i.
If exact cost is unknown, must include the word "estimate" or can add a statement that "the fees are estimates".
e.
No Re-disclosure if APR is LOWER than original disclosure.
f.
Change in loan terms
10.
Bona fide Waiver of Waiting Period After Disclosure
a.
Everyone signing the loan application must sign the waiver
b.
Hand written (No Preprinted Form)
c.
Extenuating Circumstances
d.
Does not insulate lender from legal liability
11.
Record Keeping – Very little direction given on how to keep track of a "mailing date".
a.
Federal Rule – 24 months
b.
Check with your State's Requirements
12.
30-Days After Closing to Cure Inaccuracies
It's been 35 years since the GFE's and HUD 1 were introduced (1974) and even then, the GFE was considered the "liars" form—honest loan officers know what we're talking about here.
Consumers found out they had been lied to – only at the closing table – owing thousands of dollars that were not disclosed (or re-disclosed if the loan terms changed) and with no recourse whatsoever, other than to back out and lose their locked interest rate!
July 30, 2009 is a red-letter day for consumers applying for a mortgage. Not only will they be able to comparison shop (because the GFE is now the universal form being used), but mortgage companies will need to re-disclose and re-disclose and re-disclose until they meet the TILA tolerances compared to the final loan terms and closing costs.
Want more uniformity? Business days have now been defined. Waiting periods have been added (think Right-To-Rescind as a comparison)
When counting days, here's the difference between the three day and seven day waiting periods. The three day disclosure expires at midnight, which means the collection of fees or the closing date occurs on day four (just like the three day right of rescission)
The seven day waiting period required before you can close, means that you can close on day seven (don't have to wait until day eight)
Sundays and Federal Holidays are the only days you DON'T count towards the waiting period (used to be business days that your office was opened and now it does not make any difference if your office is closed on Saturdays)
Let's talk about No-Cost Mortgages (rate is higher and part of SRP covers closing costs). Yes, it still requires a GFE and P.O.C (paid outside of closing notation)
A little known fact is that TILA allows you to quote an APR "Range". For example, the GFE can say "6-1/4% to 6-1/2%". Remember, if the final APR is lower, you don't have to re-disclose. However, let' say the new APR is 6-5/8%, you don't have to re-disclose because it's still within the 1/8% tolerance (based upon your APR interest rate range) for "regular transactions".
Is this just one more nail in the coffin for the mortgage brokers? Some of the major lenders have already told their brokers that THEY will be sending the disclosures out. In addition to the three day appraisal notification, brokers are now at the mercy of the lender/creditor to send the disclosures on a timely basis too. On the other side of the coin, it looks like the "one- week closing" is a thing of the past!
If you take a loan application on July 30, 2009, you cannot close the loan until August 7! (If only approvals would be completed that quickly).
Watch your pre-quals that turn into loan applications (6 pieces of information constitutes a loan app) with a formal property address. Pre-quals DON'T require a GFE but the minute a property has been found, the GFE disclosure and seven day waiting period kick in.
If you "mail" or "courier" the disclosure, the only fee that you can collect is for the credit report. However, there is a loophole that if you deliver the GFE at the face-to-face application, you can collect the rest of the fees (appraisal, commitment fee, lock-in fee, etc). If most of your loan apps are taken over the phone…you can't collect the appraisal fee until day four, as if the HVCC delays were not enough (and so much for the seven day waiting period to close the loan.)
Take the time to read every line of the new disclosures. Personally, I think you should create a script—especially for page three and the section called "Using the Shopping Chart" - that says
"Use this chart to compare GFE's from different loan originators. Fill in the information by using a different column for each GFE you receive. By comparing loan offers, you can shop for the best loan."
As part of your script, you might want to talk about the "dates" and the possibility of re-disclosure. Nothing is worse than the consumer receiving another GFE in the mail and wondering why they received another one –let alone explaining the HUD 1A?
Can you spell D-I-S-T-R-U-S-T?
If you are a broker, here's where it gets weird—what if you changed lenders? And the tolerances are still the same as with the old lender? Your borrower will now be receiving disclosures from another lender/creditor and asking you what's going on. Again, this is where scripting and letting your clients know the possibilities will come into play.
As for waivers – same as 3-day right-of-rescission – there better be a big financial loss or set of circumstance - AND the creditor/lender has the final okay on the waiver!
Oh, and don't forget that the borrower has three days to review the appraisal before you can close-just one more kink in delaying the closing date.

This affects your real estate agents and builders too. Let them know about the new rules. When writing a contract with a drop dead closing date…well, I can assure you it's going to be a problem.

Loan originating is a "team sport" and everyone from processors to underwriters to real estate agents need to communicate BETTER than ever before. If there are ANY changes to the loan terms or closing costs, everyone needs to know. Ultimately, you will need to constantly review your files and re-disclose based on changes in loan terms for the TILA tolerances (See #8)
As for owners and managers, there is very little direction given about "recording keeping" and how you keep track of the delivery days, re-disclosure days, etc. Recommend that you create an internal system (auditors can understand your system) so you can defend yourself in case of a lawsuit.
If you are a servicer and are allowing mortgage assumptions and changing the terms of the loan, this applies to you too!
If, after the loan has closed, and you or the consumer find a disclosure problem, you have a 30-day grace period to "cure the inaccuracy". MDIA does not give much direction here either—other than you won't be shut down if you self-monitor your deals.
If you are a broker shop, now is the time to sit down with you lenders and determine HOW you will notify them that you have a loan app, how the GFE's will be sent, how will they know when to re-disclose, etc.
Example By Date With No Re-disclosure
Formal Loan Application Taken
July 7, 2009
GFE Sent July 8
If mailed, cannot additional fees until July 11
If delivered same day as application,
Can collect additional fees July 7
Closing on 7th Business Day
July 14

Example By Day- One Re-disclosure
Formal Loan Application Taken July 7
GFE Sent July 8
If mailed, cannot additional fees until July 11
If delivered same day as application,
Can collect additional fees July 7
GFE Re-disclosure Sent
July 10
Closing date after midnight or 3rd Business Day
July 15
Example By Date - Several Re-disclosures
Formal Loan Application Taken July 7
If mailed, cannot additional fees until July 11
If delivered same day as application,
Can collect additional fees July 7
GFE Re-disclosure Sent
July 10
GFE Re-disclosure Sent
July 15
Closing date after midnight or 3rd Business Day
July 20
Disclaimer: As with all new rules, there may be more/other notifications, directives and interpretations in the future. Rely on your legal counsel for direction on how these changes will be implemented and how they will affect your individual company. Copyright MortgageCurrentcy.com 2009
Karen Deis, Publisher, MortgageCurrentcy.com, author and speaker in the mortgage industry since 1998. Interpreting the lending rules and regulations in plain language for loan officers, underwriters, processors and owners/managers.
[email protected]