30-year fixed averaged 6.71% on Thursday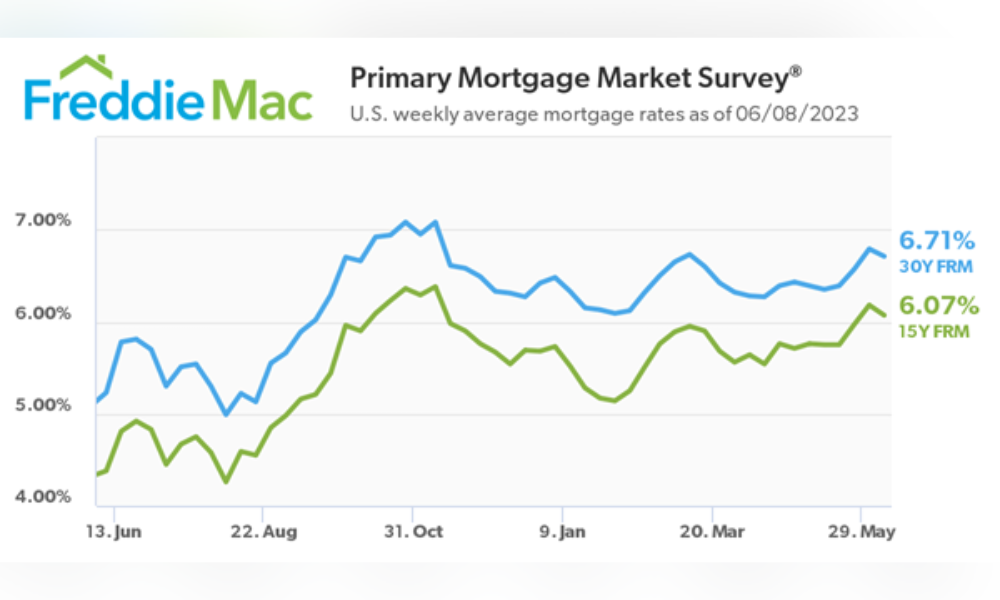 Mortgage rates dropped this week after having climbed for three weeks, according to data Freddie Mac released on Thursday.
The 30-year fixed-rate mortgage averaged 6.71% for the week ending June 8, down from 6.79% the week before, Freddie Mac reported. Compare that to a year ago, when the 30-year fixed rate was 5.23%.
The average mortgage rate is based on mortgage applications Freddie Mac receives from thousands of lenders across the US, the GSE noted in explaining its methodology. The survey includes only borrowers who put 20% down and have excellent credit, according to the agency.
Welcome news for mortgage brokers, and somewhat surprising
While welcome news given her role as a mortgage broke,. Rebecca Richardson, of UMortgage, wasn't completely taken off guard by the development. Still, she added, the lowered rates only added to the contradictory market reports amid today's uncertain market.
"It was somewhat expected after the resolution of the debt ceiling standoff but also a bit surprising following positive job numbers," she told Mortgage Professional America. "Extra 'black swan' margin was built into pricing in case it didn't get resolved and I suspect traders are shedding some of that and positioning for next week's Fed meeting."
Republicans were pitted against Democrats over raising the debt ceiling on the nation's $26 trillion economy, with the former threatening to vote against expanding the cap until concessions were made. Both parties came to an agreement last weekend, preventing what would have been the nation's first default on its debts since it was formed – a scenario universally viewed as catastrophic should it have occurred.
The jobs report to which Richardson referred came from the US Bureau of Labor Statistics, showing 339,000 jobs were created in May – far exceeding expectations by nearly double the anticipated amount.
Mortgage rate drop gives buyers hope
Notwithstanding the emergence of data seemingly in contradiction with each other against a backdrop of uncertainty, the dip in mortgage rates does have a buoying effect, Richardson said. "It puts some wind in the sails of buyers and helps abate their fears," she said. "It also means it stokes demand in light of historically low inventory. It means we have a 2021 high demand market but with 2023 rates, which lower affordability. It's a tough dynamic for buyers, for sure."
Does she expect mortgage rates to continue falling? "On the long range, yes," she said. "Short term there's volatility until we can get data supporting easing inflation that's satisfactory to the Fed."
Mortgage rate drop comes after a three-week climb
Sam Khater, Freddie Mac's chief economist, noted the drop reported on Thursday came after three weeks of the mortgage rate going up: "Mortgage rates decreased after a three-week climb," he said in a prepared statement. "While elevated rates and other affordability challenges remain, inventory continues to be the biggest obstacle for prospective homebuyers."
As for the 15-year fixed-rate mortgage, it averaged 6.07%, down from last week when it averaged 6.18%, Freddie Mac reported. A year ago at this time, the 15-year fixed-rate mortgage averaged 4.38%.
Another sigh of relief might be in the offing next week, when the Federal Reserve meets again from June 13-14 after raising rates 10 times consecutively at its monthly gatherings. The Fed has been trying mightily to bring inflation down to 2%, raising rates in an effort to slow down the economy without tipping it into a recession.
It's widely believed the Federal Open Market Committee – which makes the major monetary policy decisions for the Fed – will take a break from raising the rate again at its meeting next week. If they leave the federal funds target rate unchanged as it's believed they will, it will be the first time the FOMC has done this since early 2022.
The Fed does not set mortgage rates, but key players in the mortgage industry carefully follow the Fed's moves, as Bankrate explains. The mortgage market's attempts to interpret the Fed's actions affect how much people pay for home loans, the site noted. Bankrate also explains that the central bank's decisions don't drive mortgage rates as directly as they do other products, such as savings accounts and CD rates.
Want to make your inbox flourish with mortgage-focused news content? Get exclusive interviews, breaking news, industry events in your inbox, and always be the first to know by subscribing to our FREE daily newsletter