New report also reveals that more workers are using their office space to collaborate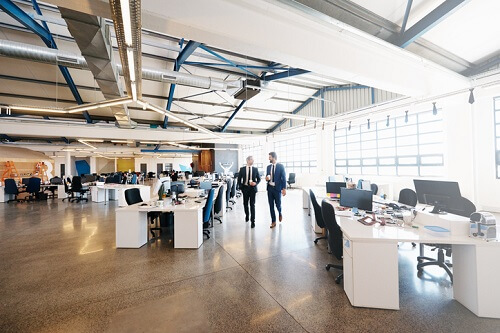 The utilization rate of office spaces shrank dramatically over the course of the COVID-19 pandemic, according to new data from workplace analytics platform VergeSense.
While on average 30% of office spaces were utilized in January 2020, data from VergeSense found that the economic impact of COVID-19 led to that rate shrinking to a scant 7.9% in January 2021.
Read more: Office sector remains stable as coworking becomes the trend
However, one emerging trend that the data revealed was the increasing use of office space for collaboration as opposed to individual work – with office space utilized for collaboration growing by 15% over the course of the pandemic.
"In other words, when people chose to come to the office in 2021, they more frequently chose it for collaboration than the year prior," VergSense said in its report. "This was the most impactful datapoint we found. Interest in using space for in-person collaboration has grown despite all the forces against – safety concerns, need for social distancing, and the growth of video conferencing as a commodity."
According to VergeSense, this is the "loudest signal predicting how employees will value the office moving forward – and it makes sense."
"In a world where work location is a choice, employees will return to the office to gain what they have been missing: time with each other," the company said. "Workplace strategists have an opportunity to lean in and potentially create 'collaboration hubs,' which are entire floors or buildings dedicated to collaboration. These spaces can be open to all lines of business and offer various seating arrangements, meeting rooms, and creative spaces."