Business leaders are anticipating more workers to return as vaccination numbers grow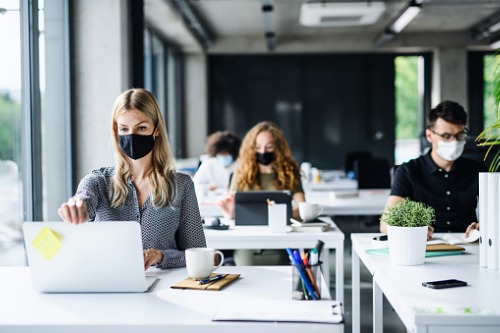 As more Americans get vaccinated against COVID-19, business leaders are anticipating more workers will start returning to offices after months of working from home – and a new study reveals one industry is outpacing others.
A study from Kastle Systems, a provider of managed security services for the commercial real estate industry, tracked return-to-work trends in 10 major cities nationwide over the past year, and found that workers in the legal industry are returning to the office sooner than other businesses.
Read more: More than 5% of the US workforce might be completely untethered to their office
According to Kastle, the average office occupancy rate for law firms was 37.2% at the start of April – a full 13.2% higher than the 24.0% average of all industries.
"In talking with our law firm clients, we are hearing many factors that have made remote work more challenging for this sector, including paper heavy office systems and generally being slower to adopt new technologies," said Haniel Lynn, chief executive officer of Kastle Systems. "In looking at a return to the office, these and other workplace or cultural factors could also come into play for greater in person activity."
"For many of our members, some firms never closed at the beginning of the pandemic," said April Campbell, executive director of the Association of Legal Administrators. "Different local government guidance on what workers were deemed essential meant that in some cities, it sometimes included law firms. There have also been concerns about the ability to onboard new employees and conduct new associate training remotely, so we're seeing law firms in the office at higher rates."