Since 2006, Mortgage Choice Miami has brought its brand of broking expertise to the Gold Coast and the surrounding community. MPA speaks to founder and director James Hasselle about his time in the industry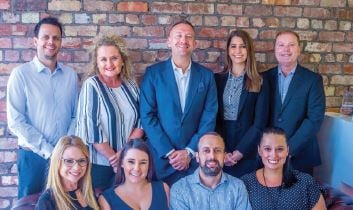 It all started with a mission to secure a home loan of his own. In 2003, James Hasselle was straight off the plane from the UK, looking to establish himself in a new country. Naturally enough, that meant setting up a home – and he needed a home loan to achieve that.
A meeting with a local broker initially seemed to be less than promising. That is, of course, until both parties realised that something far more valuable could come out of the meeting than a simple loan. Hasselle had previously been a mortgage broker in the UK and it quickly became evident that his services could be of use to the firm.
"He couldn't help me with the loan, but he could give me a job," laughs Hasselle. "Of course, once I had the job I went out and got the loan – the rest is history."
Flash forward a few more years and Hasselle found himself establishing a brokerage of his own – Mortgage Choice Miami. It was the start of a mini-broking empire that has now grown to encompass three office locations, which provide invaluable advice to thousands of loanseekers on the Gold Coast and beyond.
Breaking out of the broking mould
With nearly 20 years in broking under his belt, Hasselle has witnessed first-hand significant changes in the industry.
"We employ and nurture young mortgage professionals and that's just one more way we see Mortgage Choice Miami as giving back to the local community"
"Probably the biggest change is the increasing use of technology in the loan process," says Hasselle. "These days, everything's in the cloud."
Technology has reduced the emphasis on day-to-day admin, with many basic functions able to be automated, or at least processed with far greater speed. Theoretically, this tech should allow for an easier time for the customer. However, Hasselle feels that other factors have created greater difficulties for borrowers in securing finance for the purchase of property.

"It's never been as hard as it is now to get a loan, or gain access to credit," says Hasselle. "There's much greater scrutiny of personal finances, and the interpretation of rules is more varied."
This, Hasselle contends, means brokers have an increasingly important role in the modern finance landscape. They need to step into the role more effectively and look at better ways to service existing clients while attracting customers who may not have previously used brokers.
"The Royal Commission into Misconduct in the Banking, Superannuation and Financial Services Industry has made bank employees far more nervous about making decisions in favour of the client," says Hasselle. "But that's where experienced mortgage brokers step in to help. It's our duty to help customers gain that competitive edge."
Everyday borrowers – families and small businesses – are the parties who are most vulnerable to the often-complex borrowing rules of the banks, notes Hasselle. "The new credit rules can be a roadblock to securing a home loan, particularly if they've had a few rejected applications already," says Hasselle.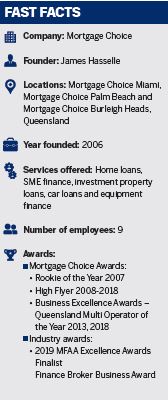 "The level of experience we possess is a crucial asset."
In practical terms, Hasselle notes that brokers must be willing to look outside the traditional banking mould. Non-banks and other non-conforming lenders will have an increasingly important role to play in providing Australians with credit, and Hasselle intends to take full advantage of this to benefit his clients.
"Every year, religiously, we provide our clients with a home loan review to ensure they're getting the right deal for their needs. I know that my team and I are going to provide our customers with a level of care and attention to detail they may not receive if they walk into a bank. A bank teller doesn't have the expertise that we do when it comes to dealing with complex financial situations."
Future plans
With office locations in Burleigh Heads, Palm Beach and Miami, it is a sign that the business is growing and brokers are increasingly in demand. Day-to-day, it has meant a shift in Hasselle's role too – good service and increased market share is not going to come by accident, he notes.
"My role has changed to encompass a lot more people management; we're not just a small business anymore," says Hasselle.
But whatever the future holds, Hasselle is confident about the future of the industry. He still looks forward to growing market share and helping more Australians realise their property dreams. "I still love doing what I do – I'm very passionate about it."