MFAA Conference focuses on the future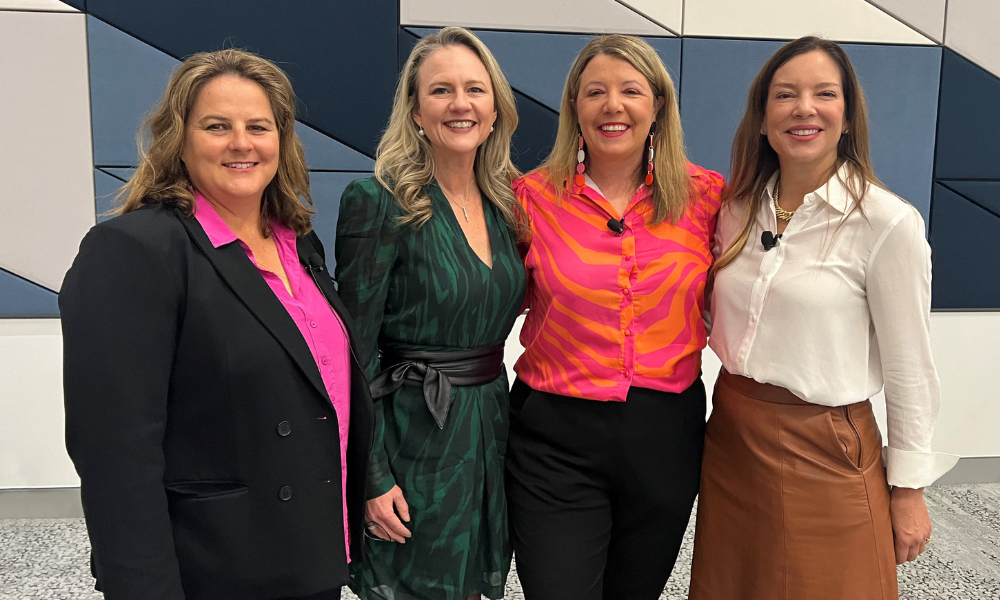 The MFAA 2023 Conference has drawn to a close, providing opportunities for people within the industry to share knowledge and skills, provide support and collaborate on the opportunities ahead.
Held on May 24 and May 25 at ICC Sydney, the theme of this year's MFAA National Conference was 'Future Matters'. It focused on mortgage and finance broking, technology, acquisition, and growth.
The first day of the conference included two Women of Influence events: Leading for impact and Women, broking, and the economy.
Leadership coach Jane Counsel (pictured above, second right), who is also the research lead for the MFAA Opportunities for Women report, facilitated the two Women of Influence panel discussions held on Wednesday.
Feedback from female brokers and business owners who attended one or both sessions was extremely positive, she said.
"The one thing that came back consistently was that it was great to hear from female role models in an industry where females are not in the dominant demographic," Counsel said.
While the industry has a low representation of female brokers (25.4%, or 3,358, according to the MFAA Industry Intelligence Service Report 15th edition), Counsel said it also had a low representation of females in leadership roles.
It is vital that the mortgage and finance industry has a critical mass of women in these roles, which will encourage other women in the industry to see what is possible for their own career progression, she said.
Female leaders share experiences in Leading for impact panel
The Leading for impact event consisted of MFAA CEO Anja Pannek (pictured above right), along with other female leaders ANZ general manager retail broker and third party deposits Natalie Smith (pictured above left), and Helia CEO and managing director Pauline Blight-Johnston (pictured above, second left).
The three leaders on the Women of Influence panel were inspiring, authentic and each brought something different, Counsel said.
Reflecting on her over 20-year journey in the mortgage and finance industry, MFAA CEO Anja Pannek spoke about the importance of having role models, and leaders having the imagination to see potential in people and give them opportunities and lift them up.
She also spoke about the importance of taking risks, noting that it can be when things don't go as planned that the most learning happens.
Helia CEO and managing director Pauline Blight-Johnston discussed the positive impacts of authentic leadership on business, the industry, and the communities it serves.
Recapping some of the points she shared in the panel discussion, Blight-Johnston told MPA that the key learnings she gained from some of her more difficult experiences were around the importance of "bringing people with you" as a leader.
They were also about how leaders can sustain themselves without needing to rely on external endorsement for their self-worth, she said.
Blight-Johnston said that for her, the biggest drivers of success were to listen, continuously learn and stay interested in people.
"I challenge myself to stay curious, delve deeper into the problems we're facing, and to lean into opportunities as they arise," Blight-Johnston said.
Her biggest career breakthroughs had come from having a deeper understanding of the people she interacted with, whether they are customers, colleagues or stakeholders, she said.
"Every time I reach a new level of understanding of their needs, desires and fears, it opens up business opportunities and makes me more effective as a leader," Blight-Johnston said.
Making the point that "you can't be what you can't see", Counsel said that it was great to hear successful female leaders from within the industry share their personal insights around risk-taking and the people who supported them into more senior roles.
Leaders also recognised the importance of curiosity and imagination: seeing potential in women who may not see it in themselves, she said.
"If by showcasing some amazing female role models, we can demonstrate that women can have a fulfilling, rewarding and successful career in this industry, it sends that strong message around what's possible," Counsel said.
Women were asked what their advice would be to their younger selves and shared their insights with others. They also shared examples of their personal role models over the years, and what empowered them as female leaders.
Economist, business owners discuss outlook, assisting clients
The Women, broking, and the economy panel discussion, held on Wednesday afternoon, consisted of REA Group senior economist Eleanor Creagh (pictured below right), and Mortgage Choice owners Fiona Manley (pictured below, second left), and Jen Hughes (pictured below, second right).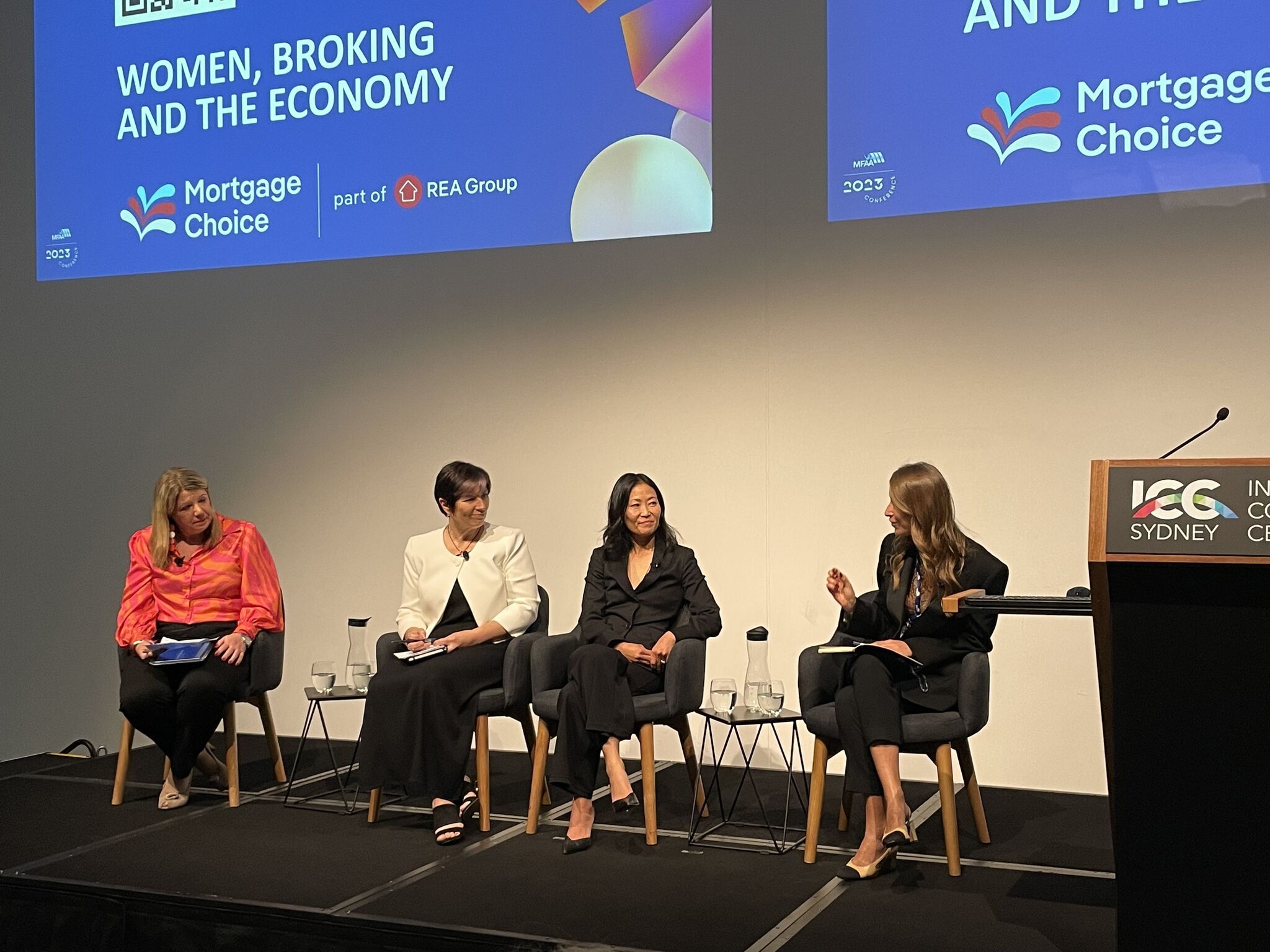 Reflecting on her key points, Creagh said that the general consensus was that interest rates were almost at their peak. Property values were holding up and overall demand for property remained high, she said.
"We expect that the RBA will pause its tightening cycle in June, holding the cash rate steady at 3.85%. This means the end of tightening is in sight," Creagh said.
"But it's always good to have a plan for if things don't go your way. The risk remains [that] if inflation proves sticky, further tightening may be needed, and the board have made it clear that is a possibility."
Fiona Manley and Jen Hughes from Mortgage Choice shared how they're managing customers who were feeling anxious about the rising interest rate environment. Among their key messages for other brokers were to remain proactive, to educate clients to enable them to be prepared, and to be empathetic to clients' concerns and circumstances.
"What I took away from that session was that as a female small business owner, is it important to prioritise good habits and routines around self-care and how you operate your business," Counsel said.
Among the general themes Counsel said came out of the MFAA Conference was "the focus on people" and making people a priority.
For brokers, this takes the form of helping people reach their goal of homeownership on a daily basis. At an industry level, it is about understanding that to drive positive change, it must first start with people, she said.
Counsel said that optimism and excitement was evident in the room, and that there was a sense of gratitude to the MFAA for continuing to champion successful females within the industry.
"The conversations were very relatable and a lot of them were able to take some insights and some tips back to think about how they would apply them in their own businesses," she said.
Did you attend the Leading for Impact events at the MFAA 2023 Conference? Share your thoughts on what aspects of the discussions helped or inspired you in the comments section below.