Offices and industrial assets remain the market's most attractive investment vehicles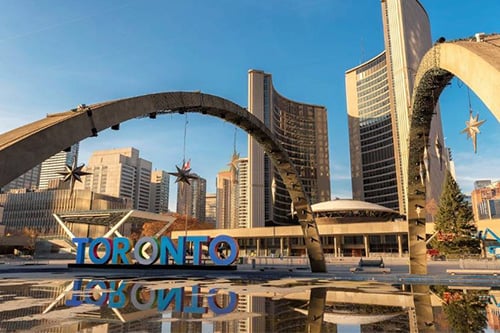 Investment in the Greater Toronto Area's commercial real estate market has seen a new record high in dollar volume, with $17.7 billion worth of assets being sold through all of last year.
This represented a 13% gain from 2018 levels, according to Avison Young's "Fourth Quarter 2019 / Commercial Real Estate Investment Review" released earlier this week.
During Q4 alone, commercial investment activity was at $6.1 billion, which was 39% greater on a quarterly basis.
"All sectors but retail posted year-over-year growth and record-high annual sales totals," Avison Young stated.
Once again, offices were the superstar asset class, magnetizing the greatest volume in GTA's commercial market last year (at more than $4.3 billion). This is largely attributable to the region's burgeoning high-technology industry, a segment that is particularly hungry for office space.
The fourth quarter saw the property type's investment total clock in at $1.3 billion, representing a 22% share and a 30% quarterly increase. Vacancy shrunk to a two-decade low of 5.6%.
"Four transactions exceeding $100 million were completed in the fourth quarter alone – the largest being the sale of York Mills Centre (567,000-sf complex) by Manulife Financial to First Capital Realty for $240 million. The office sector accounted for 10 of the market's 20 $100-million-plus sales in 2019," Avison Young reported.
Meanwhile, the industrial sector continues to benefit from "an extremely tight leasing market with rapidly rising rents and new construction still lagging behind tenant demand." Investment in Q4 2019 stood at $1.4 billion (23% share), while the year-end total for the asset class was $4.3 billion (up 30% annually).
"As in 2018, Mississauga and Peel were the GTA's busiest municipality and region by dollar volume, posting full-year totals of $838 million and $1.3 billion, respectively."