NewDay USA's Operation Home lets vets keep cash in their pockets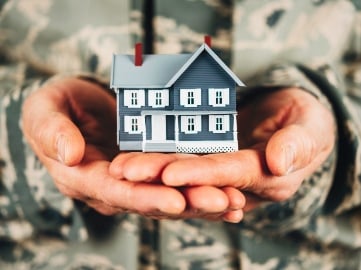 NewDay USA, a nationwide VA mortgage lender, has announced Operation Home, a new program designed to help hundreds of thousands of active military servicemembers and veterans purchase a home with no down payment and no money out of pocket for closing costs.
The eradication of closing costs is where it differs from a traditional VA mortgage. While a VA mortgage doesn't require a down payment for qualified borrowers to purchase their homes, veterans still need to bring money to the table for closing costs. Operation Home gives a credit to cover the closing costs, in exchange for a minimal increase of the interest rate.
NewDay did a soft launch of the program about six months ago, but ramped up the advertising on December 8th with a national campaign on major networks across the country, coinciding with the Army-Navy football game.
"Our phones are ringing off of the hook," said NewDay CEO Rob Posner. "I think veterans really appreciate the Admiral's mission of trying to put them in a home without them having to come up with one dollar out of their pocket."
The essence of the program is the network of agents across the country—many of whom are veterans themselves—who educate both veterans and realtors on the loan program. The VA itself allows seller concessions up to 6% toward the closing costs, and Posner said that their average client get s a 3-5% seller concession. NewDay's unique network of agents works to educate all parties on how to best maximize those opportunities that are available to a veteran given their particular situation.
"Veterans and their families have made great sacrifices to protect our freedom, and we want to help them achieve their own share of the American Dream," said Rear Admiral Thomas Lynch USN (Ret.), executive chairman of NewDay USA, in a statement.
It's no surprise that veterans find it difficult to come up with closing costs, and a down payment. They're like many other homebuyers in that regard. There are two key differences between the situation of servicemembers and the civilian population when it comes to home buying, however. Agencies such as Fannie, Freddie, and even HUD want veterans to come up with money prior to a home purchase in order to have skin in the game. But Posner said that active servicemembers and veterans have a very stable and predictable income, which has led that class of mortgage to perform very well over the last three decades, even during the financial crisis.
"A lot of them either work for the government, have a military pension . . . 50% of veterans are on VA disability, so they get a check that covers a large portion of their mortgage payment, and then they go into jobs when they leave the military that have very stable incomes, like joining a police department, a fire department, or being a nurse. So we find that the quality of the income of a veteran family to be much more stable that their civilian counterparts."
Another aspect of the military community is that they move much more than the average population, and that can be a real burden on military families to repeatedly come up with down payment and closing cost assistance.
"Active military, they're six times more likely to move than their civilian counterparts," Posner said. "If they're being relocated, it's not extremely positive to keep going back to a veteran who's trying to create a stable environment for their family and say 'hey pal, you've got to keep coming up with the closing costs.' I think that's why they came up with the 6% seller concession as part of the program."
NewDay performs a full manual underwrite, looking at the veteran's situation individually, and then they issue what's called a Gold Seal Approval, which they've been doing for years and have now blended it into Operation Home. This is an investment in the relationship, Posner said, even though they might not get the loan. But this kind of investment, that starts with a conversation to get the veteran's story and continues through the manual underwrite, puts the veteran or servicemember in a competitive position when they're ready to buy.
"We've spent a significant amount of time with the veteran at significant expense, we're investing in the relationship, we might not even get the loan, a lot of cases we don't, but in many cases we do, and they go out and they shop, they're shopping as a cash buyer. That gives them the power to ask for the seller's concession. When they ask for the seller concession, most of the time, over 90% of the time, they get it."
NewDay's goal is to help every veteran that can afford to be a productive homeowner into a home. That's something that Posner said is very important to the Admiral, and to the entire team.
"We have 600 people that go to work every day with the focus of serving the veteran community. So we don't do Fannie and Freddie loans. We serve the veteran community, that's what we're focused on."
For more details on loans that can set you apart, come to Anaheim on April 4th for our Niche Loans session featuring Laura Brandao, Don Currie, and Chad Jampedro.