Toronto condo sales rise but supply remains tight… Global bankers concerned over Canada's household debt… DealTap expands workforce for real estate tech…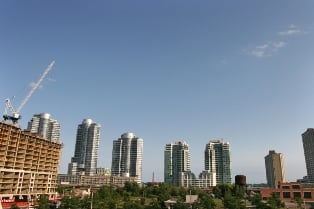 Freddie announces cuts to mortgage origination costs
Changes to Freddie Mac's Loan Advisor Suite will cut costs for mortgage originators when they are rolled out in spring 2017.

Automating appraisals, borrower income and asset verification, and assessment of those without credit scores are all designed to remove costs from the mortgage origination process.

"As the cost of originating a mortgage has more than doubled since before the financial crisis, we're collaborating with lenders to create innovative tools that reduce the costs of producing and selling high-quality loans to us," said David Lowman, executive vice president of Freddie Mac's Single-Family Business.

New York home sales hit new all-time high
Residential real estate sales in New York hit a new all-time high in the third quarter of 2016 with a total value of $13.6 billion citywide; up 15 per cent compared to the same quarter of 2015.

The Real Estate Board of New York's latest report shows that there were record highs for sales prices in Brooklyn ($891,000), Queens ($523,000) and the Bronx ($400,000). Condo sales prices in Manhattan reached $2.95 million.

"The record total transactional value and uptick in home sales completed this quarter represent the health of the residential market citywide," said John Banks, III, REBNY President. "The slight pause felt last quarter was redirected through the hot summer season and this heightened activity sets us up for a promising remainder of 2016."

Sales increases were particularly strong in Staten Island (up 32 per cent) and the Bronx (up 13 per cent) but Manhattan saw a 6 per cent decrease.

Iowa home sales, prices continue to rise
Home sales in Iowa increased 7.5 per cent in September compared a year earlier with prices up 7 per cent year-over-year. There were 3,853 home sales recorded by Iowa Association of Realtors and the median sales price was $149,645.

"Unlike major ups and downs seen in other areas of the country, Iowa continues its steady growth. September numbers continued the trend of rising home sales and rising median prices," said IAR president Ken Clark.

For the third quarter, sales were up 2.5 per cent with prices rising 2.7 per cent compared to a year earlier.