Two towers are slated to offer nearly 1,750 residential units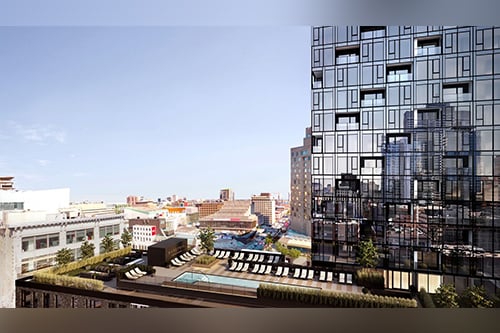 Montreal's largest mixed-used residential project so far has broken ground late last week, according to Devimco Immobilier, the Fonds immobilier de solidarité FTQ, and Fiera Real Estate.
Work on the first tower of the $700-million-plus Maestria development has begun on the site of the former Spectrum de Montréal.
Designed by with architectural firm Lemay, the project is slated to erect two asymmetrical towers, 57 and 61 storeys tall. An aerial walkway connecting the two buildings will be located at the 26th and 27th floors, which is expected to be the highest ever in a residential project in Quebec.
With a total of nearly 1,750 residential units ranging from 300 to 2,200 square feet, Maestria will also be furnished with an abundance of green spaces intended to promote urban biodiversity.
In addition, the development will feature a small public plaza, accessible to all residents. The towers are planned to incorporate office units, along with restaurants, entertainment venues, and neighbourhood shops and services.
Hunger for the spaces has been intense, with 75% of the first tower's units having been sold just a few months after the project's announcement in November 2018. Sales for the second tower have begun in concert with last week's ceremonial launch.
"The demand is there, and the real estate market is going strong, which is enabling us, with the help of our partners, to develop projects as distinctive and avant-garde as Maestria," Devimco Immobilier president Serge Goulet stated. "We are proud to be establishing a presence in this thriving artistic neighbourhood."