The Massachusetts Democrat again called for Tim Sloan's resignation, saying "his hands are too dirty" to clean up the bank's myriad scandals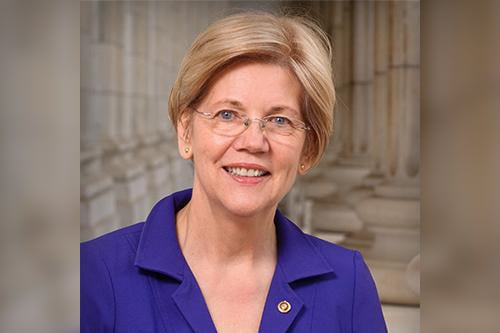 Democratic senator Elizabeth Warren has long had a contentious relationship with scandal-plagued lending giant Wells Fargo. That relationship apparently isn't thawing as the Massachusetts lawmaker explores a presidential run.
On Monday, Warren launched a tweetstorm calling on Wells Fargo CEO Tim Sloan to resign – a call she's made before. The tweets were prompted by an interview Sloan did with Jim Cramer on CNBC, according to a MarketWatch report.
"Tim Sloan doesn't think I have an 'informed' opinion about how he's helped lead @WellsFargo," Warren tweeted. "But I've been paying close attention and I've got a long list of reasons why I think he should be fired. (Get comfortable, this is gonna take a while.)"
Warren said that Sloan bore some responsibility for the fake-accounts scandal that kicked off the bank's two-year-plus parade of bad press.
"As CFO and COO, Tim Sloan helped enable it. He got rich off it. And he tried to cover it up," Warren tweeted. "How's he the right guy to clean up the mess?"
Warren also brought up a separate scandal in which it was revealed that Wells Fargo charged more than 800,000 people for car insurance they didn't need, and another in which the bank wrongly foreclosed on more than 500 customers' homes. She also mentioned an agreement in which Wells Fargo paid $175 million to settle claims that it charged minority borrowers higher fees.
"I could go on but I don't need to: it's clear that Tim Sloan isn't the right person to try and clean up @WellsFargo," Warren tweeted. His hands are too dirty from overseeing years of scams and scandals. That's not just an 'informed' opinion. That's a fact."
Wells Fargo is apparently sticking by its embattled CEO for now. In a statement, the bank said that Sloan had "the full support of the Wells Fargo board of directors" and is "leading a transformational change at the company."
But business hasn't been particularly good for the lending giant recently. Over the last year, Wells Fargo shares have fallen about 25%, according to MarketWatch. And the bank is still operating under an asset cap placed on it by the Federal Reserve – a cap that was supposed to be lifted last year but which Sloan recently said would likely remain in place through the end of 2019.